Learning how to start a janitorial business could be an option if you are looking for a low-cost business to start with no typical operating costs and reliable demand.
Suppose you're wondering why the services you offer have lower upfront costs than other ventures. This is one of the few businesses that you can quickly start with very little capital. However, you must be willing to work hard to make modest profits and steady gains.
Most cleaning jobs require the same products and equipment as your household chores, with the exception of specialized chemicals and equipment. 
Although it is not necessary to have formal training or certifications for common home and office cleaning tasks, this doesn't make the job any less difficult. 
There wouldn't be a huge market for domestic cleaners if it was easy. Cleaning can be a rewarding and lucrative business for those who have a strong work ethic and a high level of customer service.
If you're just starting out in the cleaning industry, a friend or family member who is involved in the industry can be a great resource. A track record of quality service and satisfied customers is the key to running a successful cleaning company.
Now, consider that janitorial services cover residential and commercial properties unless you pick one specific niche for it. 
There's a lot to cover, and we want to make sure you know that one option will make you spend more or less money. Regardless, this path will be tough. 
So what we can do for you is: let's go over the commercial option that most people wonder about before jumping to the actual steps, especially when you consider that knowing about it will help with the general process of your business.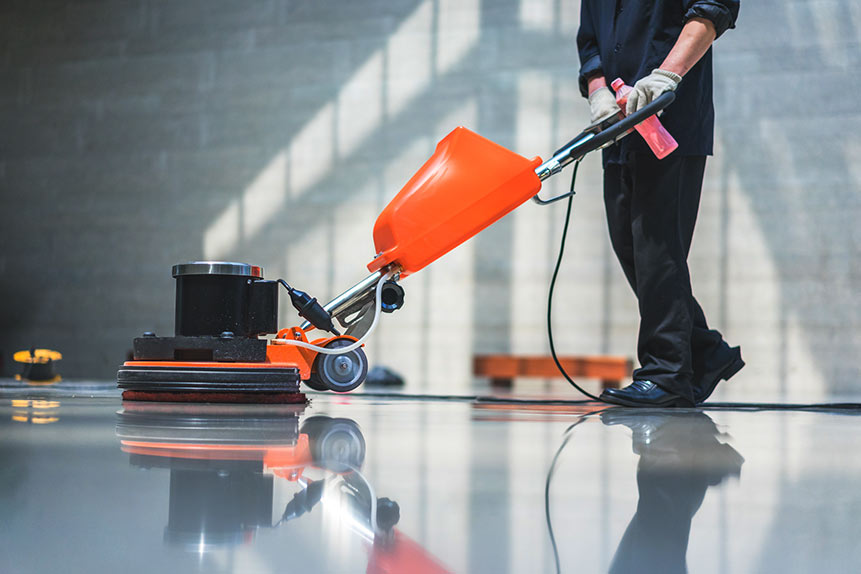 Why Commercial Cleaning Is Important for You
Before you can start a janitorial company, it is important to understand the basics of commercial cleaning.
Maintaining a clean facility requires that you follow the same cleaning schedule every day. This is why commercial cleaning offers job security. Everyone must clean every building in the world.
You have two options if you are interested in starting your own janitorial company. One is to work part-time from home. 
Many cleaning companies in America are owned and operated by individuals. Once you have secured a regular cleaning contract, you can expect a steady income and potentially large profits. 
According to the Bureau of Labor Standards, janitorial companies are among the most rapidly growing commercial businesses.
A common goal is to earn about $6.000 within their first year of operation. Understanding that your first six months of business will not be profitable is important. This time will be spent building your company. 
Many people decide to keep their job until they start earning an income through their janitorial business.
Many businesses prefer to outsource their janitorial services rather than having a full-time janitor. A janitorial service can be a valuable asset that protects clients' assets. This includes floor coverings and furnishings. 
A facility's life expectancy can be extended by hiring cleaning services.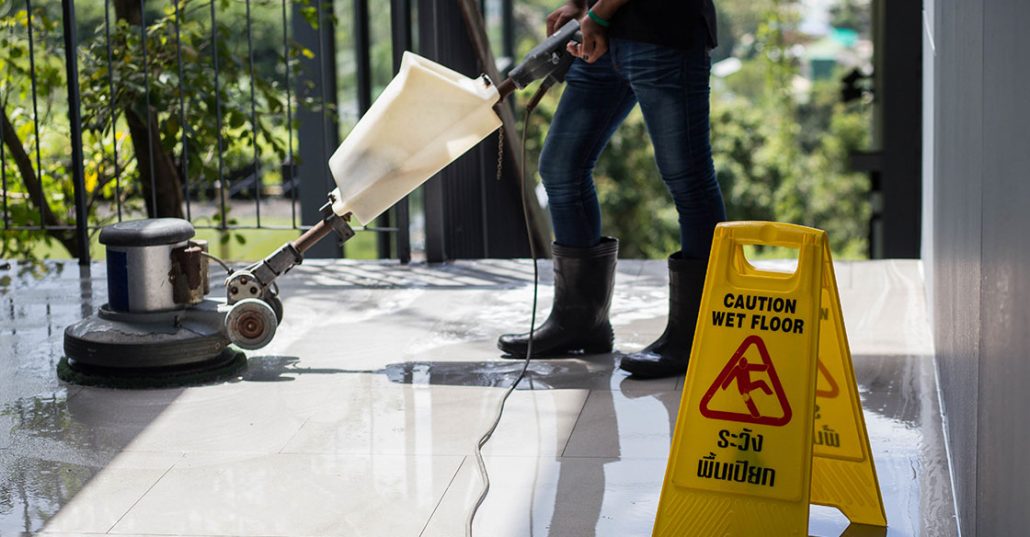 What You Need Before & After Starting Your Business
Being self-employed takes a certain set of skills, and just take this as the general: you need some considerations when deciding to be a business owner. These include entrepreneurial spirit and management skills. 
To be successful in self-employment, especially when faced with rejections from sales, takes determination. Plus, you must have good salesmanship and be able to close deals, and be willing to sell your business to anyone who will listen.
The key characteristic for self-employed people is organization. To achieve your goals, you must be able to create a business strategy. It is also important to keep your employees and yourself performing at a consistent level.
All this while being a competent decision-maker, able to weigh the pros and cons of making a business decision.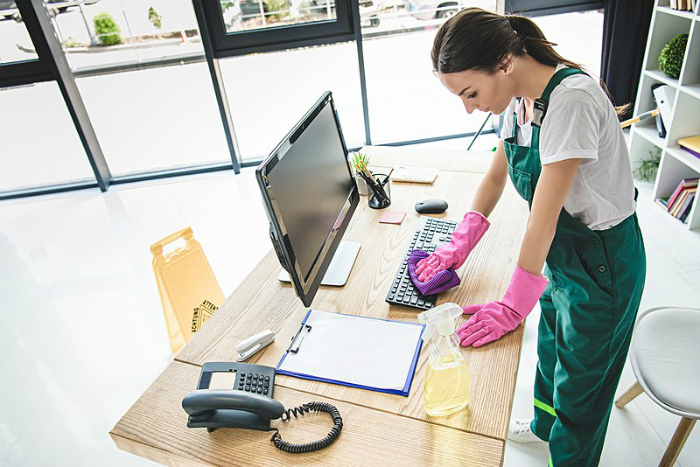 Basics of Janitorial Services & Choosing the Business
Smaller businesses or clients might only require service once per week. You will usually clean larger buildings every night after business hours or help homeowners once a week. 
Most janitors start by cleaning small offices before they can handle larger jobs or helping some homeowners who have a hard time keeping everything in order. 
This is why you may want to consider three crucial steps before we jump into the whole process:
You need to work hard in marketing your janitorial services.

Securing and finding accounts.

Hire employees to help your business as working alone will be very tough. 
Cleaning an office or building with the same routine as cleaning your home will result in a job that is more viable. 
Why are we telling you this? Because we consider that knowing the typical janitorial service's routine will allow you to have a better idea of how much work this will take. Thus, keep this in mind, it includes:
Clear out your trashcans.

Clean up spills and dust on all surfaces.

Mop floors dry and wet.

Carpets should be vacuumed.

Thoroughly clean bathrooms, including replenishing supplies such as soap and paper towels.

Cleaning the entryways.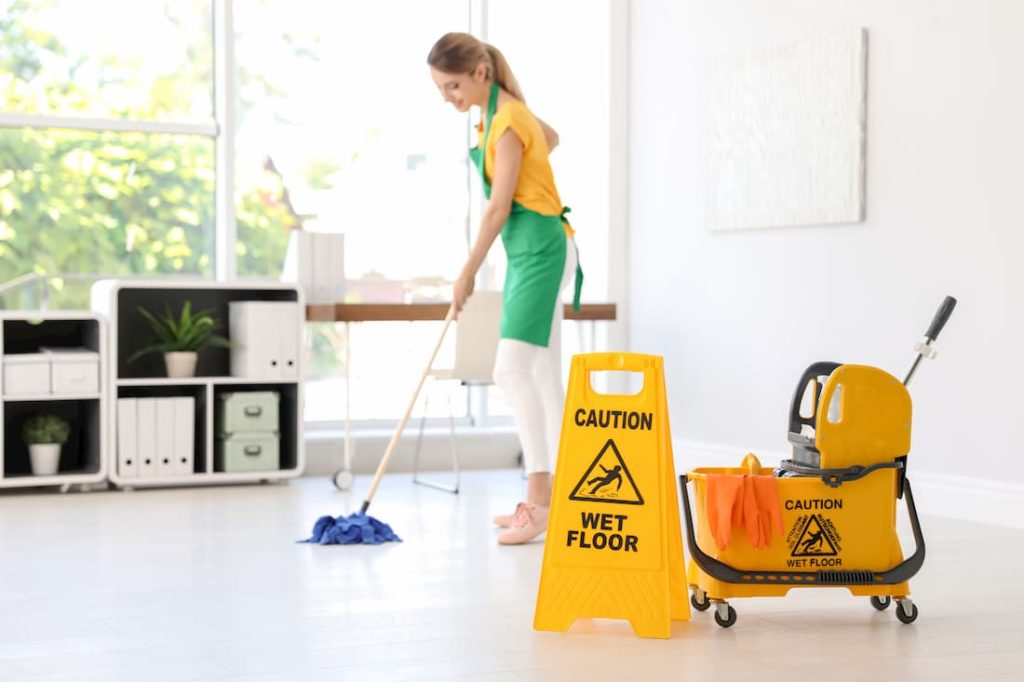 You will also need common cleaning supplies like all-purpose cleaners, mop, and dusters. 
A commercial vacuum can be as expensive as $300 but not as necessary when you think about small tasks. 
You could earn as much as $3.000 per month by spending $500 on cleaning supplies, but this is when your company has operated for a while. You can ask your local supply shop for help if you aren't sure which products you will need.
You can cut down on your expenses by shopping at wholesale clubs or home improvement centers. While you won't need to make a huge initial investment in your janitorial business venture, it will likely take six months to build and market your business before you start making a profit. 
You should be able to guide your business through its first months if you are careful about managing your costs and keep your regular job.

Consider Startup Costs for This Business Option
To start your janitorial company, there are many costs that you need to pay. You will need basic equipment, which should cost you no more than $1.000, but can be lower. 
The cost of opening a checking account and purchasing your business license will be between $70 to $150. 
A fidelity bond and general liability insurance policy will be required. These policies will cost between $450 and $1.200. You can also invest in office supplies, such as printers and computers. These items can range from $150 to $3.000.
There's more involved in starting this business than you thought, and we know it can be hard to handle all the expenses, but it continues to be a low investment one as most of the equipment and products are low cost, and the previous ones (most of them) are a one-time thing.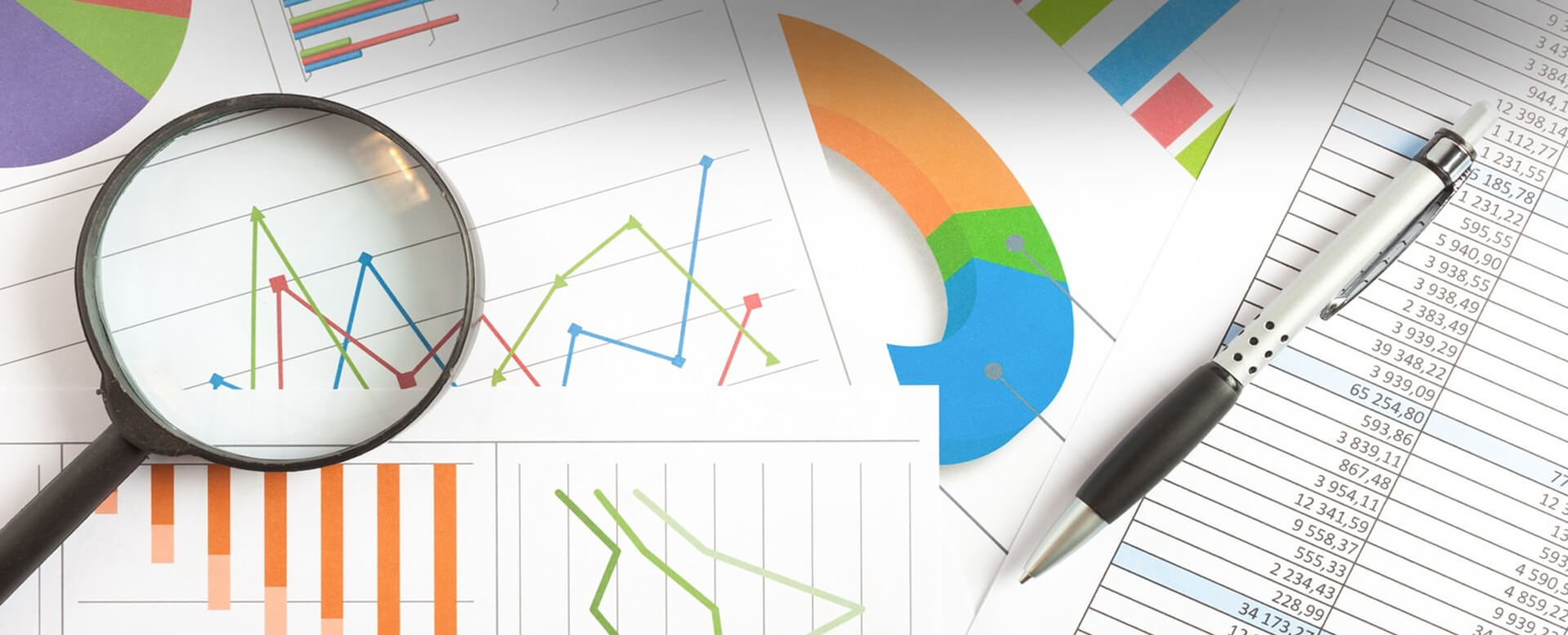 Do Industry Research
If you are considering starting a janitorial company, ensure that your work is worth the investment. Begin with family members or close friends to know if you can work around this. 
You might offer to clean your best friend's house for free in exchange for honest feedback and cleaning supplies or maybe work with other people you know, and although they may not be that close, you could come up with a deal. 
You could also ask if someone you know is a cleaner to join you on the job. It is important to ensure that your personal cleaning standards are in line with the expectations of paying customers. The best way to do this is to take on a job for someone else.
It is also important to choose the type of cleaning service that you will provide. Many janitorial services are available, from one-person businesses to large chains to more specialized services like industrial carpet cleaning and pressure washing. 
Individual cleaners only work in private homes and for a limited number of clients. This means that you will spend less on house cleaning when it comes to an investment as well. 
Independent contractors may have weekly appointments and a set schedule for clients and jobs. Others are available to provide one-time or short-term services by the hour or day.
Consider buying into an existing franchise cleaning business. While this option comes with its own pros and cons, it is likely to offer a simpler process.
Steps to Start Your Janitorial Business & Boost Your Success Rate
There are many businesses that offer services, from one-person home cleaning to specialized industrial cleaning. 
When starting a cleaning company, it is important to decide the main focus of the service. The upfront investment depends on how big your team is, the equipment cost, and the competitive rates in your area. 
A home janitorial business that employs more than one person will require more structure than one that is run by one person or as a side job.
Once you have identified a market, you can begin to plan your business and arrange for transportation and supplies. 
Then, when you are ready to take on clients, it is important to spread the word about your service. As mentioned earlier, you might begin with your friends and acquaintances and then expand online to reach a wider market. 
With this in mind, consider starting with these steps:

Funding Your Janitorial Business
When you are starting a business, financing can be the hardest part. 
Entrepreneurs may need to borrow money from family or friends, obtain a loan or use credit. 
The startup costs of a company in your niche may vary depending on its size. This allows you to keep your debt down when starting a janitorial service. 
You can then increase revenue and expand your operations as you make it more profitable.
The costs of starting a cleaning company include advertising, cleaning supplies and products, permits and licenses, as well as business insurance. Big-box retailers usually sell supplies for less.
Your business's specialties will determine the items you require, but most cleaners use mops, window cleaners, latex gloves, and paper towels. 
You may be able to buy directly from manufacturers once your business is established.

Focus on Your Target Audience & Market
You should consider local needs when choosing the clientele and services you offer. 
If you have to commute on foot to get to your cleaning job, then you can focus your market research in that area. 
People who have access to public transportation or a car can be more flexible and can search online for similar businesses.
Researching competitors is an important part of any business plan. If you are looking for ways to start a janitorial company, it is worth researching cleaning companies in your local area. You should be looking for services that are not offered by other businesses.
Residential cleaning is more accessible than commercial cleaning for those just starting. Large janitorial firms dominate the commercial cleaning industry, which typically has more resources. 
You can also narrow down your market in residential cleaning by focusing on single-family homes or apartments.
Remember that your first jobs will likely be done by you alone when choosing your market. This means that you need to be selective about the clients you work with. 
It's possible not to take on a job cleaning large mansions on your own because it will take you more time than it's worthwhile. You can also save money and plan your work around your schedule by doing the job yourself.
Choose A Specialization and Stick with It
Your success as a cleaner is dependent on the quality of your service, whether it's in a specific area like carpet cleaning or porcelain or just friendly and efficient service. 
Specialized equipment and services might not be worth it if you have the experience and access to the resources. Otherwise, training and equipment may outweigh your cleaning revenue.
When you have reached the point that it makes sense to specialize, you may want to consider commercial kitchen cleaning, eco-friendly cleaning, and tile and grout cleaning.
Anything that sets you in a specific sub-niche will be helpful to avoid working extra instead of making money and work around less time.
Create A Budget for Your Business
Basic cleaning services are primarily funded by transportation and supplies. 
Your cleaning costs will vary depending on what services you provide, and we have mentioned this a couple of times. 
They can be very low for an individual cleaner or much higher for a company with multiple employees and a vehicle. Once you have established a backup and transportation plan, you can begin to estimate other costs associated with starting your business.
These are the main expenses we were talking about:
Mobility is vital to any mobile business, such as a cleaning service. One of the most important prerequisites to a job is to be there before you start.
Cleaning services usually take care of transportation to and from jobs.
The services you provide and the number of clients you have will determine how much and what supplies you require. 
You might not want to use the products of some clients. Although wholesale vendors may require proof of your company's legitimacy, if you are offering a larger service, it shouldn't pose a problem to find discounted prices from suppliers once you have registered the business.
Basic cleaning services will cost you transportation and cleaning supplies. However, equipment and other rentals can add up. If you don't have the equipment or are unable to rent it, renting special cleaning machines and agents for flooring and carpets is a good option.
It's worth investigating the cost of renting equipment if you are familiar with its use. You can save money on rent until you feel more comfortable.

Register Your Business
It can be confusing to understand the legal requirements for janitorial services such as house cleaning or the commercial area, especially when only one person is providing the service and clients pay in cash. 
The extent of your business will determine the amount of income reporting and registration you must do.
A $30 cleaning service for your best friend's house once a week doesn't make it a business. If you are only providing services to your immediate family, it is probably best to wait until you register your business. 
You must use the IRS's formal channels to report income if you make more than $100 per month whatsoever.
If you wish to separate your personal and business finances, you have the option of operating a cleaning company with other business entities instead of mixing your money and responsibilities.
You might consider becoming a franchisee for a major cleaning service chain when you are thinking about how to start your own business. This is because you already have brand recognition, policies, procedures, and other benefits. 
However, you won't be able to have as much control of your business.
It's possible to work as a cleaner in your own home, but it's easier for private individuals and businesses to pay others than for businesses to pay employees. It is important to register your business and provide tax documentation for janitorial services provided to corporate clients.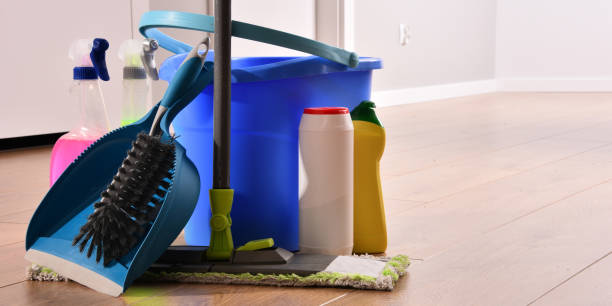 Finding & Maintaining Your Clients for Success
Online forums and service platforms are becoming more popular, but word of mouth still plays an important role in the domestic services sector. 
Ask clients who are happy with your cleaning services to post on Facebook or pass along your business card and use the best options for marketing:
It can be hard to show prospective clients your best work, so it is a good idea for past customers to give contact information. Ask satisfied customers to write a referral for your site.
Many home cleaners find new clients through their existing clients. Although you shouldn't rely on your clients for new work, building a relationship with them can help you gain confidence and let them know about possible opportunities.
Setting rates is an important aspect of maintaining and finding clients. HomeAdvisor estimates that the average cost to clean a single-family house is $120-$150.
Prices can be affected by where you are located, how competitive your services are, and many other factors. There are three options for pricing cleaning services: hourly, per square footage, or flat.
It doesn't matter what pricing model you choose. Market research is a great way to make sure your rates are competitive. 
Even if your clients are the ones who find customers, having an online presence will benefit your business over time. Even if your website isn't complete, potential and current customers must find you online. Make a Facebook business page and keep your contact information current.
After you have established service and a client list, you can sign-up for a platform such as TaskRabbit or Handy. This will make it easier for clients to find your business. A registered business and customer reviews will help you build your online reputation. Printing business cards is a great way to network offline.

Bottom Line & Where to Work with It
Although janitorial services may appear like an easy business, it is hard work. It's worth spending a few days on the job before you start full-time, or we are kind of guessing you are already familiar with the hassle. 
As you become more familiar with the service, you will be able to add work and customers incrementally. If you plan ahead, you can optimize your time and spend and maintain excellent service.
The Local Lead Generation Process for Janitorial Business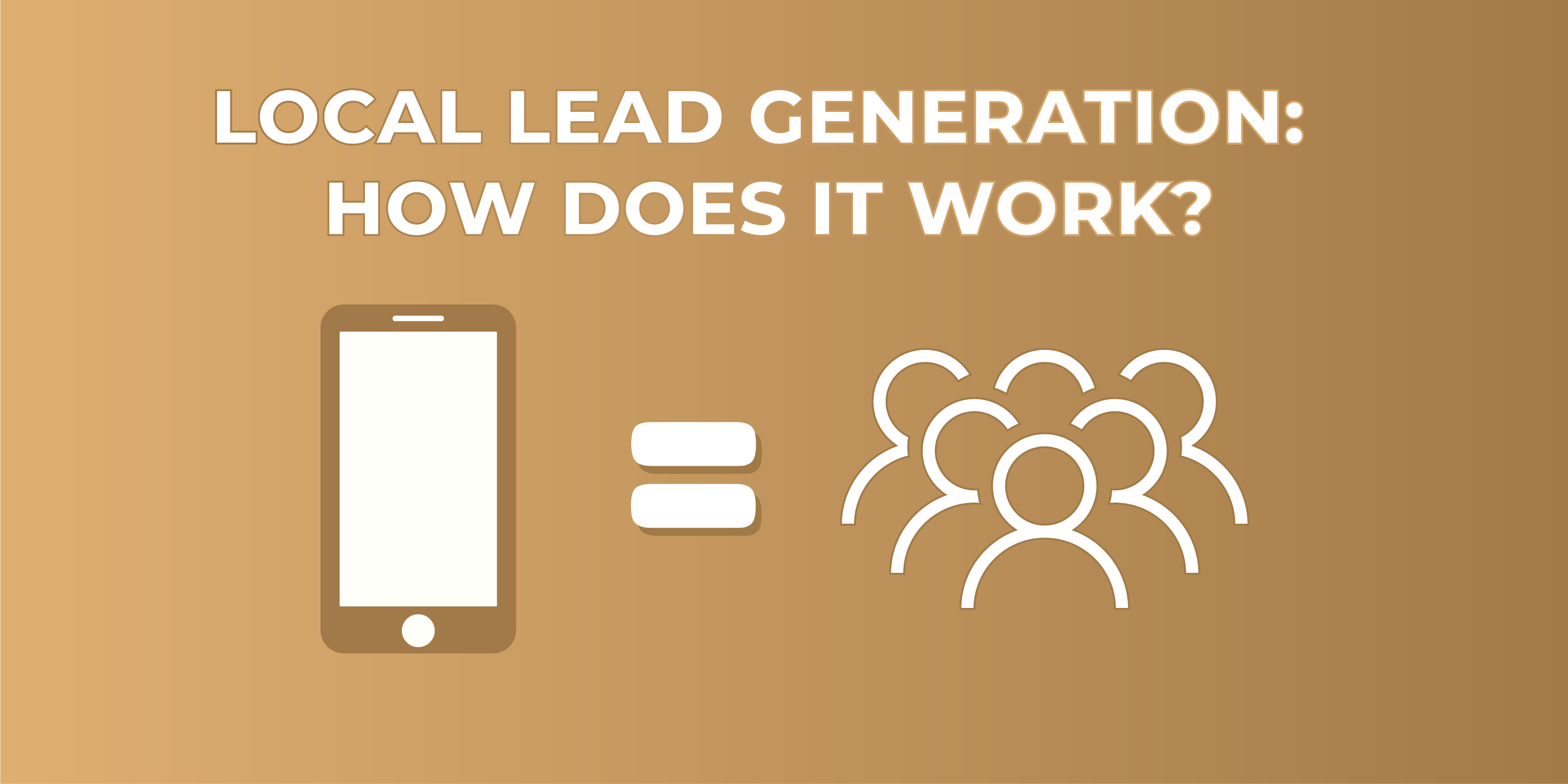 All right! So, everything is about building properties and generating leads. But how does the process actually take place? Are there other steps I need to know?
The steps I mention below are what students from our local lead generation program follow to generate leads for businesses like yourself. So I'll help you see what we do. And how if you join our program, you can simply generate leads for your own business (unless you want to start a side hustle and build a laptop lifestyle business).
Essentially, our lead generation can be divided into four steps:
The first is prospecting. You need to take the time to do market research on a niche (industry) and determine how many phone-driven businesses are there.
Keep in mind that this is local research as you need to know how many companies need leads. For example, you may search for "plumbing services Youngstown OH."
You will find dozens or even hundreds of businesses trying to get themselves in front of the customers by ranking on Map Listings, organic results, and even Ad.
The second step, building. When you find a niche (plumbing, tree services, a software company, real estate…), you will need to start building your digital properties. You don't need to be an expert in HTML or coding. It can be easy with the right tools.
The third step is now taking time to rank your lead gen website. With the site done, you need to work on SEO strategies and start dominating those Google search results. If you're new to SEO, it stands for Search Engine Optimization.
To keep it simple, it consists of the entire process of growing a company's visibility on search engines like Google and generating organic traffic. And remember this, local lead generation is part of the strategies.
Moving on to step four, once you rank the site, you will start getting your ROI and profits. You only need to rent it out to a local business interested in the leads the site generates. You can offer a couple of free leads to their move on with the actual pay per lead.
To review steps 1-4 above, I described it to a normal student who is building a lead gen business to help local service providers generate more calls. But replace the student with you as the business owner. And replace sending the leads to a business to simply siphoning the leads to your personal business.
By the way, fun fact, about 20% of our students in our local lead gen program are actually business owners who went through the program. And they use the skillsets we teach to generate leads for their own business.
An Example of Lead Generation: Home Advisor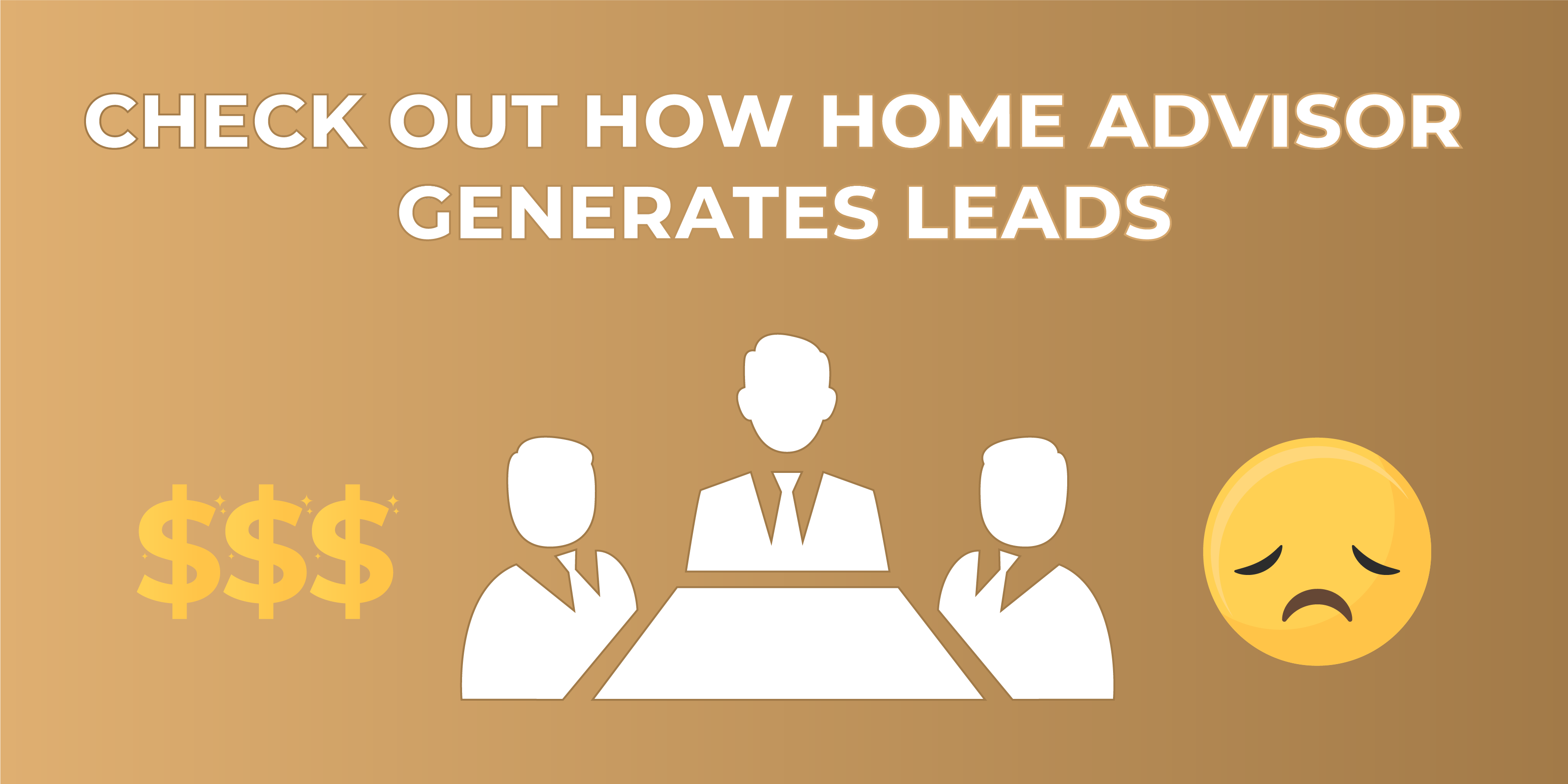 You must be thinking, "if lead generation sounds so good so far, how come I haven't seen any company?" That's the thing; there are many out there. You just don't know they are dedicated to it.
HomeAdvisor is one of the best examples you can find on the Internet as it is a top lead generation company that has spent millions building its brand but also earned even more zeros for this same reason.
They started small as everyone else but invested in building their brand awareness to make people who are looking for home services go to their website and find what they need. They are over 75% of people's first choice when they need those services.
If you don't get HomeAdvisor that much or need a refresh, users need to submit their information to request a service and get a professional or expert who can provide it.
HomeAdvisor's job is to share your information, which makes you a lead, with local companies so they can contact you and offer the service you're requesting. For sharing this lead information, HomeAdvisor gets paid by the companies. This happens for every single lead they send to multiple businesses.
Business owners who don't have marketing skills or don't even know how to have any online presence will always rely on those pages to list their services.  They will save time and effort, but companies like HomeAdvisor can make them spend lots of money as leads aren't exclusive (one lead is sent to multiple companies after all).
Using Facebook Ads aka Paid Ad Platforms: Do They Generate Leads?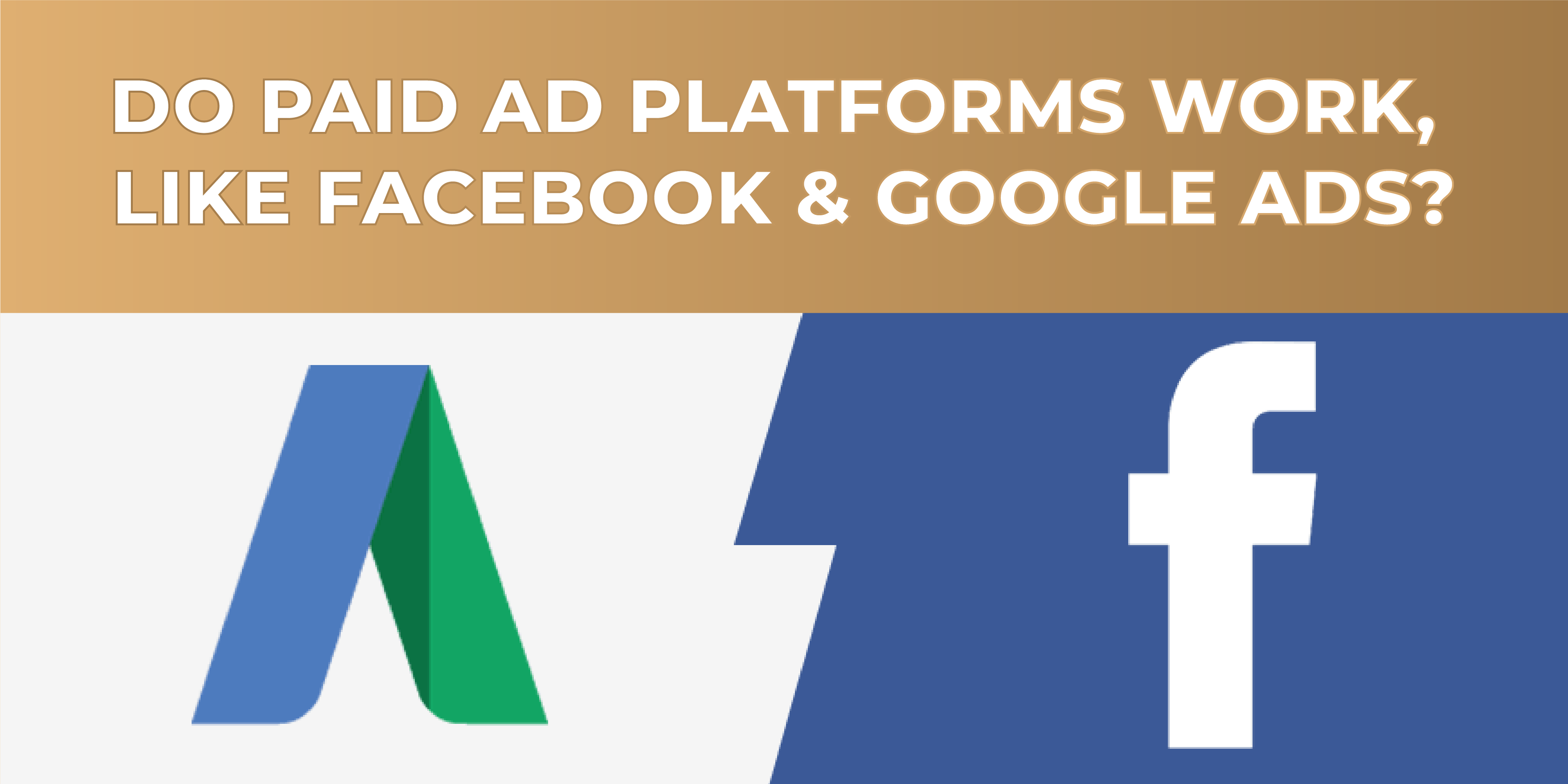 They DO generate leads. If not, no one would use them.
However, you need to remember two facts:
Paid ads or platforms can be expensive.

They don't generate "natural" leads.
Whenever someone sees or clicks in one of those ads, over 80% of them did it by accident or are trying to close/report it.
Why? Because they aren't looking for those services. At least not at the moment.
What those ads do instead is interrupt their time on the platforms. Users aren't there to find companies or businesses unless they are searching for a specific company's user, and for that, there's a search bar. This is why it is hard to convert them to actual customers who will show interest in the companies' services. Also, you're limited by a budget.
When using lead generation, everything is organic. You aren't forcing others to pay attention to your business but rather being there when they need you. This is why Google's organic traffic will always beat paid ads, and the reason companies continue investing in it, which is a lot cheaper as well.
What Is Local SEO?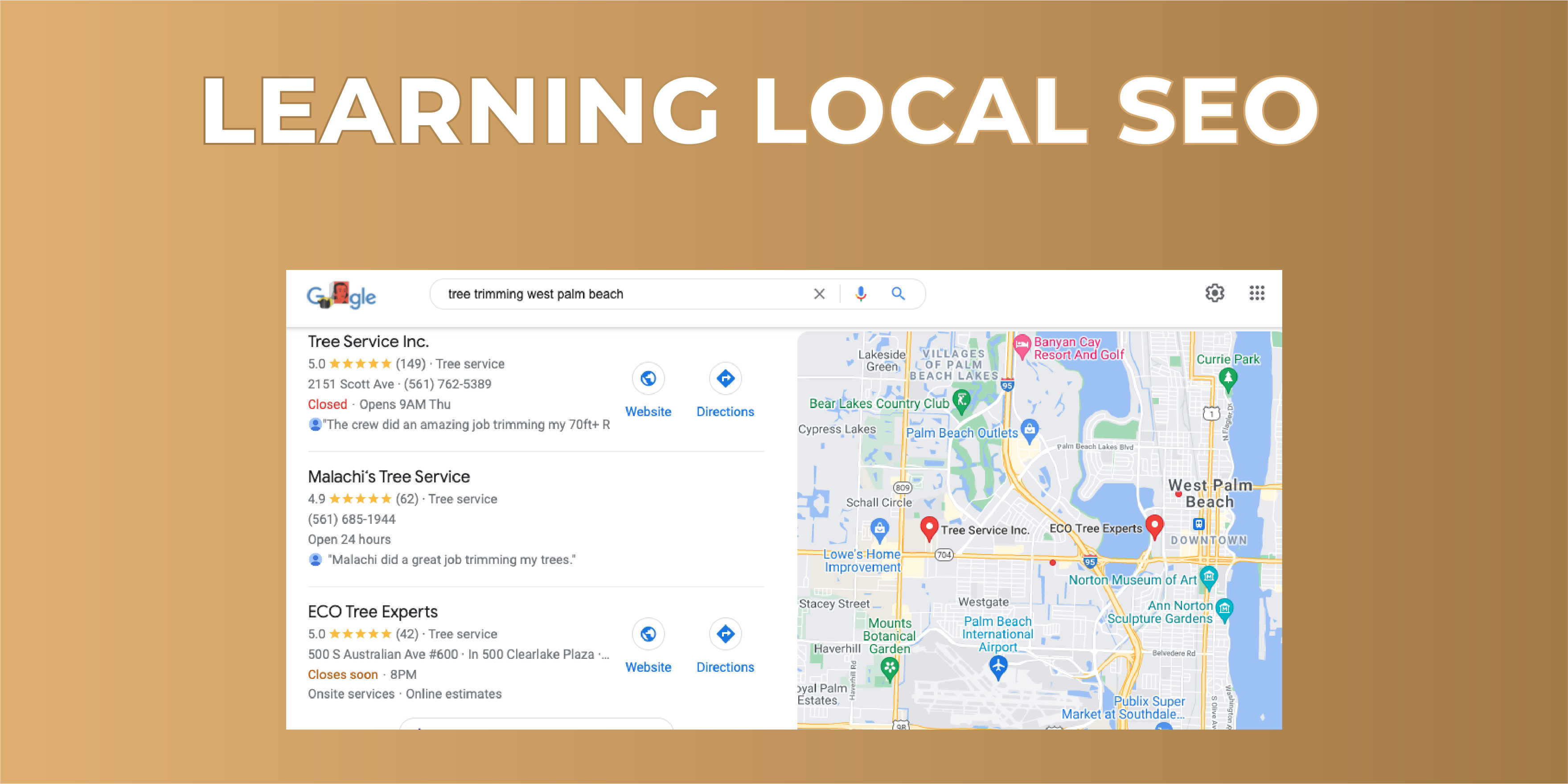 Don't worry… I didn't get it at first either. Following the short explanation, local SEO focuses on scaling businesses' visibility on search engines. However, this is only for those who serve their communities face-to-face.
What does this mean?
Experts and professionals like painters, plumbers, and dentists (but not only them) offer their services to their local customers. Why? Because they can't deliver them unless they are located in the same area of their customers.
To make sure those businesses get more leads, you need to rank them locally by claiming the business listing on Google to place them on Map Listings. Local SEO also involves online reviews, citation management, and how you manage your entire online presence in the local area.
If you are going to bet on lead gen, you need to adapt yourself to today's world: The Internet.
Keep in mind that although traditional channels and methods like billboards, warm calls, and pamphlets still work, they aren't part of your tools. Whenever someone needs a service, they go to Google and search for it.
"Dentist in Miami" or "plumbing services in Orlando," etc. And you can keep coming up with services or professionals people need and look for. Thus, you need to make sure you're using Google to get the companies in front of their clients.
Users will always click on the first search results (those near the top), and many of them will be either Ad links (people paid to place their websites there), Map Listing, and then you get websites. Almost all of them are your goal and where you should always aim to place yourself.
Can My Janitorial Business Utilize a Local Lead Generation Strategy?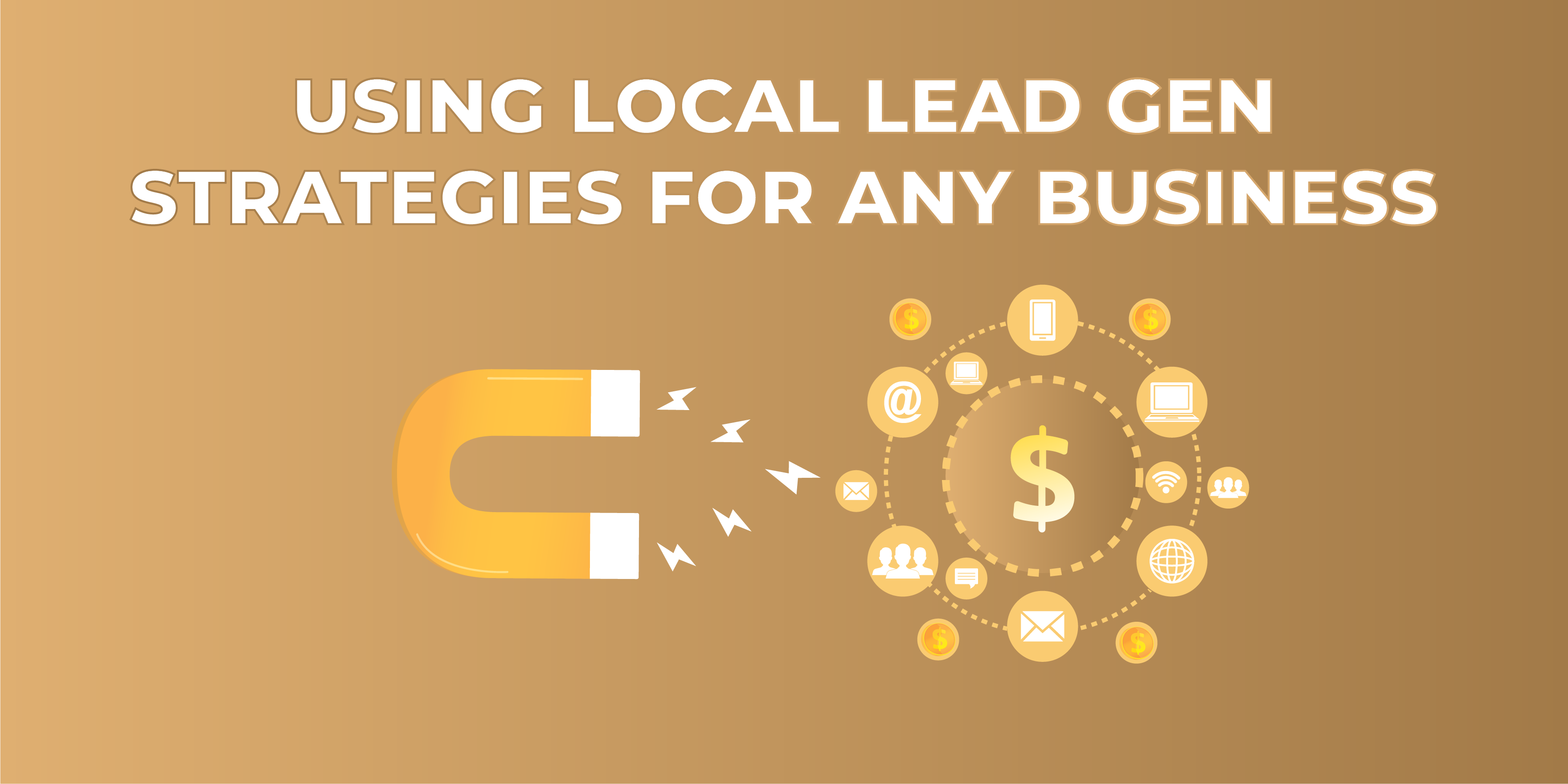 If you want customers, you better know you need it. Following the previous explanation, lead gen is all about placing businesses in front of their customers, choosing them over their competitors.
Put it simply – it's all about closing deals and having clients for those companies to make money. The main difference with the usual methods companies use for this is how lead generation approaches different channels to get them in the right place of the market to get customers.
Those channels are all focused on the Internet as most people are searching for products but also services across the net. The issue is that the Internet is way too broad, and businesses don't know how to place themselves. They usually try, but they get one common result: losing money and time.
How Powerful Are Organic Janitorial Leads from Google?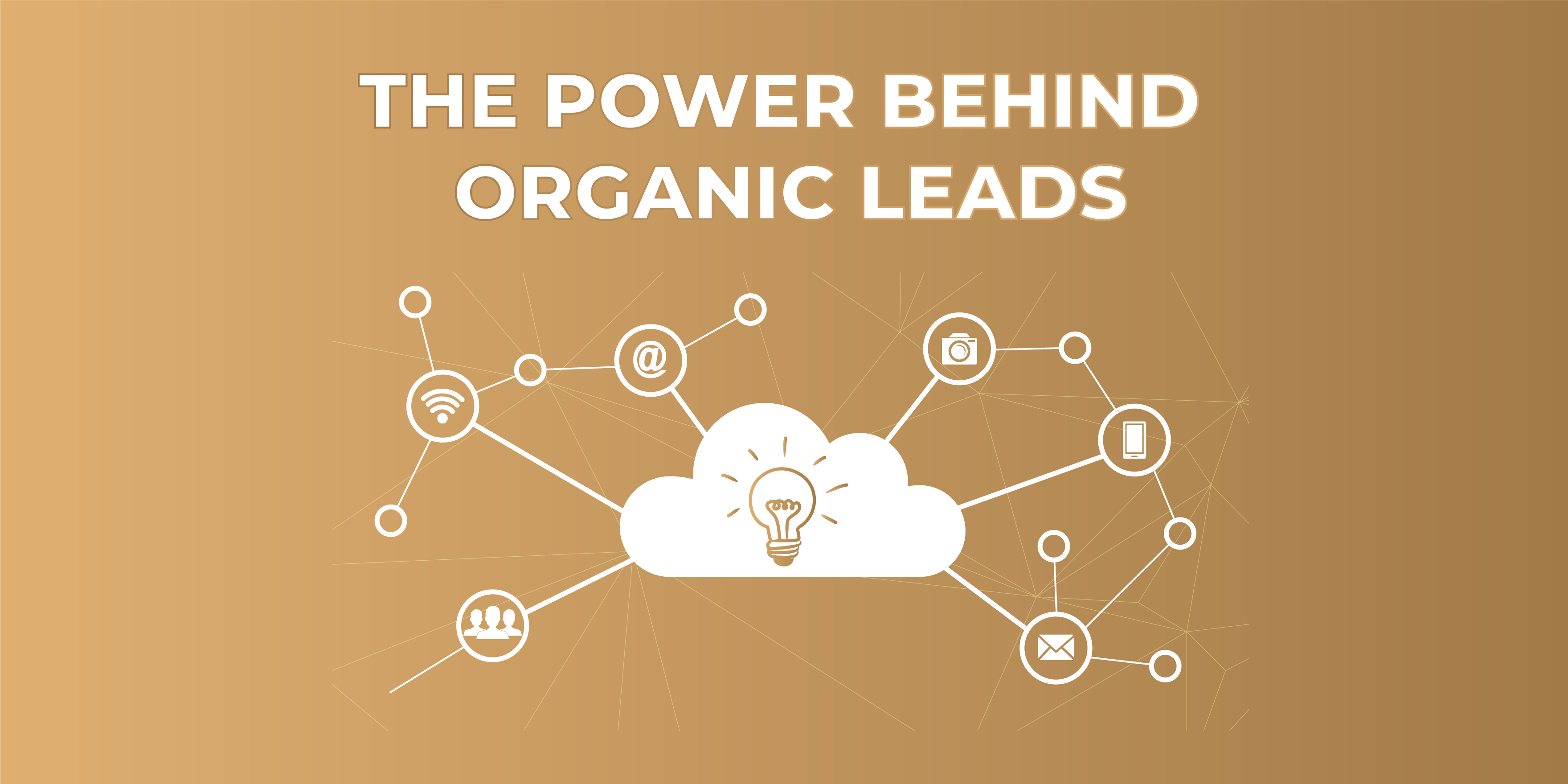 For companies looking for customers, it's everything. For you? Pretty much the same. When you build a business with digital properties, you get to make thousands of dollars a month.
This isn't a "get started today and get rich tomorrow" thing, but it is HIGHLY scalable, and ROI + positive results are guaranteed. Learning a fairly decent and very needed set of skills to create your digital properties and start ranking them on Google is required.
I have invested in several online businesses over the years, and if there's something uncertain, whether you will get your ROI or not, even more than the actual profit.
However, this business moved my earnings from five figures a year to a month in ONLY passive income while sitting comfortably at home.
On my laptop. Anywhere. Anytime.
You can look at one of the first sites I built back in 2016, and it continues making me over $1.000+ every month. The best part is that I don't need to touch it or the rest I've built over the years, just like this digital property.
What Makes Lead Generation SO Alluring?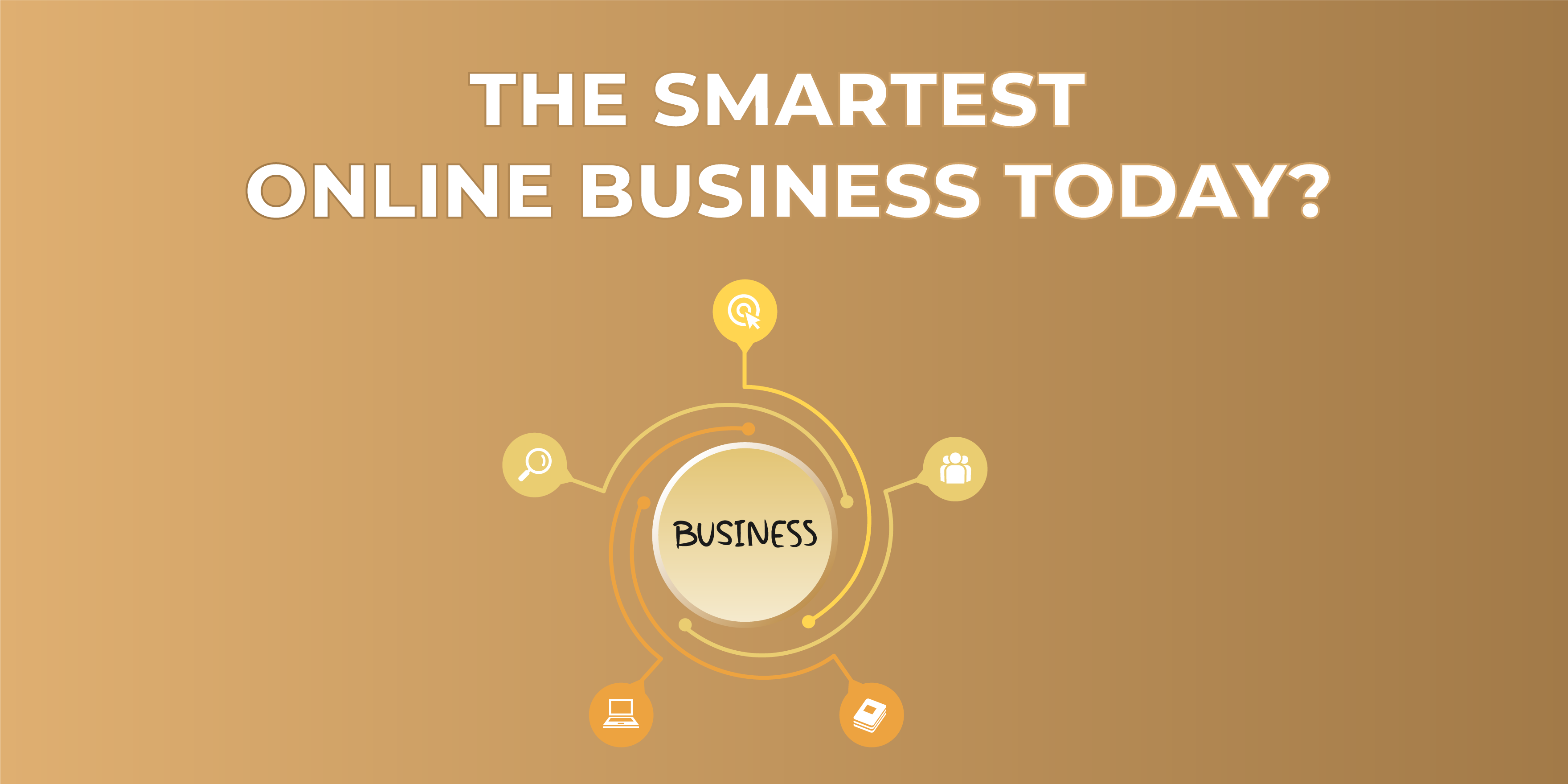 Here it goes: you can work from home.
The main issue with regular business opportunities is how much you need to invest in staff, equipment, or rent to have a place to sell your products or offer your services.
We all know the hassles of traditional businesses that involve regular expenses, which are extremely high.  Can you afford it? I don't think so, and even if you can, is it worth it? Now, it isn't only about the money. You also need to put in a lot of work, and it isn't only during the first couple of months or years. Usually, it is as long as you continue running it.
You can save yourself those headaches and bone-breaking tasks and expenses with lead gen since it is more about generating leads with digital channels—mainly websites.
Websites can be VERY cheap to build, and with many tools online, you get to do it in a couple of hours instead of days. Any virtual or digital business is scalable and won't need constant maintenance.
So, let's summarize this:
You save money in regular expenses with traditional and most online businesses as what you need is yourself and digital properties (websites).

You can bet on passive income.

 There's no need to hire more people to get started.

You can generate leads in multiple industries, which allows you to work on any niche you want.
How Can I Get Started in the Local Lead Generation Program?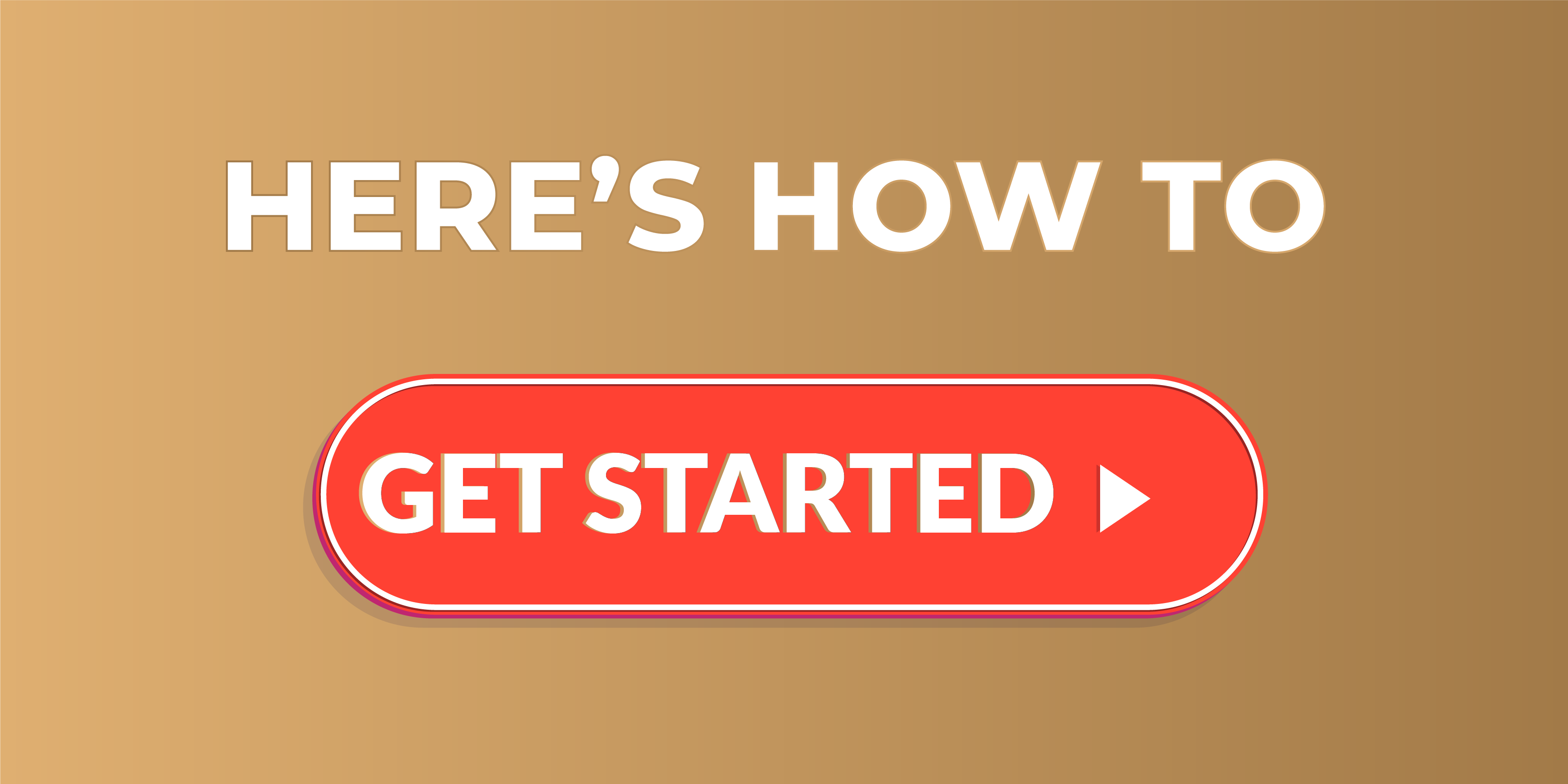 Anyone can start and learn. That's the beauty of this business model. I knew nothing about SEO, Map Listing, and everything I've mentioned so far. It is all about learning the skills, gaining experience, and deciding to take the step.
Remember that this business model will never get old as business owners are always looking for leads. They need to do business and scale their companies. Why not do the same while helping others and still making money?
You can start with this local lead generation course highly recommended for anyone wanting to grow in the business. It is a close training that will take you through each step and make sure you are able to get your ROI, profits and take control of your life.
You will be added to an incredible lead generation family ready to help you 24/7 when asking questions on the group. Anyone is welcome who's willing to put in the work. Click here to watch the lead gen webinar.