It is now easier than ever to become a drone photographer thanks to modern technology. And learning how to start a drone photography business can be a very lucrative business if you choose to pursue this endeavor. Why? One main reason is the falling of drone prices consistently year after year. You can even survey the ground, reach difficult places, and create a unique aerial video with a simple drone.
Drones are the single-handed change in aerial photography and the reason behind the number of people wanting to start a drone photography business in specific.
There's much more to being a professional photographer than just buying a drone and snapping some photos. So, this process of starting your business will require more than the usual basics and simple steps to start.
We recommend you focus on learning everything you can about the profession you're about to take. If you consider yourself a pro already, isn't there anything else you can learn?
On the other hand, it is clear that having drones can help you improve your portfolio and capture amazing aerial shots and will be required for this type of business. However, it can be difficult to get started.
First, make sure you have a proper drone that can resist and support all the work you will put it to do, but also guarantee you know everything about laws and regulations in your niche.
If you have no idea of how to take care of everything properly, just keep reading below to find the essential (and some extra) steps.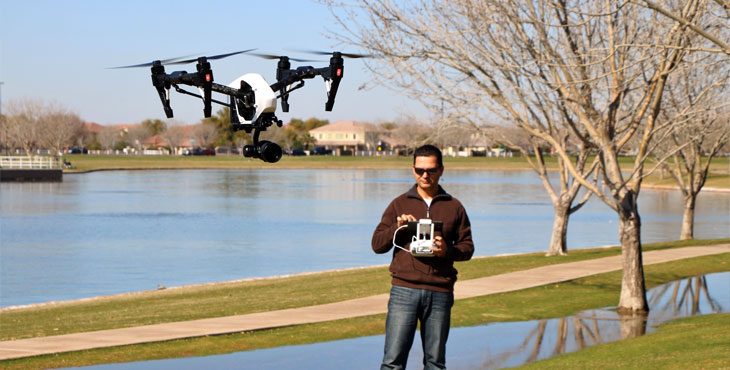 Always Learn the Basics
Although it may seem obvious, knowing the basics of drones with cameras is important before you start your business.
Drones can be costly. It is not a good idea to invest a lot of money in something that might not work as you expected and considering there are many affordable options that work for what you need.
Now, every drone is different. But here are some things that all photography drones should possess:
Camera Gimbals: A gimbal keeps your drone camera stable from vibrations during flight. This is essential for capturing high-quality aerial photos and can make or break your shots.
GPS: Drones can determine their exact location and send that information to the controller, just like your smartphone's GPS function.
FPV: this is an acronym that stands for "First Person View" and describes the time your drone's camera streams live video content. This feature is useful for capturing unique shots mid-air, but it's not usually used for drone racing.
Flight controller: This piece of equipment is used to fly your drone. This should include flight status data, a map overlay, and waypoint control.
Collision Avoidance: This feature prevents your drone from colliding with objects in its flight path.
These are only the basics. The model that you purchase will determine the features of your camera drone.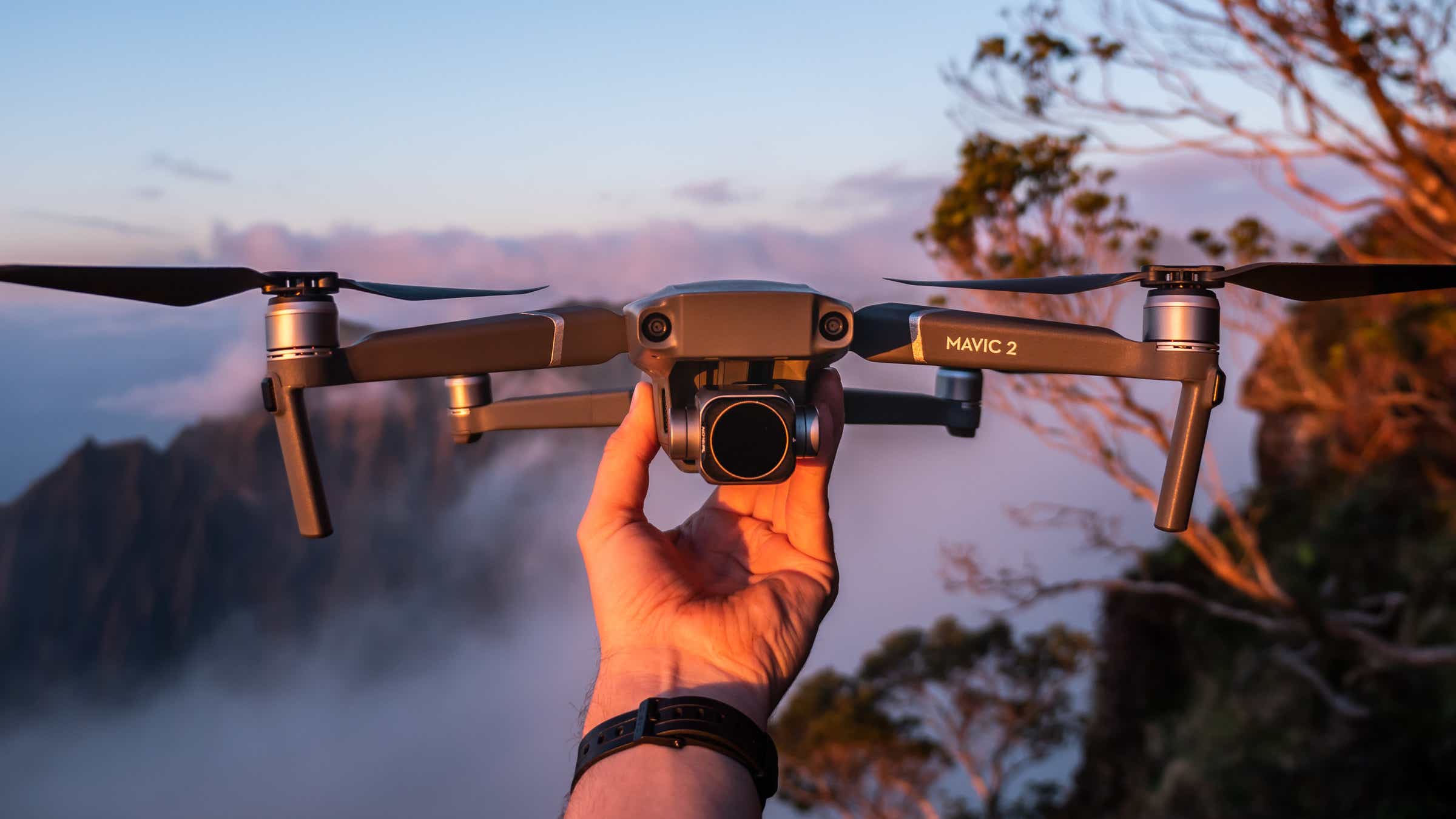 Buy the Right Equipment
We don't need to mention how important a drone is if you want to start a drone photography company—clearly. Now, although the basics are a good start, there is more to owning a drone than just the item itself.
You will need to decide whether you want specific cameras that will perform according to your needs and sessions.
Usually, pros consider drones with built-in cameras because they're larger and easier to use as well and can be attached without any issues.
However, if you are just starting, a lightweight drone is the best choice for beginners. These drones are more stable, won't cost you an eye, and are easier to handle and control compared to other options in the market. Keep in mind that even when a drone is high-tech, it doesn't mean you will get the desired images or photos at once.
Photography with this equipment takes a lot of practice, which is why affordable or cheap drones are better to practice with.
Next, take the time to familiarize yourself with the item and learn how to utilize your drone accessories; while in the process, remember you will need some extra items:
You will need additional drone batteries since they only last between 15-45 minutes during flights.

Protect your propeller from any damage by avoiding too close contact with




just anything.

Keep a bag of SD memories so you can take as many photos as you want without feeling limited in space.

Nighttime flights with LED lights will be needed for most nocturnal shots.

Protect your drone with a landing pad.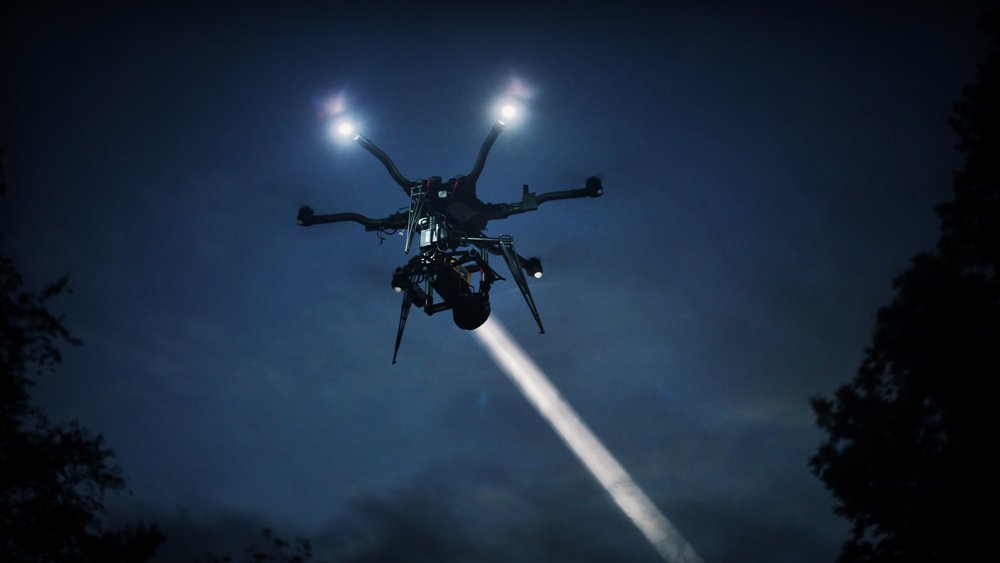 Take Some Flying Lessons
You won't be able to capture quality images and video if you don't know how your drone works, and this goes for the specific model you bought and the general rules for any of them.
You can start with a basic drone camera and then move up to more advanced drones that have specialty add-ons. You will be able to improve your skills and become a better aerial photographer. This will allow you to attract more customers and increase sales.
These are some tips to help you get started:
Refer to the manual to learn how everything works.

Set your speed and maneuvering settings.

Test The camera settings every session to ensure you get the best possible images.
Also, make sure you learn how to use these features.
For capturing exactly what your drone camera captures, check out Smartphone Feed.

Smart mode for stabilizing shots in windy and other shaky situations.

Tracking to capture elements such as yourself in every shot.

Geofence limit how far and high your drone can fly.

The features that you can use depend on your model. Knowing which features are available and what they mean for beginners is helpful, so you have a solid foundation.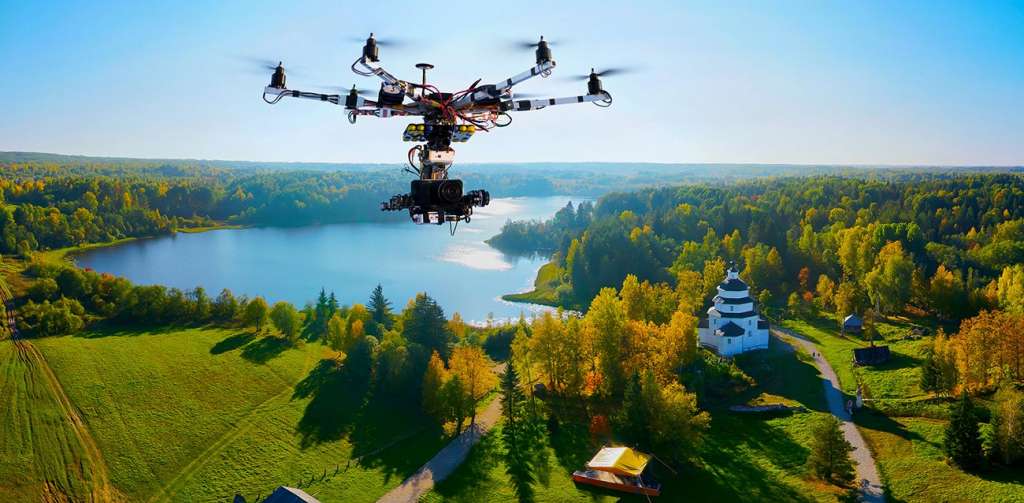 Always Remember to Check the Laws
Most places in the USA have strict rules about drones and their flight patterns, which is why you will need to be careful with this type of business and how you operate.
They also limit the images you can capture as a drone photographer, which actually makes sense.
If you're worried about it, remember this is especially true for those taking photos near public areas or places like schools or airports.
Avoiding fines is possible by knowing where your drone can be operated will save you time and money, and you won't need to worry about future lawsuits. It can weigh between 0.55 and 55 pounds and require a Federal Aviation Administration (FAA) registration.
When it comes to personal use, you don't have to overthink this since you can take photos with a drone for this reason. However, professionals are required to ensure that they don't violate any federal laws by selling images from your drone
that you could have taken from someone else in the process.
Finally, remember that each country has different limits and regulations. As drones with cameras get more common, new ones are being created to address these new situations and keep privacy as the main goal.
For more information on drone laws in the United States of America, visit the FAA website. UK residents can be referred to the Civil Aviation Authority website.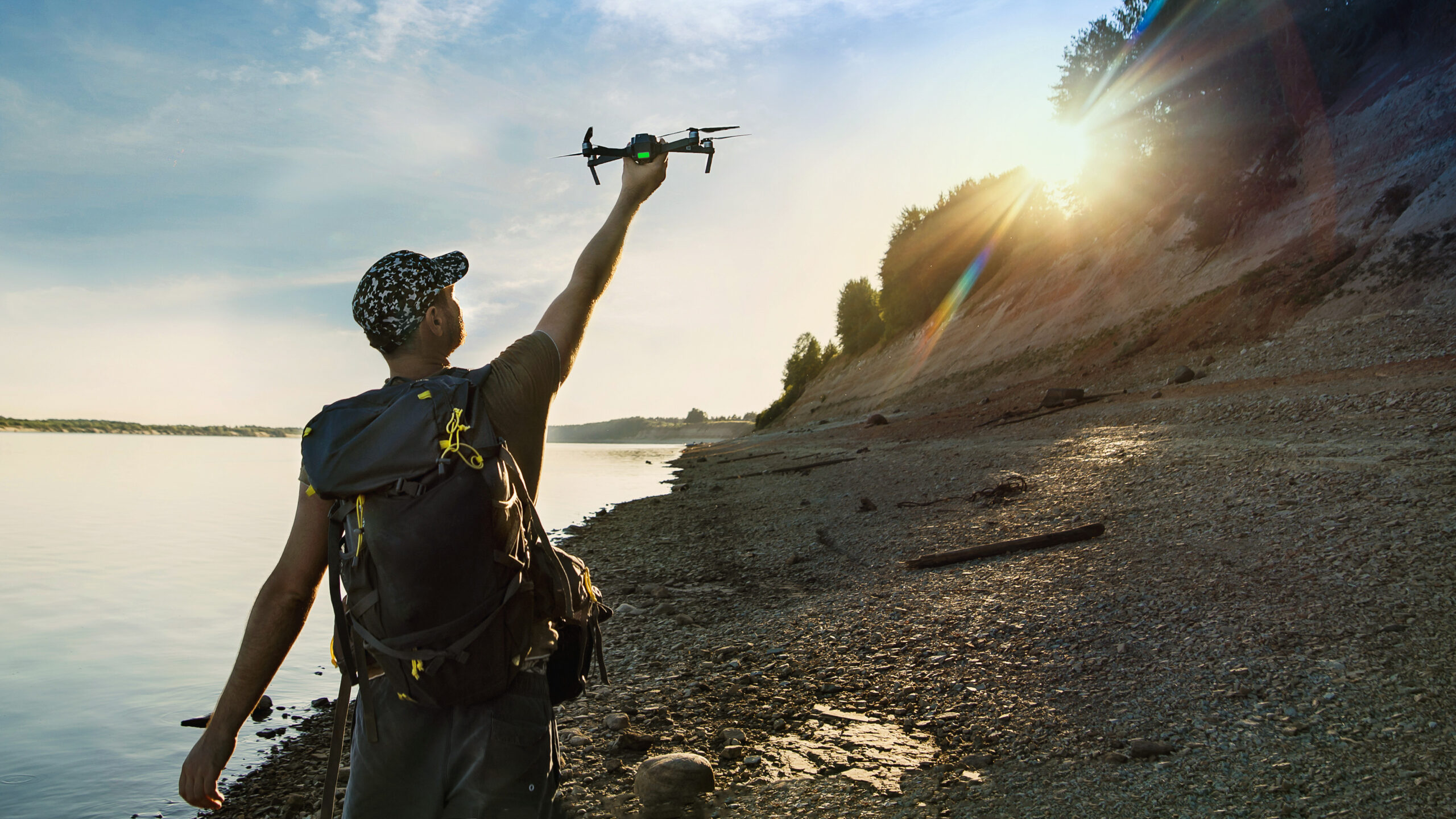 Get Done Some Additional Documents
To help you be more secure, consider the following requirements (but not so mandatory):
Get Drone Insurance: This protects against any accidents that may involve your drone and gives you priority over others without it.

When you get insurance, always inform potential customers about this so that they can feel safer and learn that they won't have to worry about the photo you took and if it can be shared or not. This is crucial since you want to protect your investment as drones and accessories can get more expensive as your business grows.

Apply for a Flying License: While there are no easy answers to the question of whether you need a flying license, mainly because it depends on where you live, the truth is that many countries require licensing for drone pilots who fly commercially.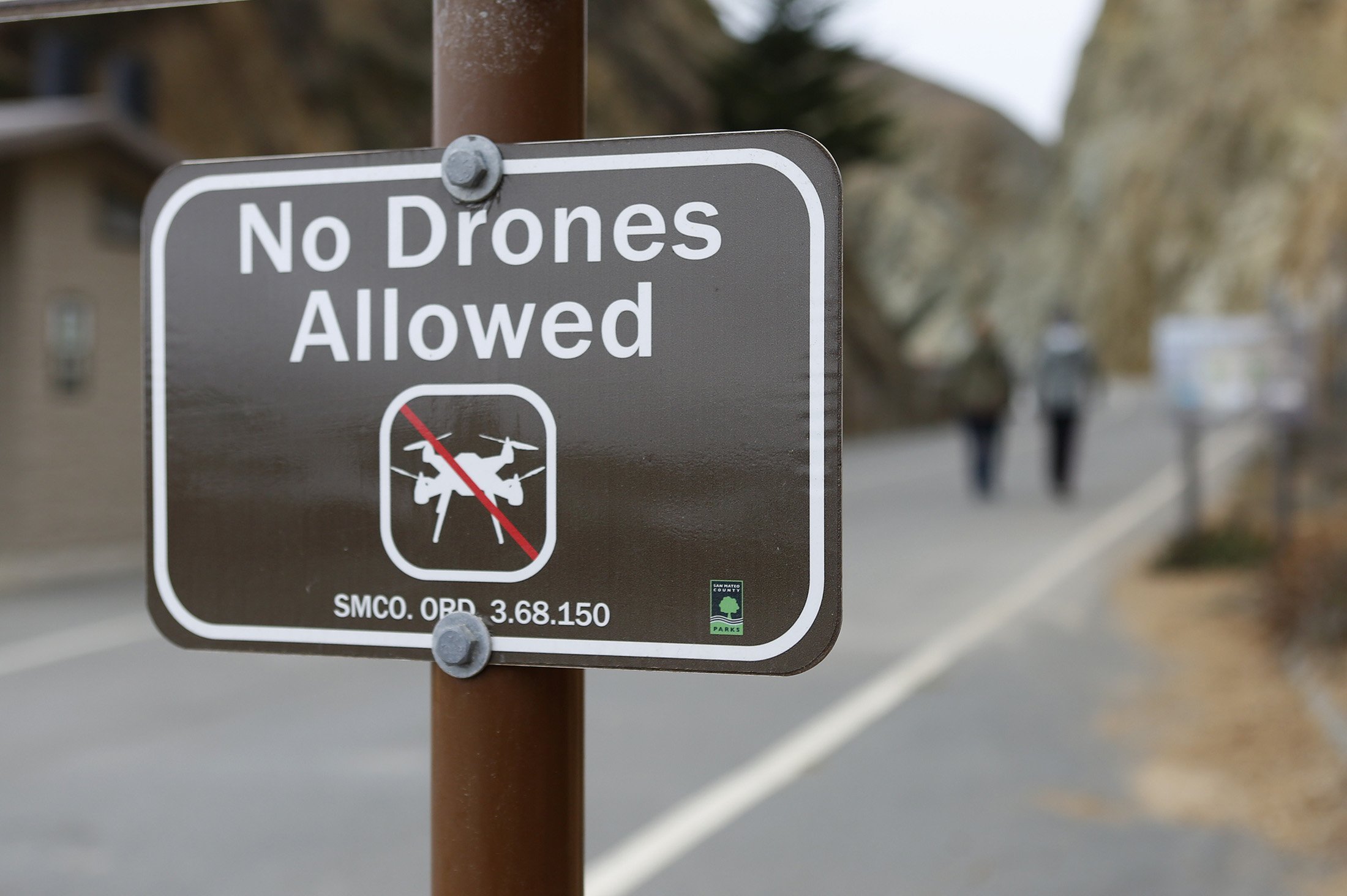 Take the Time to Make a Pre-Flight Checklist
It is important to have a checklist for pre-flight, especially if you depend on the images you take to make money. You don't want any money or time wasted while taking aerial photos.
Preparing before you begin is the best way for you to avoid any potential problems. This will ensure that everyone is safe, even your drone.
These are the top things you should include on your pre-flight checklist.
Flying area: Where will your drone be flying? Is it on private property where you will need to obtain a permit?
The surrounding area: Will there always be people? Are you able to fly at your own pace without fear of injury or damage? Are you allowed to fly a drone near others?
Battery Life: Are all your batteries fully charged and have extras? What time will it take to capture the images you desire?
Drone Settings: Based upon things like weather, surrounding, and fly area, which settings do you need to set up on your drone in order to capture high-resolution images?
Propellers: What do your propellers look like? Are they in need of replacement? If so, are you able to keep some spares on hand?
Controls: Are all functions working on the controller? Are you able to sync your smartphone with the controller? Are the drone and controller communicating with each other?
It will save you time and reduce frustration by answering all these questions before you go out to take your aerial photos.
This will help you get the best photos possible and will make your business more successful.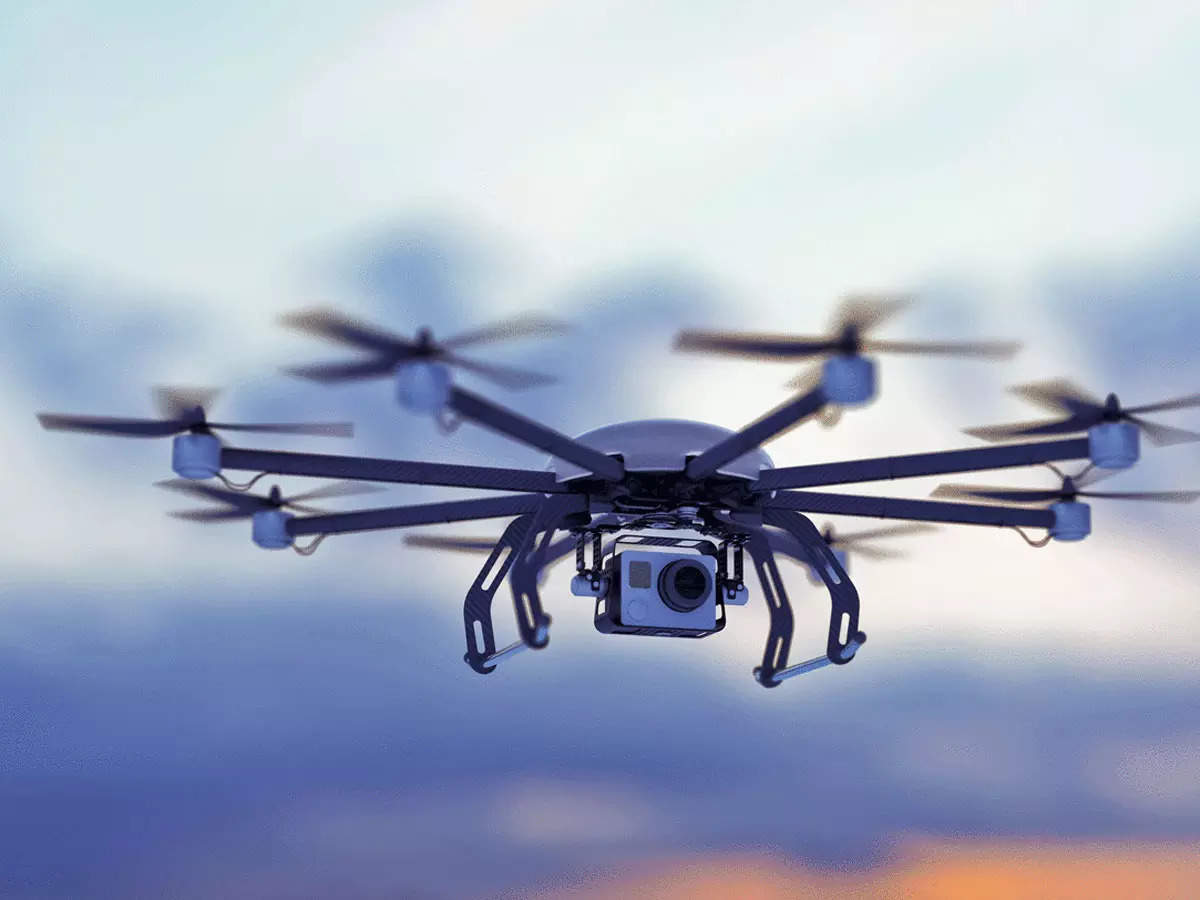 Examine the Competition
You'll see more drone photography businesses emerge as drone photography technology advances. It is only natural for this to happen.
You must study your competition to find the areas where there are gaps in service. This will allow you to fill those gaps and provide customers and clients with the services they need.
Perhaps all of the drone photographers in your region only shoot still photos and leave video content untapped. Perhaps you are limited to high-end services and can offer lower prices for customers who want affordable aerial prints.
Do not waste your time trying to join an overcrowded industry. Instead, focus on your strengths and find a niche (like real estate, boats or landscapes, etc.) that is both unique and competitive to generate the highest revenue.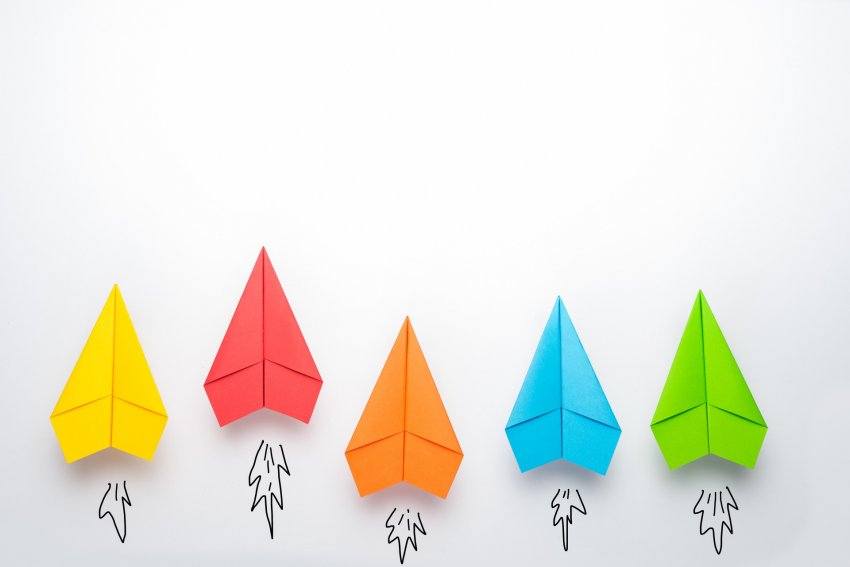 Make an Online Portfolio & Promotion
People are always searching online for photographers to assist them instead of using the traditional method of going over yellow pages and, you know, relying on the usual.
Therefore, you should consider creating a website that displays your best work and gives people a way to buy from your online shop or contact you to hire you.
With this in mind, you must know that almost everyone now has a social account, which is why this is another crucial element for your business to share some images and market them accordingly.
It is not enough to hope that people will hire your drone photography services or purchase your aerial images just because they landed on your website. Market to your target audience. You can't generate qualified leads if you don't.
You can share your work via social media channels like Facebook, Twitter, or Instagram to reach a wider audience, drive traffic, and attract highly qualified leads interested in what you offer.
You should also promote your online business by selling photos online through platforms such as Adobe Stock, Getty, or Shutterstock. This will increase your profits and establish you as a professional drone photographer.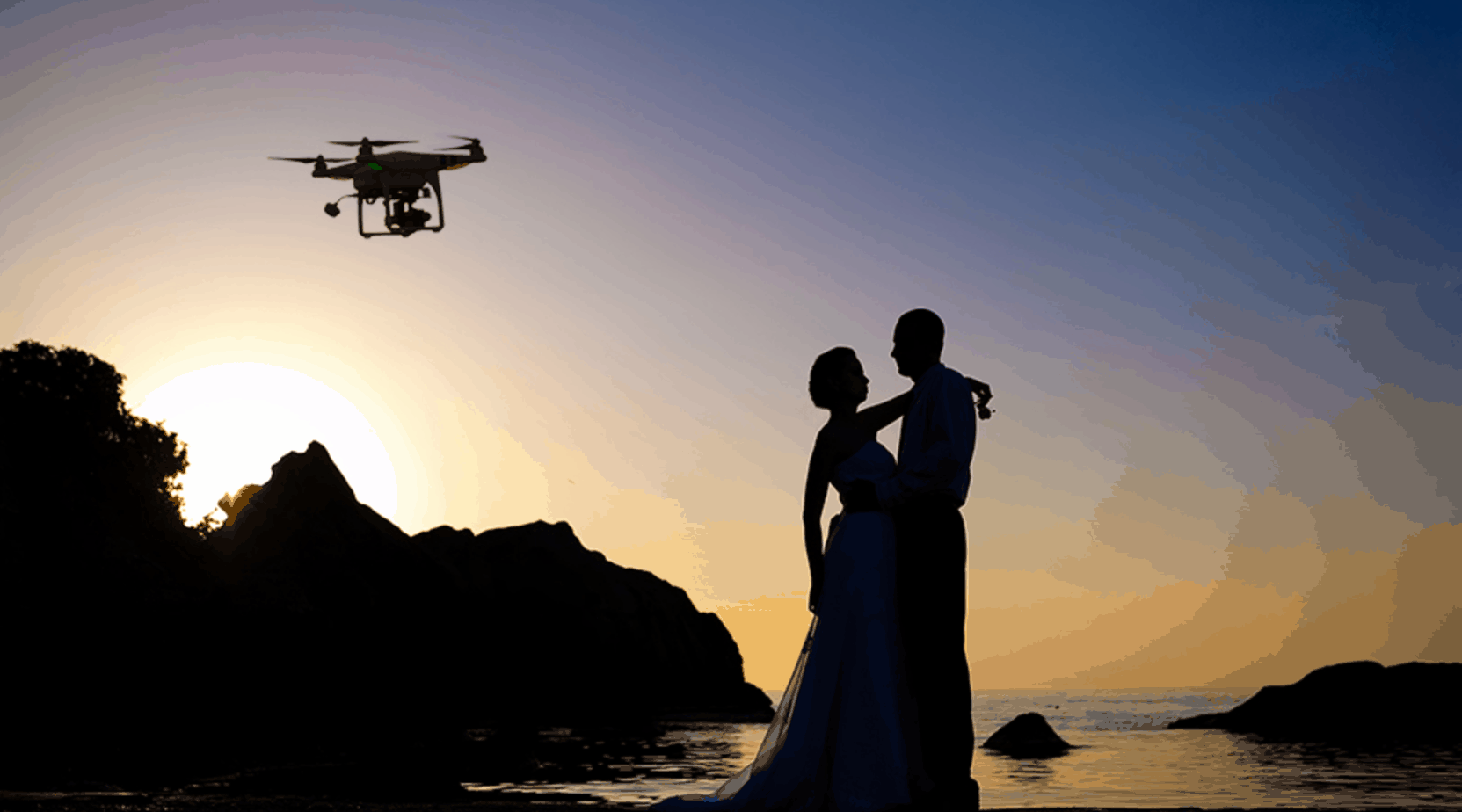 Tips to Start & Succeed with a Drone Photography Business
Now that we are done with the essentials of starting your business let's focus on some tips that will get you the best out of your efforts, time, and money.
If you start with the idea that everything you need is expensive or useless, there's no way you will get actual profit in the future. Thus, take notes of the tips we have for sharing:
Get an Affordable Drone
You might be tempted to buy a more expensive drone right away, even if you have the funds.
However, if you decide to buy an affordable option, you can experiment with your equipment without worrying about damaging it. Instead of focusing on the details, compositions, angles, or views, you can instead focus on the drone you're using and how to make it better to save you work and time.
These are some of the most affordable drones available:
Ryze Tello.

Potensic D85.

Hasakee K5 Mini Nano Drone.
These cameras are light and portable, so you don't have to worry about losing quality.
You can later invest in a high-quality drone to take amazing shots or upgrade your drone if you feel it is doing just fine and would be amazing with a few appliances.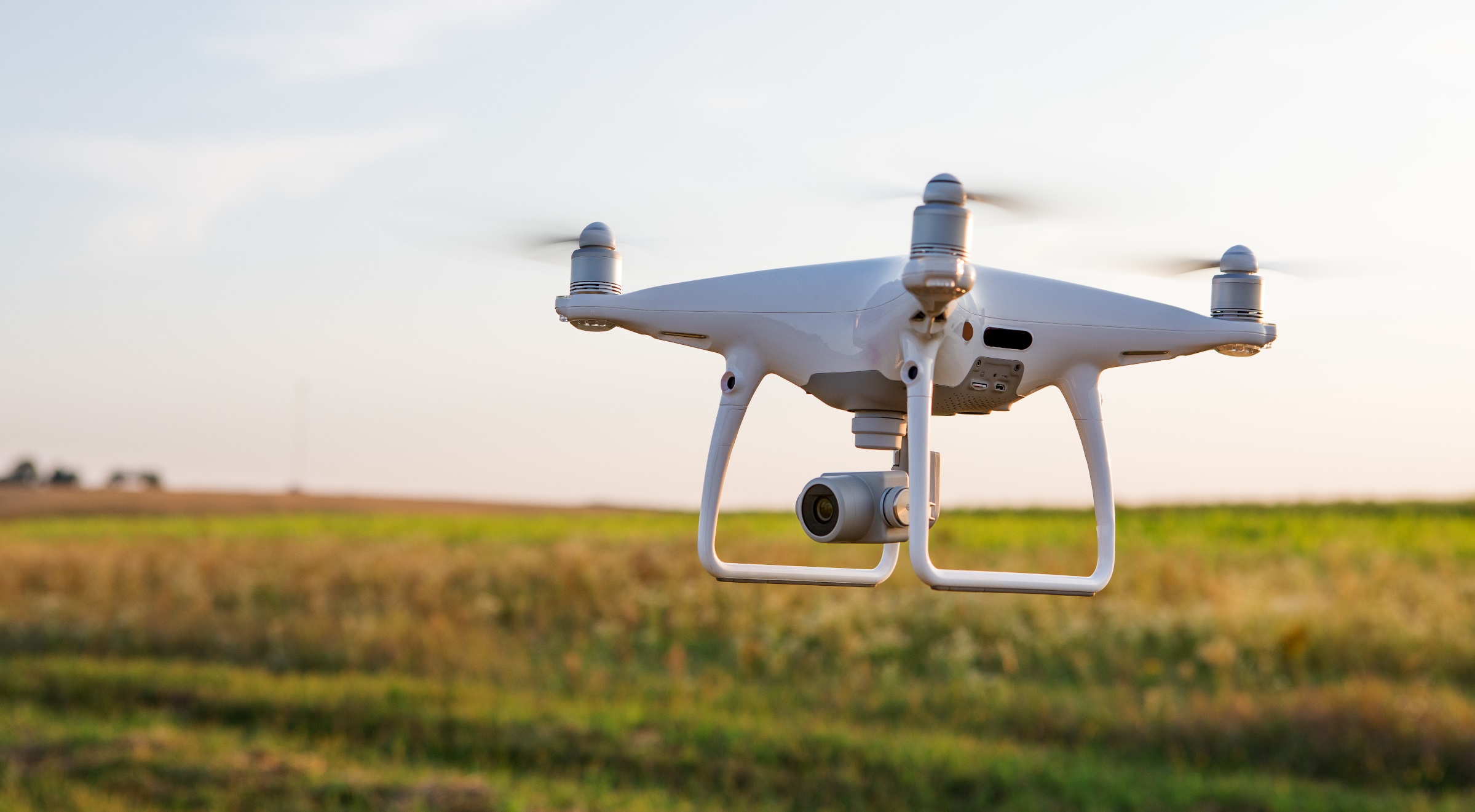 When to Buy a Professional One
Professional drones can be purchased once you feel you have sufficient experience in drone photography. The type of work that you are doing will determine the drone you purchase.
These are some of the most advanced drones available today:
DJI Mavic Pro.

Parrot Anafi.

DJI Inspire2.
Although these are expensive, they are worth the investment if you're looking to establish a profitable drone photography business and it is time to get more clients or book more. You will feel more confident when you offer your services to clients if your equipment is top-quality.
Try Out Different Drone Types 
This is a crucial step in your business strategy. Drone photography has many sub-genres, as we have already mentioned.
These are just a handful of categories drone photographers can explore:
Real estate.

Surveillance.

Agriculture.

Weddings.
You should try as many different genres as you can. You should have at least two favorite photography styles that are easy to master. You'll get more clients the more you learn.
Once you have selected a few favorites, you can begin offering your services to many people.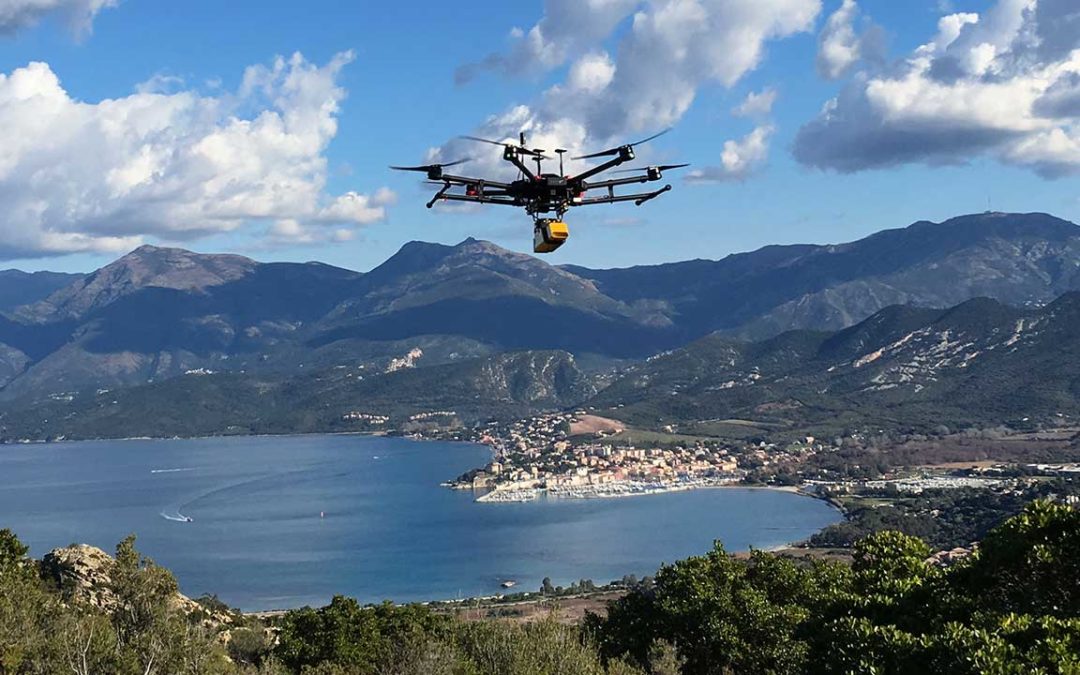 Create Your Checklist
Before you officially launch your business, make a list. You can make a list of things to do or a list of questions. Here are some questions to keep in mind:
Who is my target audience?

What is the realistic amount I can make in a year?

Are there any friends or acquaintances who may be interested in my venture?

Are you interested in drone videography as well?

What is the best social networking platform for advertising my work?

What's my backup plan in case something goes wrong?
You'll be more successful in maintaining your business strength no matter what happens.
Look at Competitors to Improve Your Business
Different types of drone photography are thriving in different places. Take a look at the local drone photographers to see what they have to offer. Pay attention to similarities in pricing and editing styles.
Are most of them only offering photography services? You might be able to offer additional videography services if that's the case. You want to discover what is missing and then use it to attract new customers.
You can also include professional color correction and 24-hour turnaround in your offer.
You must ensure that the offer is feasible for you. It's important that you take your work to the next level. However, it is equally important to remember your limitations and capabilities.
If you have a part-time job, you might be able to offer a 48-hour turnaround rather than a 24-hour turnaround. This will allow you to manage both jobs efficiently without compromising one.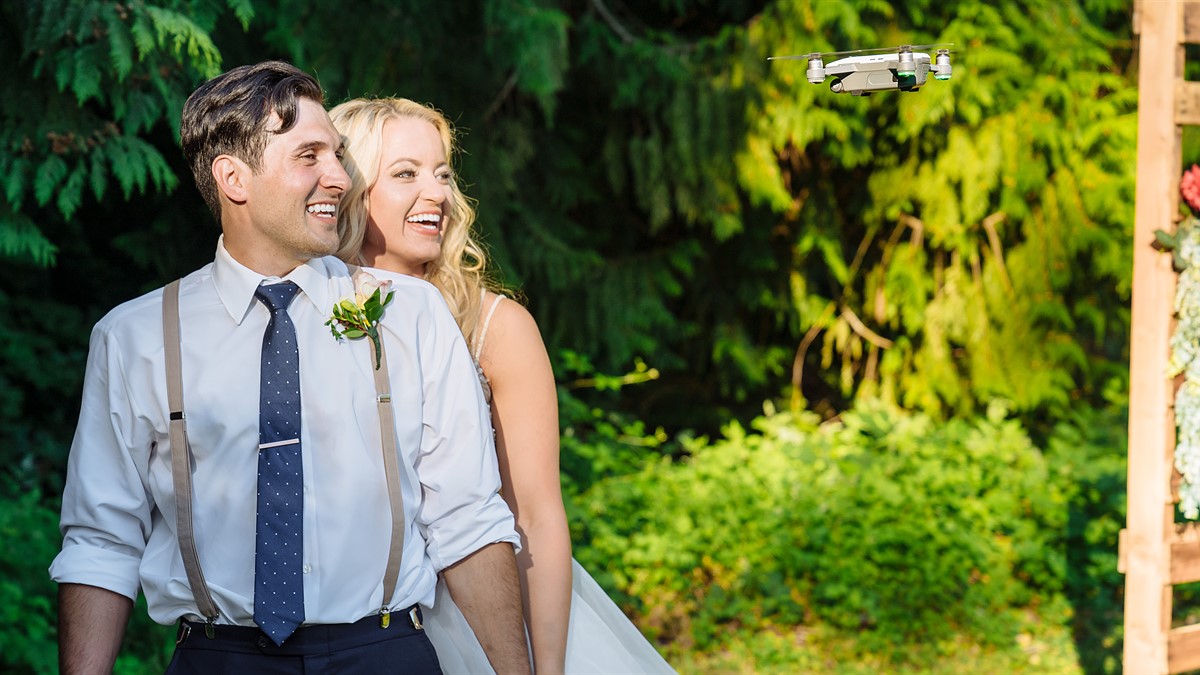 Create A Solid Pricing Plan
There is no one right or wrong way to price photography. Prices for drone photographers range from $50 to $450 per hour, and it is all about how much you think your service is worth and how the market is valued today.
You might prefer to start low if you are a beginner or need some experience.
Find a rate that you feel is fair. Compare it with the pricing plans of your competitors. If you offer additional services, you have the right to charge more.
Remember to factor in turnaround time. You should add an extra charge if you are able to send the results to your client within 24 hours.
Many drone photographers offer several pricing options. You can offer a complete package at a fixed price instead of charging an hourly rate. You should consider your turnaround time, how much time you will be shooting, and whether the clients require edited photos.

Sell Your Photos on Stock Photo Websites
You don't necessarily have to shoot for clients to make some money. Many drone photographers sell photos to advertising companies and publishers. Finding a stock agency is one of the best ways to do so.
You can submit either exclusive or non-exclusive work or exclusive work once only or for a short time. You can buy non-exclusive work over and over again.
Stock photography agencies are not as expensive as clients, but they can provide a great source of passive income.
Always Be Present
After everything is set up, you can begin posting photos to social media. Your exposure on the platform can help you gain more clients, a stronger reputation, and get paid promotions. You can also build a community with inspiring artists.
You can start with just a few social media platforms. You'll be able to spend your time on social media wisely if you only focus on a few.
Post regularly. Involve people in your work to make them feel special. You can use hashtags that are related to drone photography to make your work more visible.
While it might not pay all the bills, it will keep your mind and body energized.
The Local Lead Generation Process for Your Drone Photography Business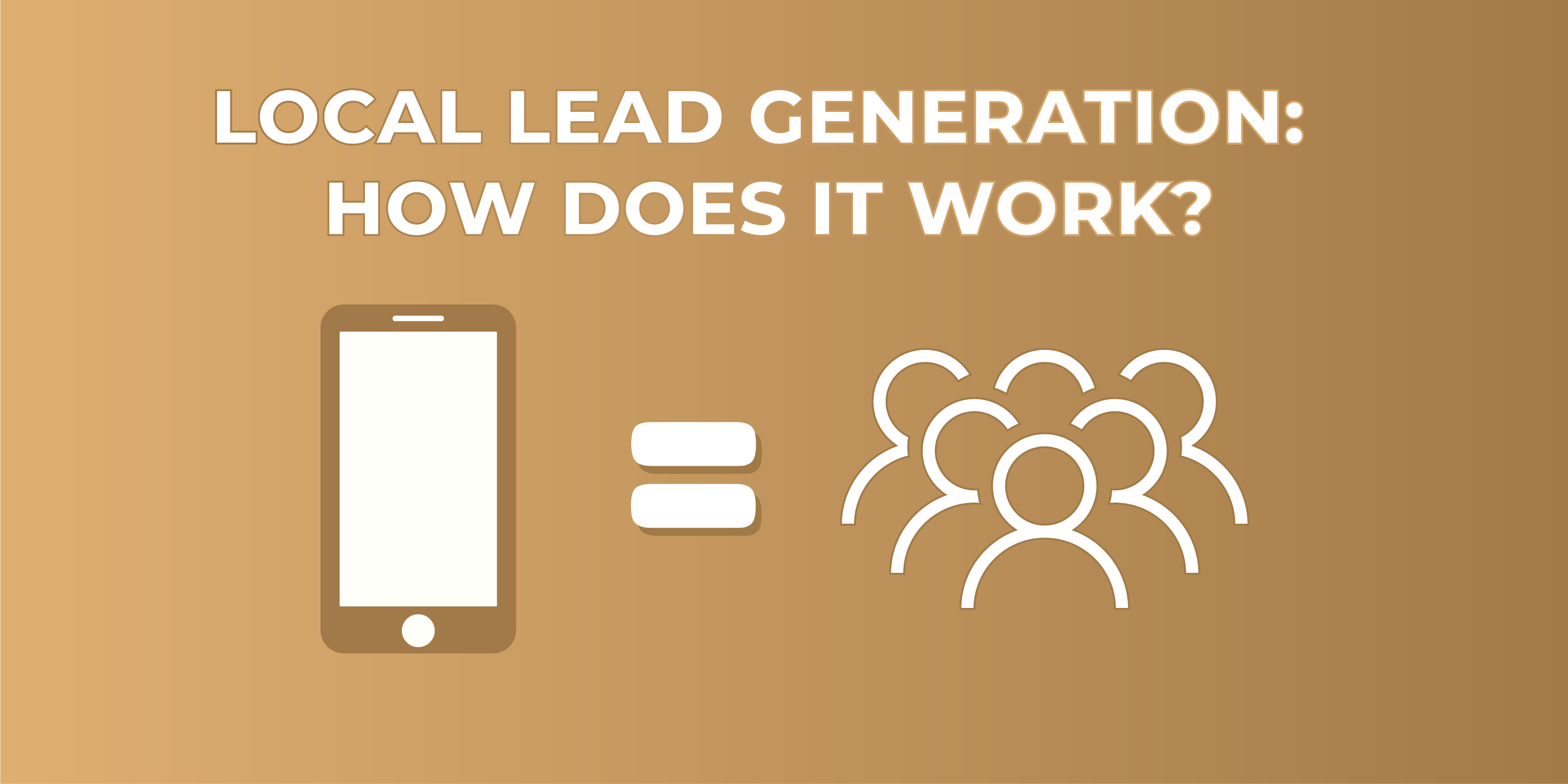 All right! So, everything is about building properties and generating leads. But how does the process actually take place? Are there other steps I need to know?
The steps I mention below are what students from our local lead generation program follow to generate leads for businesses like yourself. So I'll help you see what we do. And how if you join our program, you can simply generate leads for your own business (unless you want to start a side hustle and build a laptop lifestyle business).
Essentially, our lead generation can be divided into four steps:
The first is prospecting. You need to take the time to do market research on a niche (industry) and determine how many phone-driven businesses are there.
Keep in mind that this is local research as you need to know how many companies need leads. For example, you may search for "plumbing services Youngstown OH."
You will find dozens or even hundreds of businesses trying to get themselves in front of the customers by ranking on Map Listings, organic results, and even Ad.
The second step, building. When you find a niche (plumbing, tree services, a software company, real estate…), you will need to start building your digital properties. You don't need to be an expert in HTML or coding. It can be easy with the right tools.
The third step is now taking time to rank your lead gen website. With the site done, you need to work on SEO strategies and start dominating those Google search results. If you're new to SEO, it stands for Search Engine Optimization.
To keep it simple, it consists of the entire process of growing a company's visibility on search engines like Google and generating organic traffic. And remember this, local lead generation is part of the strategies.
Moving on to step four, once you rank the site, you will start getting your ROI and profits. You only need to rent it out to a local business interested in the leads the site generates. You can offer a couple of free leads to their move on with the actual pay per lead.
To review steps 1-4 above, I described it to a normal student who is building a lead gen business to help local service providers generate more calls. But replace the student with you as the business owner. And replace sending the leads to a business to simply siphoning the leads to your personal business.
By the way, fun fact, about 20% of our students in our local lead gen program are actually business owners who went through the program. And they use the skillsets we teach to generate leads for their own business.
An Example of Lead Generation: Home Advisor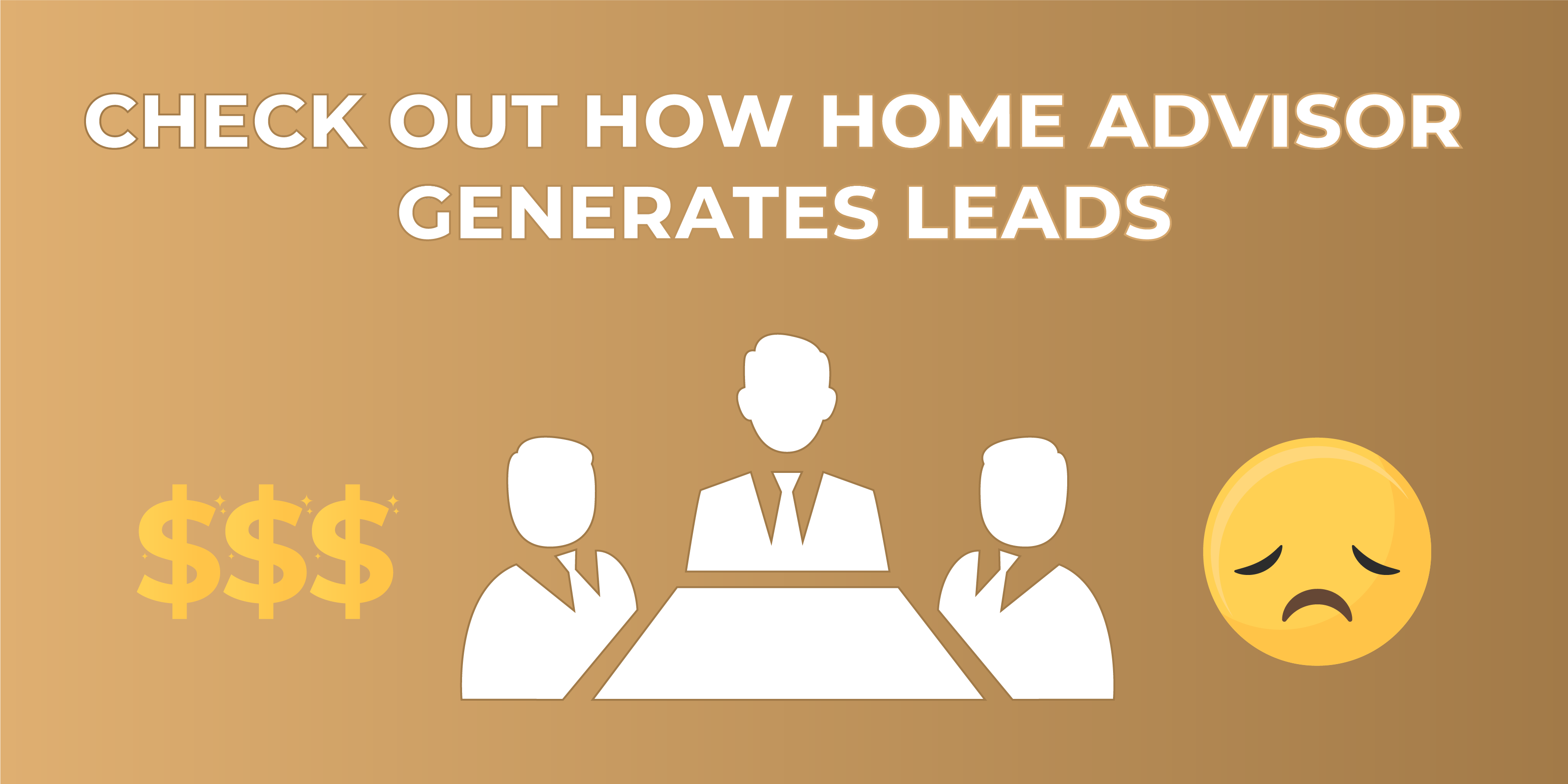 You must be thinking, "if lead generation sounds so good so far, how come I haven't seen any company?" That's the thing; there are many out there. You just don't know they are dedicated to it.
HomeAdvisor is one of the best examples you can find on the Internet as it is a top lead generation company that has spent millions building its brand but also earned even more zeros for this same reason.
They started small as everyone else but invested in building their brand awareness to make people who are looking for home services go to their website and find what they need. They are over 75% of people's first choice when they need those services.
If you don't get HomeAdvisor that much or need a refresh, users need to submit their information to request a service and get a professional or expert who can provide it.
HomeAdvisor's job is to share your information, which makes you a lead, with local companies so they can contact you and offer the service you're requesting. For sharing this lead information, HomeAdvisor gets paid by the companies. This happens for every single lead they send to multiple businesses.
Business owners who don't have marketing skills or don't even know how to have any online presence will always rely on those pages to list their services.  They will save time and effort, but companies like HomeAdvisor can make them spend lots of money as leads aren't exclusive (one lead is sent to multiple companies after all).
Using Facebook Ads aka Paid Ad Platforms: Do They Generate Leads?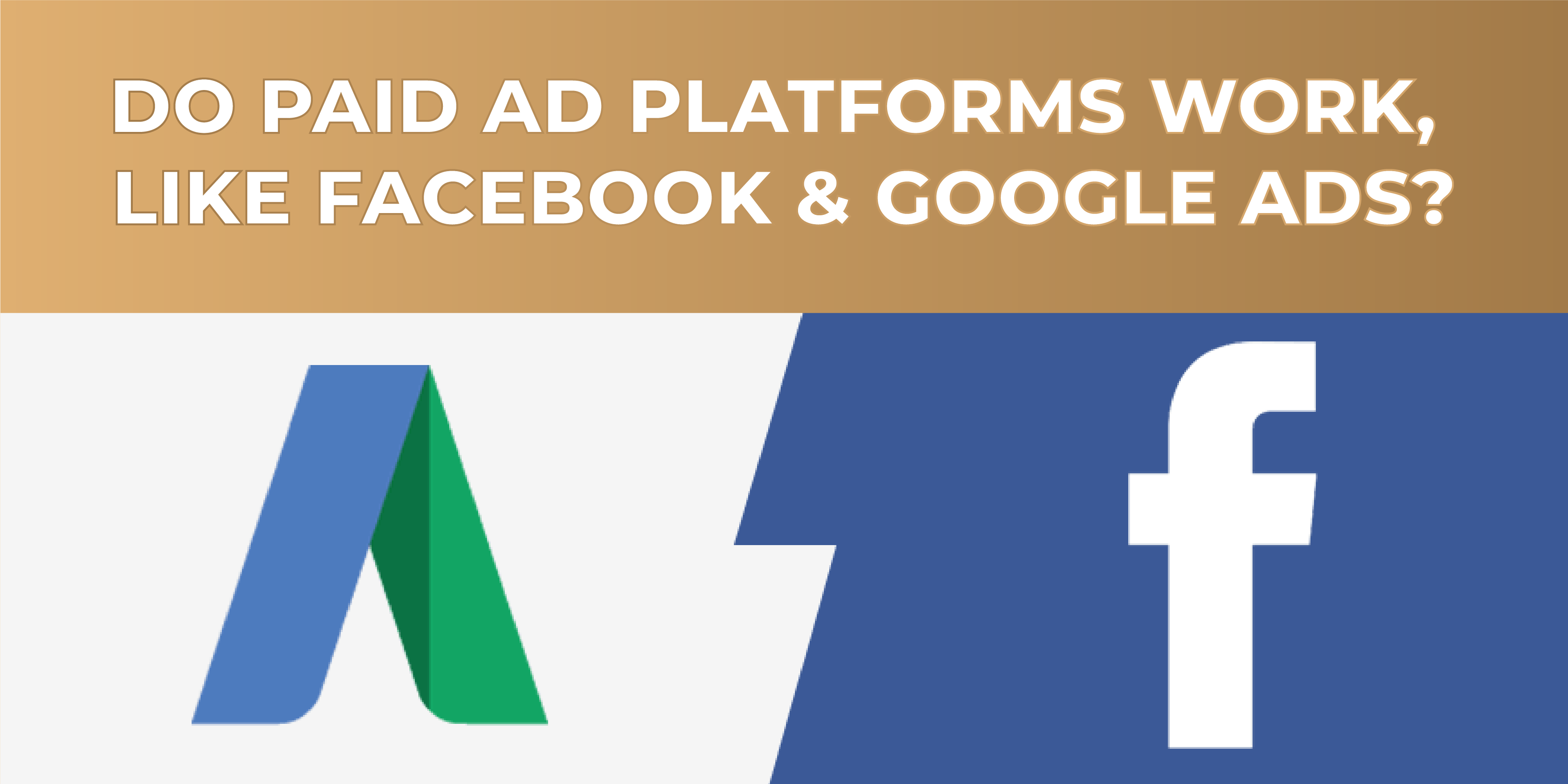 They DO generate leads. If not, no one would use them.
However, you need to remember two facts:
Paid ads or platforms can be expensive.

They don't generate "natural" leads.
Whenever someone sees or clicks in one of those ads, over 80% of them did it by accident or are trying to close/report it.
Why? Because they aren't looking for those services. At least not at the moment.
What those ads do instead is interrupt their time on the platforms. Users aren't there to find companies or businesses unless they are searching for a specific company's user, and for that, there's a search bar. This is why it is hard to convert them to actual customers who will show interest in the companies' services. Also, you're limited by a budget.
When using lead generation, everything is organic. You aren't forcing others to pay attention to your business but rather being there when they need you. This is why Google's organic traffic will always beat paid ads, and the reason companies continue investing in it, which is a lot cheaper as well.
What Is Local SEO?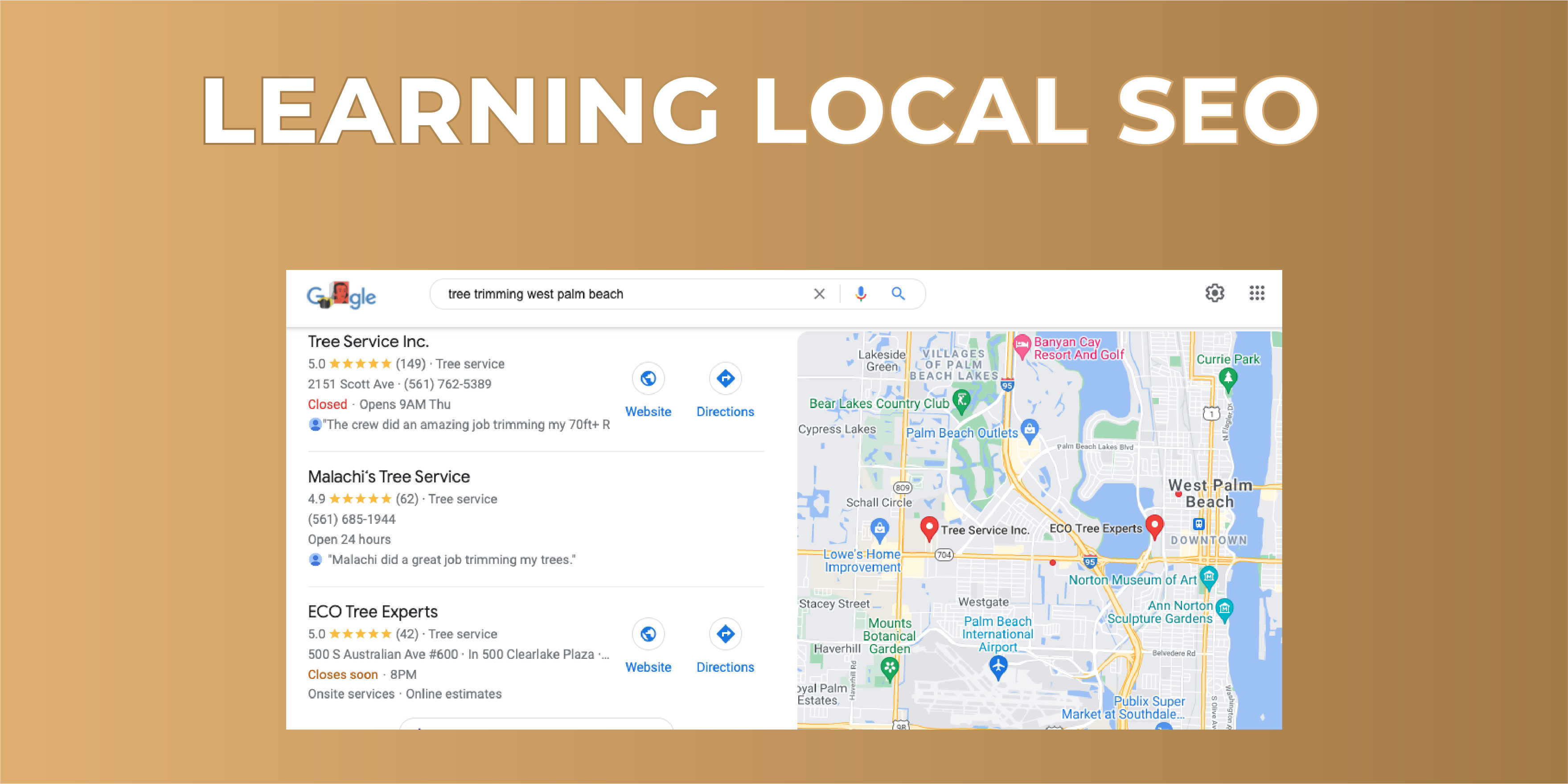 Don't worry… I didn't get it at first either. Following the short explanation, local SEO focuses on scaling businesses' visibility on search engines. However, this is only for those who serve their communities face-to-face.
What does this mean?
Experts and professionals like painters, plumbers, and dentists (but not only them) offer their services to their local customers. Why? Because they can't deliver them unless they are located in the same area of their customers.
To make sure those businesses get more leads, you need to rank them locally by claiming the business listing on Google to place them on Map Listings. Local SEO also involves online reviews, citation management, and how you manage your entire online presence in the local area.
If you are going to bet on lead gen, you need to adapt yourself to today's world: The Internet.
Keep in mind that although traditional channels and methods like billboards, warm calls, and pamphlets still work, they aren't part of your tools. Whenever someone needs a service, they go to Google and search for it.
"Dentist in Miami" or "plumbing services in Orlando," etc. And you can keep coming up with services or professionals people need and look for. Thus, you need to make sure you're using Google to get the companies in front of their clients.
Users will always click on the first search results (those near the top), and many of them will be either Ad links (people paid to place their websites there), Map Listing, and then you get websites. Almost all of them are your goal and where you should always aim to place yourself.
Can My Drone Photography Business Utilize a Local Lead Generation Strategy?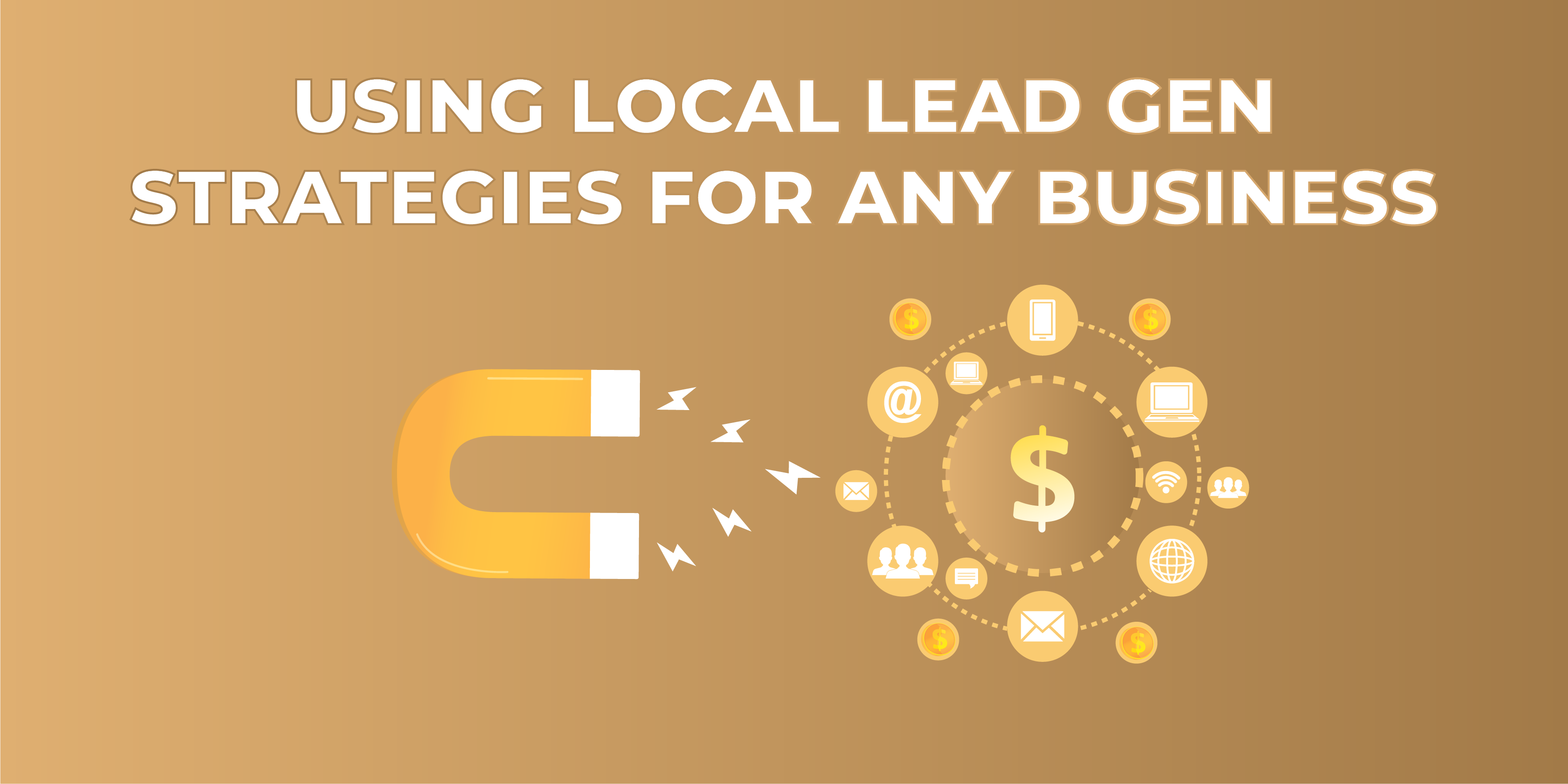 If you want customers, you better know you need it. Following the previous explanation, lead gen is all about placing businesses in front of their customers, choosing them over their competitors.
Put it simply – it's all about closing deals and having clients for those companies to make money. The main difference with the usual methods companies use for this is how lead generation approaches different channels to get them in the right place of the market to get customers.
Those channels are all focused on the Internet as most people are searching for products but also services across the net. The issue is that the Internet is way too broad, and businesses don't know how to place themselves. They usually try, but they get one common result: losing money and time.
How Powerful Are Organic Drone Photography Leads from Google?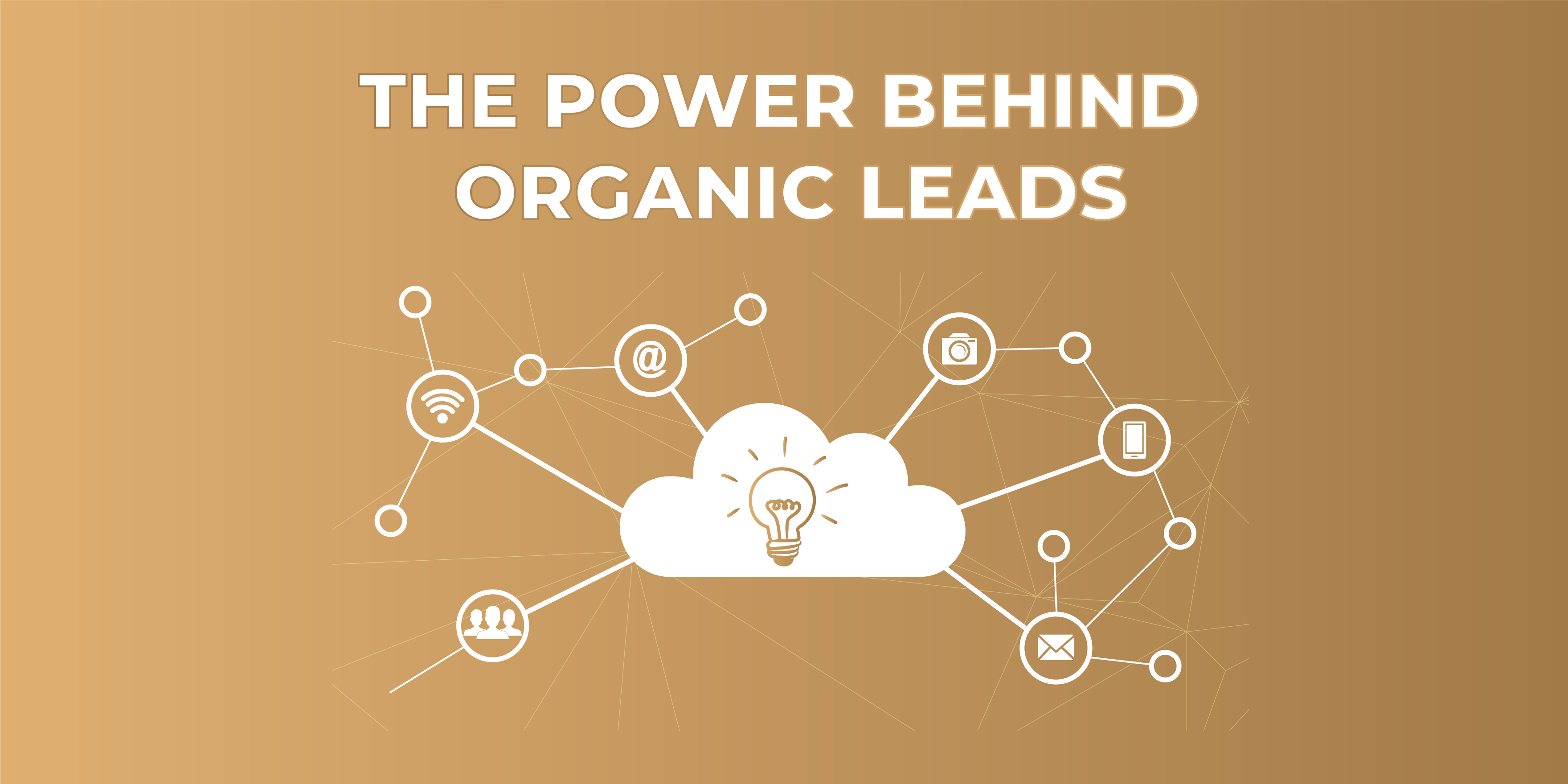 For companies looking for customers, it's everything. For you? Pretty much the same. When you build a business with digital properties, you get to make thousands of dollars a month.
This isn't a "get started today and get rich tomorrow" thing, but it is HIGHLY scalable, and ROI + positive results are guaranteed. Learning a fairly decent and very needed set of skills to create your digital properties and start ranking them on Google is required.
I have invested in several online businesses over the years, and if there's something uncertain, whether you will get your ROI or not, even more than the actual profit.
However, this business moved my earnings from five figures a year to a month in ONLY passive income while sitting comfortably at home.
On my laptop. Anywhere. Anytime.
You can look at one of the first sites I built back in 2016, and it continues making me over $1.000+ every month. The best part is that I don't need to touch it or the rest I've built over the years, just like this digital property.
What Makes Lead Generation SO Alluring?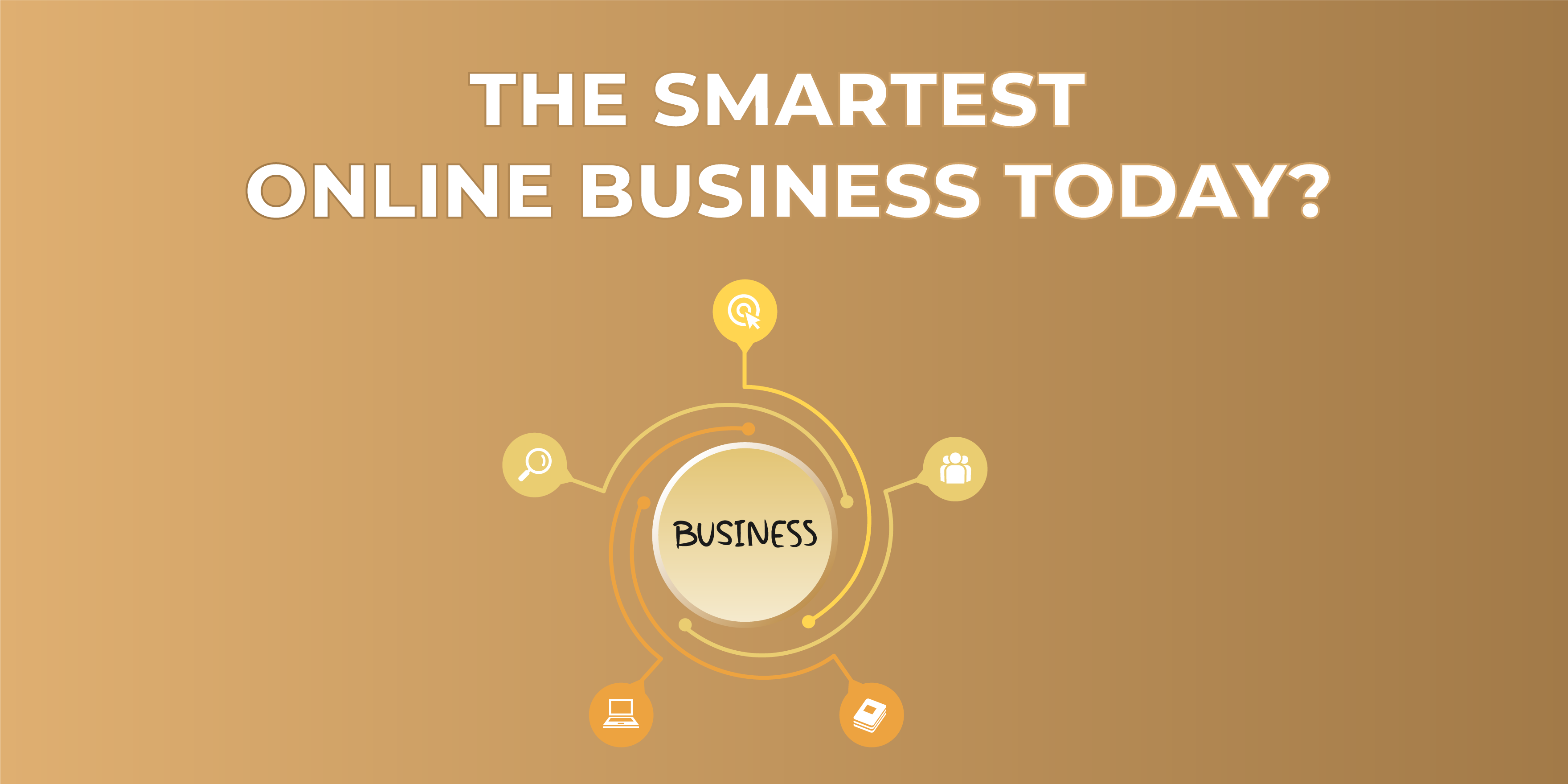 Here it goes: you can work from home.
The main issue with regular business opportunities is how much you need to invest in staff, equipment, or rent to have a place to sell your products or offer your services.
We all know the hassles of traditional businesses that involve regular expenses, which are extremely high.  Can you afford it? I don't think so, and even if you can, is it worth it? Now, it isn't only about the money. You also need to put in a lot of work, and it isn't only during the first couple of months or years. Usually, it is as long as you continue running it.
You can save yourself those headaches and bone-breaking tasks and expenses with lead gen since it is more about generating leads with digital channels—mainly websites.
Websites can be VERY cheap to build, and with many tools online, you get to do it in a couple of hours instead of days. Any virtual or digital business is scalable and won't need constant maintenance.
So, let's summarize this:
You save money in regular expenses with traditional and most online businesses as what you need is yourself and digital properties (websites).

You can bet on passive income.

 There's no need to hire more people to get started.

You can generate leads in multiple industries, which allows you to work on any niche you want.
How Can I Get Started in the Local Lead Generation Program?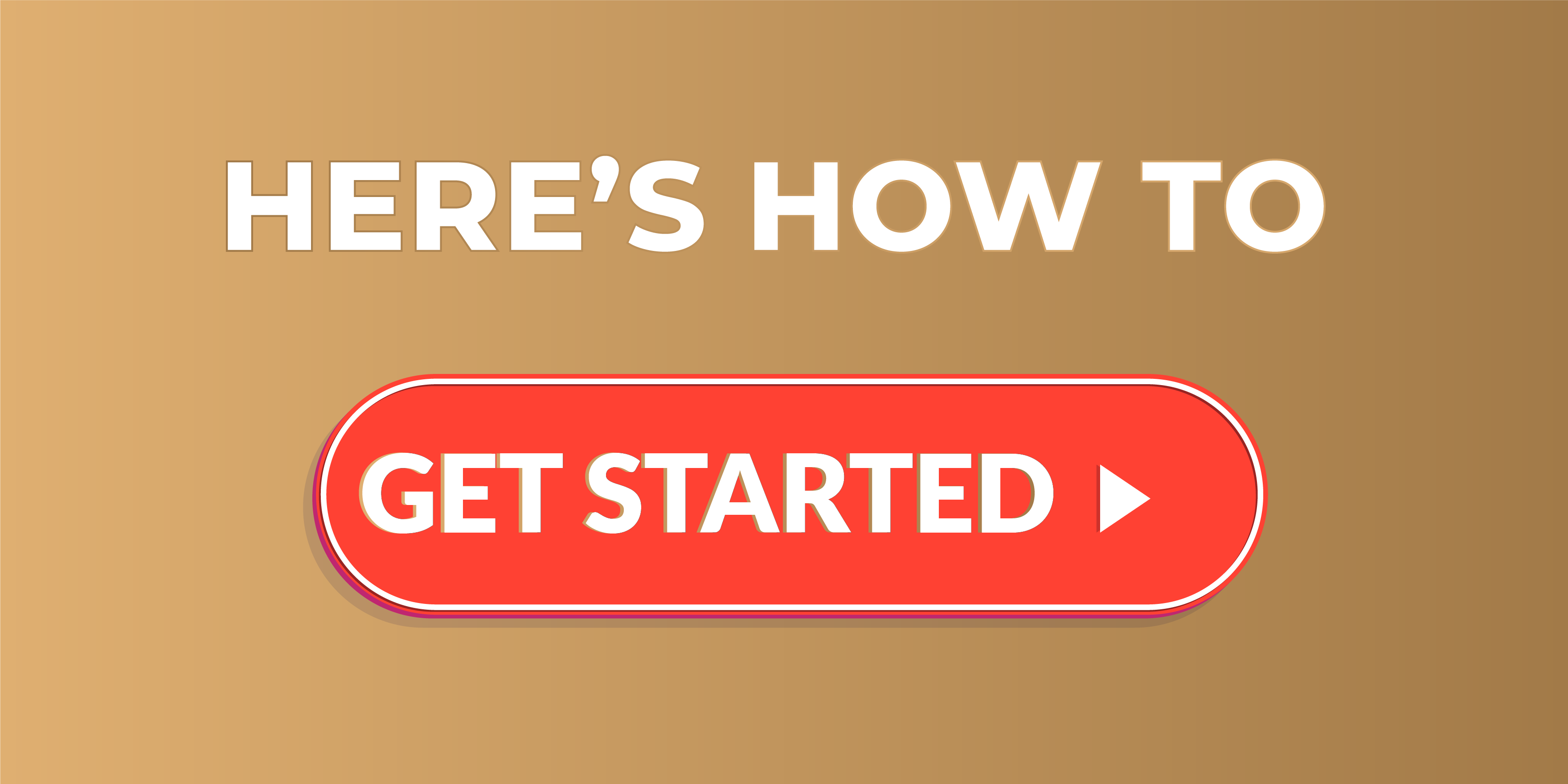 Anyone can start and learn. That's the beauty of this business model. I knew nothing about SEO, Map Listing, and everything I've mentioned so far. It is all about learning the skills, gaining experience, and deciding to take the step.
Remember that this business model will never get old as business owners are always looking for leads. They need to do business and scale their companies. Why not do the same while helping others and still making money?
You can start with this local lead generation course highly recommended for anyone wanting to grow in the business. It is a close training that will take you through each step and make sure you are able to get your ROI, profits and take control of your life.
You will be added to an incredible lead generation family ready to help you 24/7 when asking questions on the group. Anyone is welcome who's willing to put in the work. Click here to watch the lead gen webinar.