In order to sell clothes online, you don't have to be an expert in web design or master tech skills. Instead, you've got several alternatives in marketplaces or platforms that simplify the process. The good part of this business opportunity is that you could actually make a fortune if you're willing to work hard and place your bet on selling clothes. Those don't have to be news but can also bet for used ones.
Selling secondhand clothing is as profitable as selling new ones and, sometimes, even more than the regular business. But for whom is this business option good?
Usually, those who want to get rid of old clothes from the closet are too lazy to organize most of them. Others who are trying to open a shop but are unable to handle logistics and traditional stores can opt for this opportunity.
The question is, where will you sell the clothes?
With so many platforms available, we will be narrowing the options to the best ones and help you choose based on popularity and terms.
ThredUP
This site is changing the way you sell clothes online. You can order a cleanout kit on their website, fill it with your clothes and return it for free.
You can send in gently used, high-quality children's clothing and women but not for males whatsoever. After receiving your bag, ThredUP's secondhand experts will go through it and determine what items they can sell or what they'll recycle.
Usually, it takes between 1-3 weeks for ThredUP to tell you how much your clothes are worth. The money can be used on their website, transferred via PayPal, or donated to charity.
ThredUP is a great way to sell clothes quickly and without having to take pictures or negotiate. This advantage comes with a cost: You might only get $20-$25 per bag of clothes.
It's still better than $0 with virtually no effort. You get the idea. You can ask the seller to return your unsold goods for a small amount in case you want to get something back.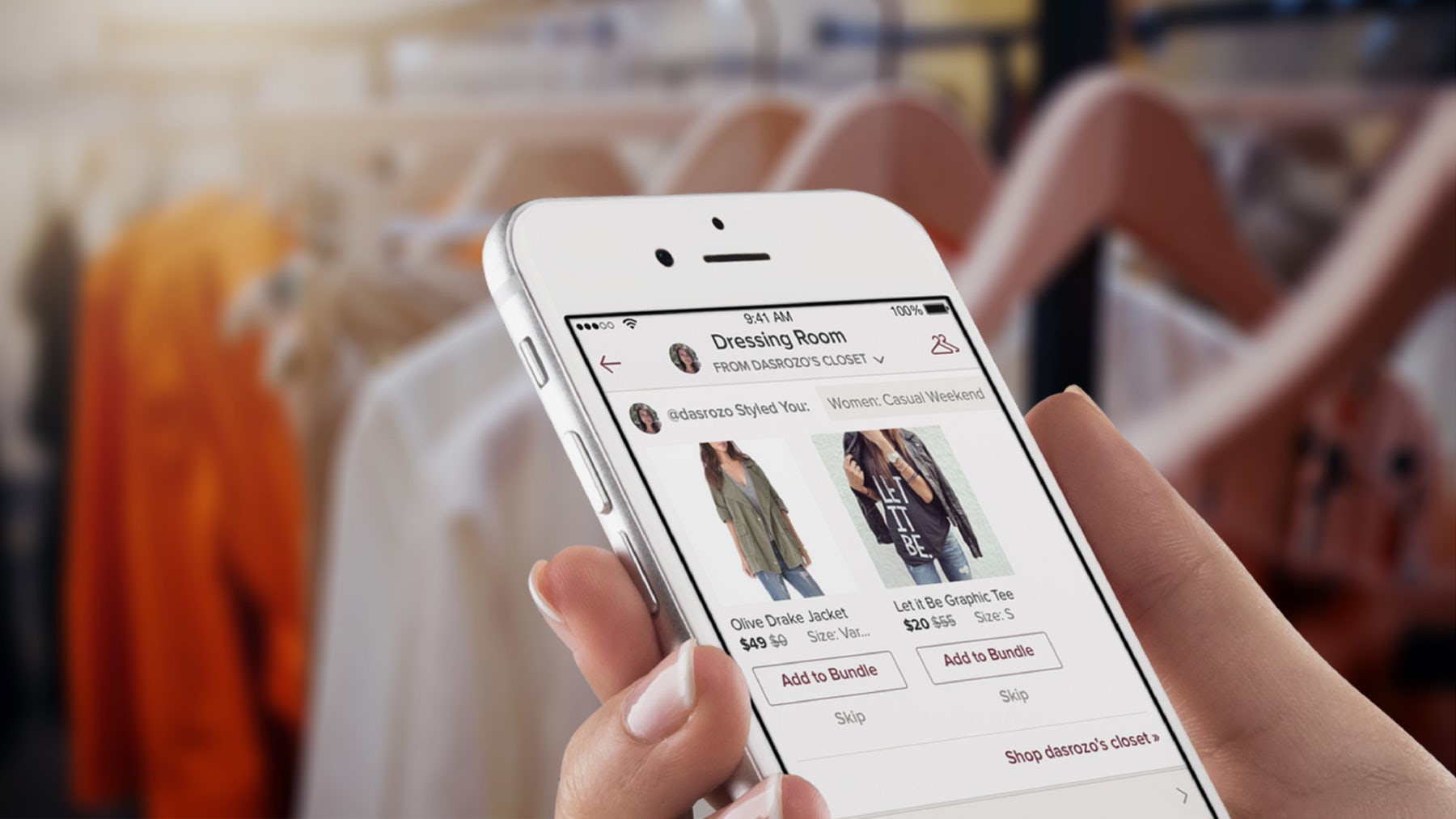 You will notice that this website is only for secondhand clothes since there's no point in selling new ones in this way.
However, if you are interested, you will get a great deal without having to go over all the difficulties of selling the clothes to other people by yourself.
Poshmark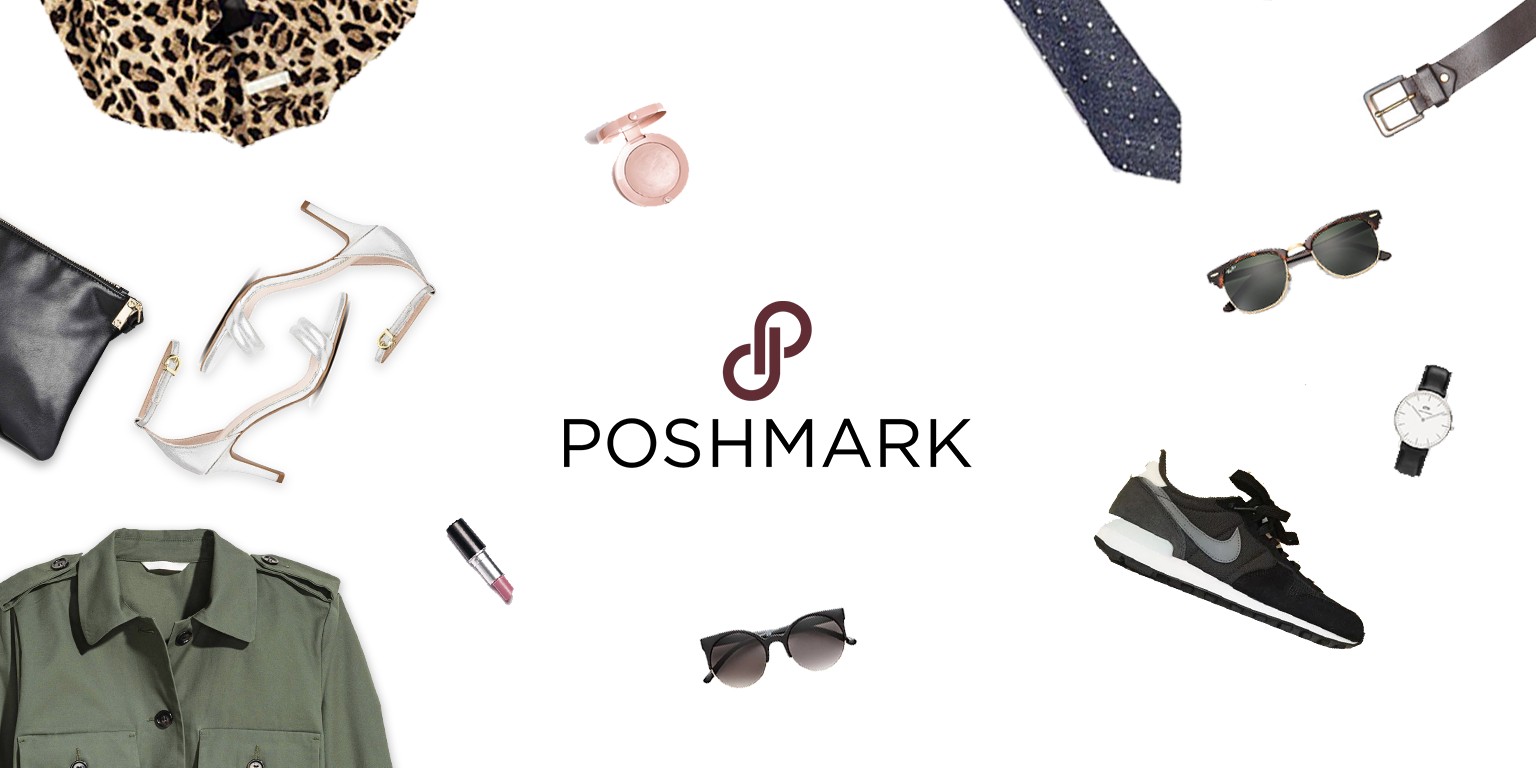 You have the ability to sell on this website and app by snapping some photos and setting a price before uploading.
The site is known for being easy and convenient, with the entire process taking less than 60 seconds.
You can add each item to your "closet," where you can share listings and promote them at themed parties. Buyers may make an offer, so be ready to negotiate.
Now, remember that Poshmark charges a flat fee (20%) for every sale, regardless of how large or small the price was for the clothes.
A big plus? It is so easy to ship. No matter how large the item, buyers pay $7.45, and you receive a USPS label immediately after it sells. You can use any box or the free shipping supplies provided by the post office.
The funds are released to your account automatically after the buyer approves the purchase.
Poshmark's other benefit is that buyers can search for both high-end and fast-fashion designers. You can find blogs on the most popular brands (currently Gucci, Louis Vuitton, and Aritzia), as well as the styles that people are looking for (such as bodysuits, jumpers, and rompers).
This allows you to stay informed about what's hot. They sell just about anything: clothes for women and men, beauty products, home decor, and even pet accessories.
Compared to the previous option, this works for both new and secondhand clothes. However, it does require more work as a result yet still simplifies the process.
eBay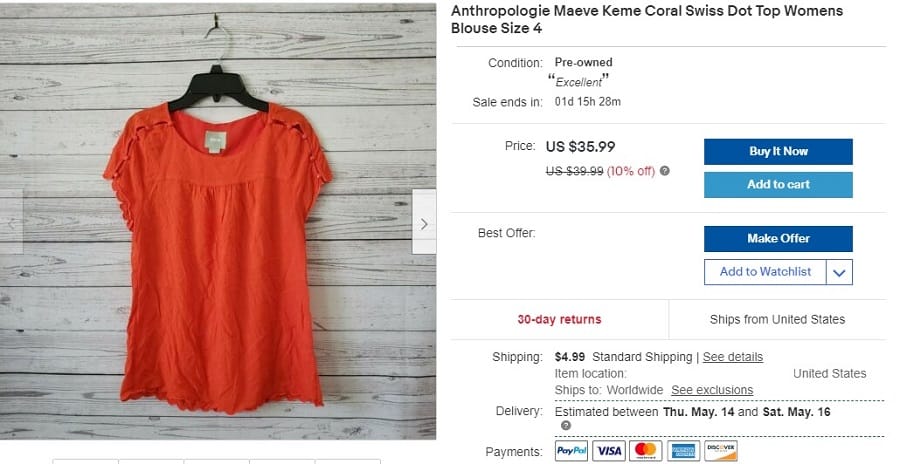 Old but good, it has the advantage of allowing you to sell your clothes, either new or old, without issues. The only problem we would note with eBay is how outdated it looks and even difficult for some to purchase there.
Either sell your items at an auction or set a fixed price. Fixed prices are usually the way to go to earn more money and get what your clothes are actually worth.
Buyers have the option of submitting their best offers in the auction option, but it can be contra-productive since it is a competitive marketplace.
Make sure you are professional and have excellent descriptions. This platform is for people who are searching for specific items. They aren't just looking for something to buy. It's why it is better to sell sought-after items than you think.
Depop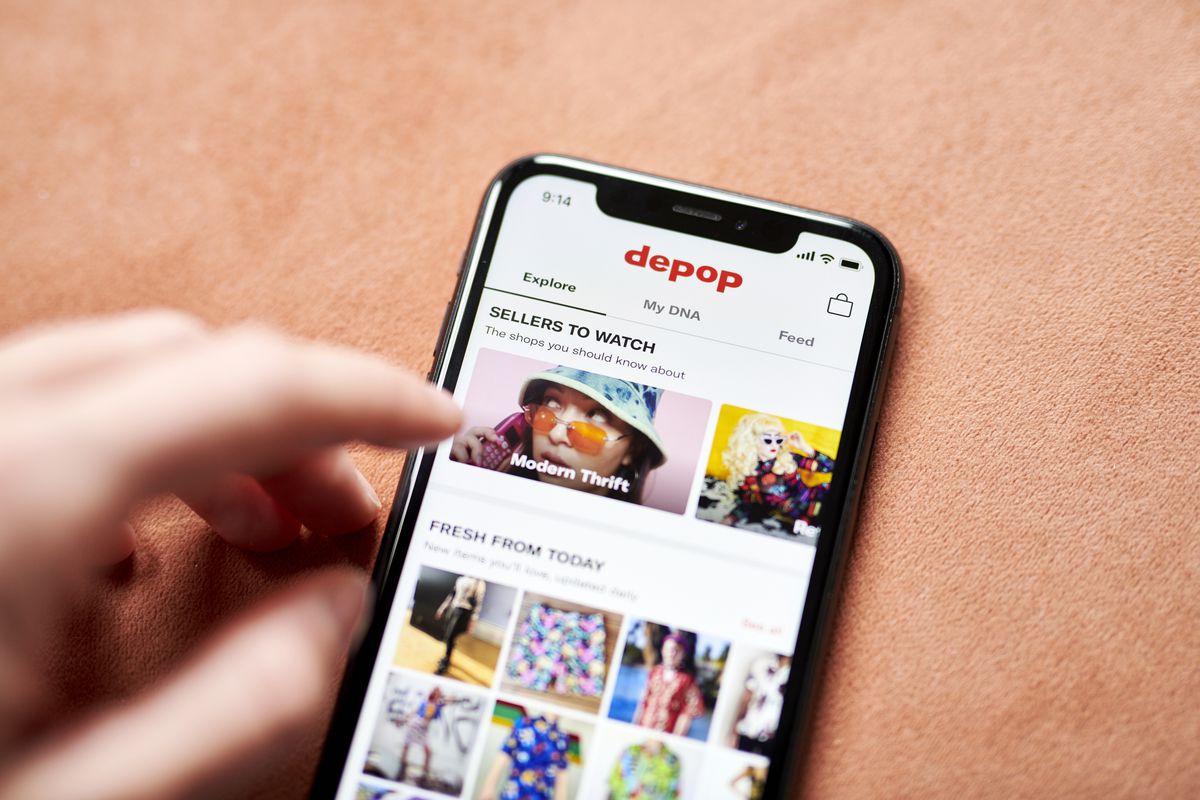 It's an app that is a mix of Instagram and eBay (kind of sounds weird, but that's the best description).
This app is primarily for teens and young adults looking to find vintage treasure. Good descriptions and photos are key to success, and the clothes can be easily sold when adding those.
You should also include relevant brand hashtags to increase your chances of being found. You can almost open your own clothes shop using the app. However, you will need to negotiate with potential buyers.
Depop charges 10% for everything you sell, and you will be paid through PayPal.
Although clothes aren't the main category on the app, sales perform quite well. We suggest you just give it some time and you will be able to notice the sales increasing.
Tradesy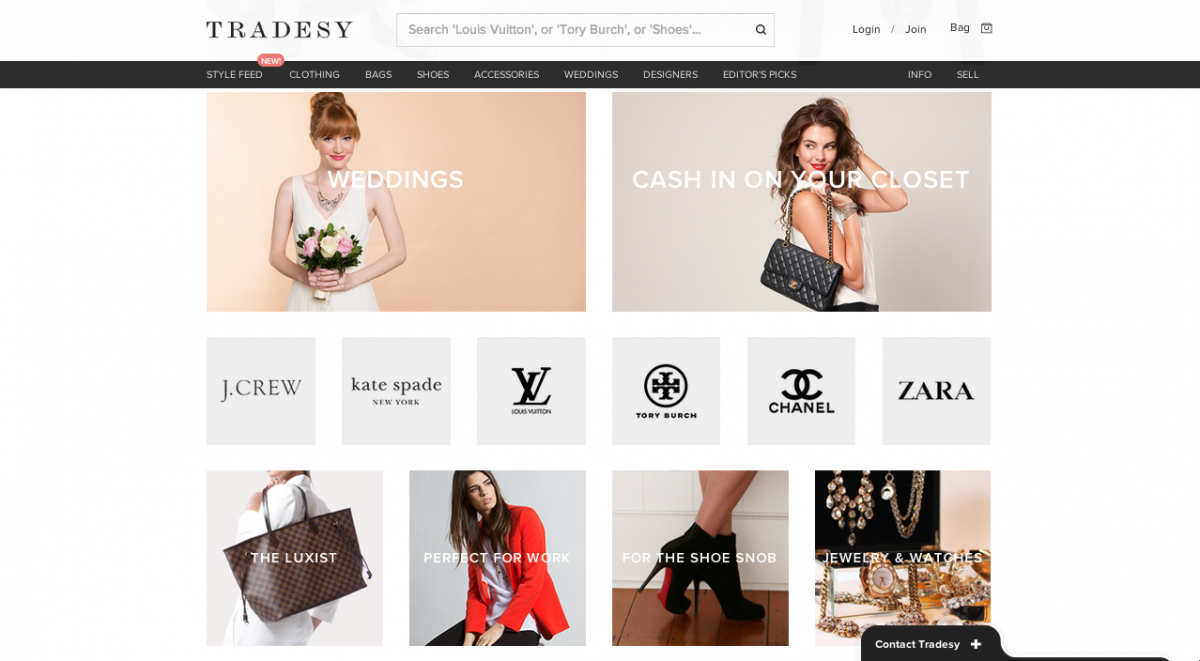 This woman-owned business aims to simplify the selling, and thus, clothes are easily posted and sold.
You can create your own listings and make use of their unique features to increase your sales. They offer complimentary image enhancement, which helps items sell up to 25% faster.
They'll either suggest a price, or you can choose your own price as well. For anything below $50, a flat commission fee of $7.50 will be deducted and 19.8% for everything above $50.
Tradesy's Head of Brand, Laurie Trott, has mentioned that people are dressing up more, which is reflected in their purchases. Thus, it is a great opportunity to sell clothes online and get the money you want.
Trott also stated that there had been a demand for Y2K-era luxury items from the '90s. There are many favored designers, including classic heritage brands like Louis Vuitton, Prada, and Nanushka.
A Tradesy shipping kit is a great option for sellers. It includes custom packaging, prepaid labels, and everything else you need to ship your clothes in style.
Of course, this mention is a bit off-topic, considering we are talking about new or secondhand clothes. However, you might consider adding more alternatives or learning how to use the extra features to boost your sales.
The RealReal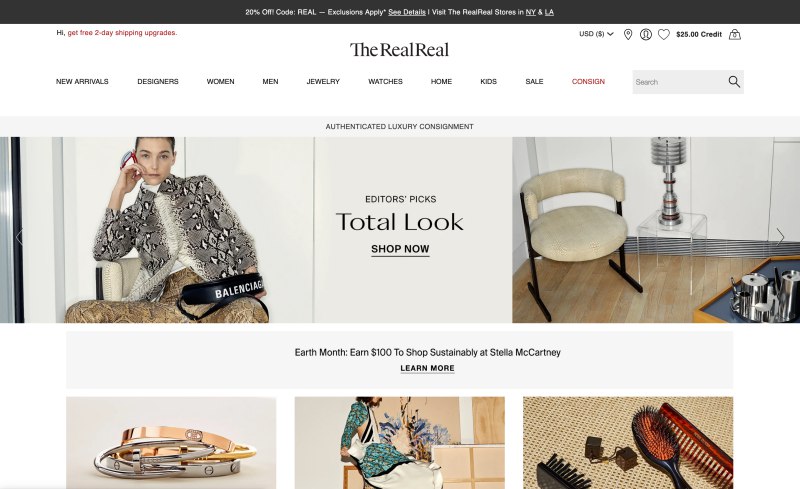 This website sells clothes and accessories if your wardrobe includes Chanel, Fendi, and Prada. Thus, you might be a bit limited with what you can sell, but other items can be welcomed as well, depending on their quality.
But why designer clothing as the favorite? Because they are the most trusted secondhand company in luxury consignment.
They authenticate every item sold. Hundreds of brand authenticators and experts, including watch and gemologists, inspect thousands upon thousands of items every day. It is why their 20 million members trust and shop their high-end selections.
Commissions are based on a sliding-scale system. The more you sell, the more you earn. The price of your item will determine how much you earn.
Anything less than $145 gets you 40%, $146-$195 earns 50 percent, and so forth. Although you cannot control the selling price of your item, you can make a video call to a representative or email them to find out if they will accept them.
They can also give you an estimate of what they might sell for. You can then arrange for a pickup or drop-off at your home or request a shipping label so you can send your items in.
Although it can be hard to sell your luxury items because you need first to own them, you must not know that during COVID, shoppers gravitated toward investment pieces. Basically, they wanted to buy luxury.
Pieces from Cartier's Love Collection, Tiffany & Co.'s T Collection are, for instance, all selling at close to their original retail price.
The best part of working with the platform is that their team will take care of all the details, including taking photos, measuring the items, writing descriptions, listing the items, and shipping them to their new homes.
You just need to provide the clothes, and they will handle the rest.
Mercari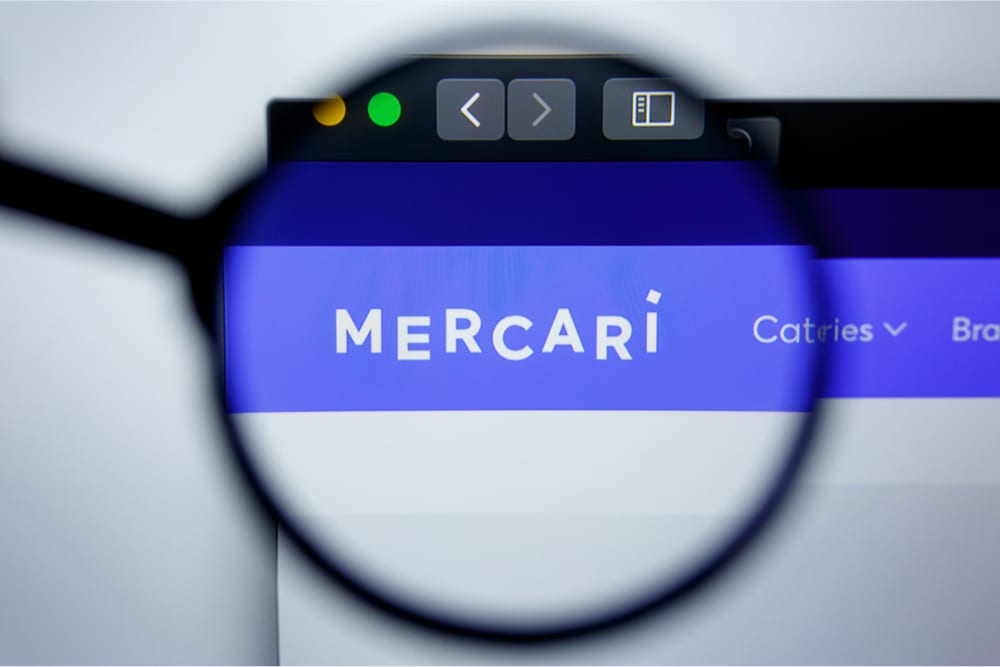 Since its inception in 2014, this secondhand marketplace has grown to be worth over $2 billion based on how many want to sell their used clothes.
More than 50 million people have downloaded the Mercari app. This makes it one of the most popular places to sell clothes online.
Users create listings, and any item that sells is subjected to a flat 10% fee. It doesn't matter if it fits in a box set by the company or not.
One of the benefits of using the platform for your clothes sales is a new service called Mercari Now available in New York City, San Francisco, and Houston for $10.99.
If you are located in those cities, you can earn a lot of value during your sales. Basically, Postmates drivers will pick up your item and drop it off at the buyer's door within two hours. This allows you to get paid quicker than standard shipping.
On the platform, there has been a lot of growth lately in sports clothes from brands like Nike, Lululemon, and Adidas.
Thus, if you have possession of any of these, you can especially sell more than usual and have more profit as a result.
Vinted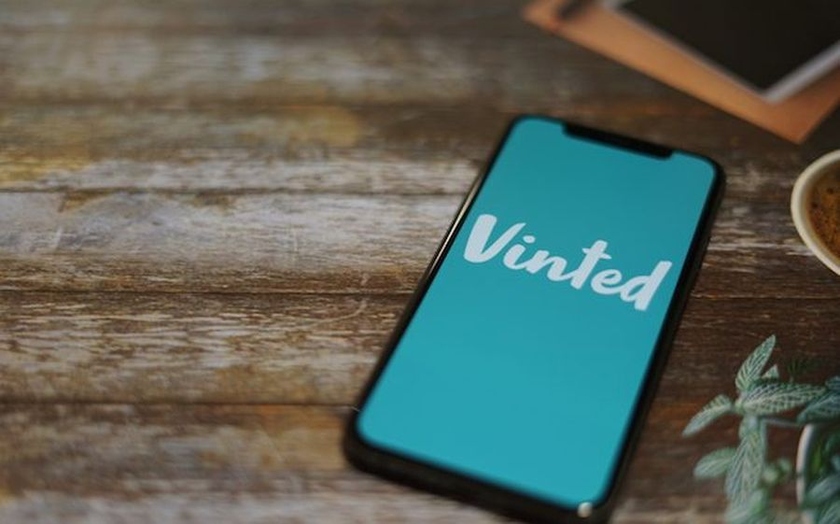 This fashion-focused platform does not charge sellers any fees. This means that you can keep 100% of your profits.
It's why it's one of the most popular places to sell clothes online. Instead of charging sellers, buyers pay $0.70 per purchase and five percent as "Buyer Protection."
Vinted is home to more than 37 million members worldwide, spread across 13 countries. These people are looking for clothing, footwear, and accessories for children, women, men, and adults.
Your listing will be displayed to Vinted members once a day for three consecutive days when you purchase a bump and keep in mind that swapping is allowed. This makes it an excellent opportunity to trade any clothing that you might not be selling.
Though, why would you choose others instead of this one, or why not just focus on Vinted alone? Because the market is more competitive and more items are impossible to sell.
Thus, due to the fact sellers don't pay fees, it is harder to sell.
Swap.com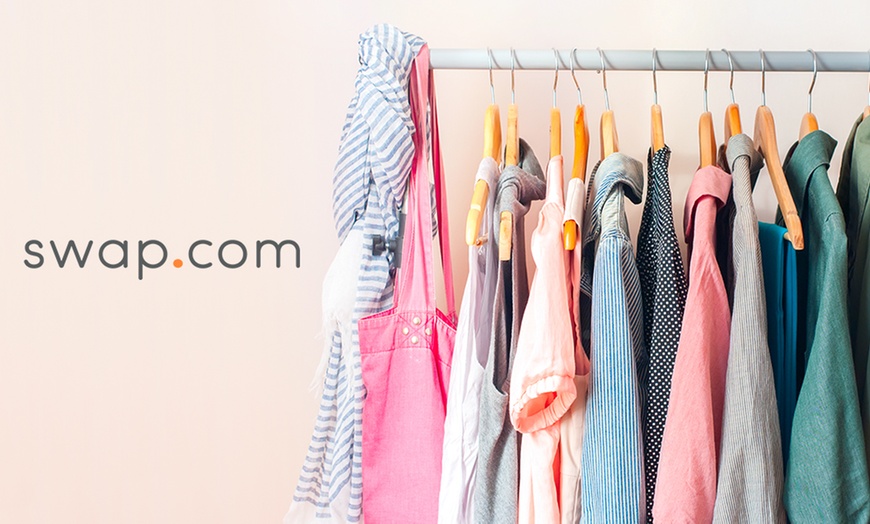 Swap.com is an online consignment shop that sells used clothes and accessories for women, babies, children, maternity, and men.
For users who have more than 250 quality items, they offer a Premier Seller program. To join the program, you will need to fill out an application. You'll also need to send a "test box." If your items meet the criteria, you will be considered for the program.
However, Swap.com allows you to sell items even if you are not a Premier Seller.
You need to fill out the application, work with the Premier Seller Team to select quality items, print shipping labels, and mail your items to Swap.com.
Before you send in your items, regardless of whether you are a Premier seller or not, be sure to review their guidelines for children's, women's, and men's clothing.
They adhere to stringent acceptance criteria. You cannot sell clothes with niche or altered brands, and the clothes must be clean of pet hair and odors and be freshly washed.
You have the option to have your items returned or recycled when rejected.
However, to get them back, you will need to pay $9. If more than 40% of the items you send aren't taken by the company, they will charge you an additional fee.
If accepted, Swap.com will help you handle every selling process. You will be paid a commission based on the sale price of your items.
You can receive the money via check, cash, or credit. Pay attention to any bonus or seller fees for selling particular brands. They will have an impact on the amount you receive.
Instagram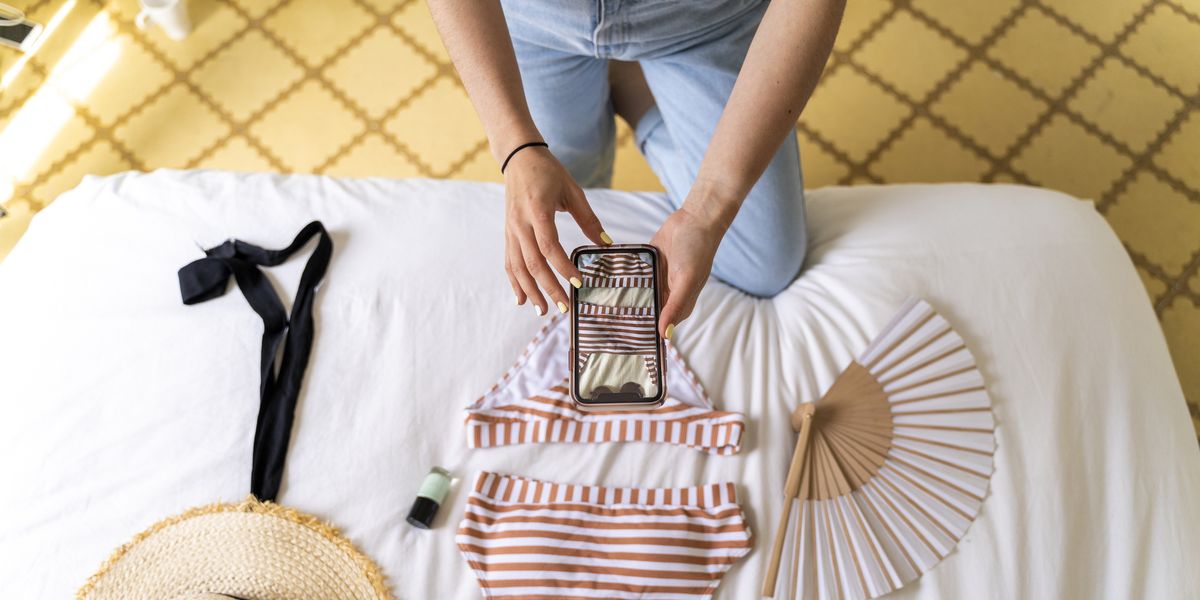 Instagram is a popular social media platform for selling clothes. Post photos of your clothes and include a caption with details such as the price, acceptable payment options, and shipping method.
Your Instagram account can be turned into a shopfront by posting information about your store on your profile. To promote the products, you can use different hashtags or the paid option.
Make sure that the products you sell are relevant to your audience. It is logical to list your shoes, clothes, and similar items if you post about clothing.
We are confident you are familiar with this option, and if you don't know how to manage most of the journey, having a look at other people's profiles and feeds is a good idea.
You must remember that Instagram is a great way to grow independently and get 100% profit from your sales. However, you also have to handle any disputes or problems.
While this can help you get good money for your goods, it comes with greater risk and less protection.
Facebook Marketplace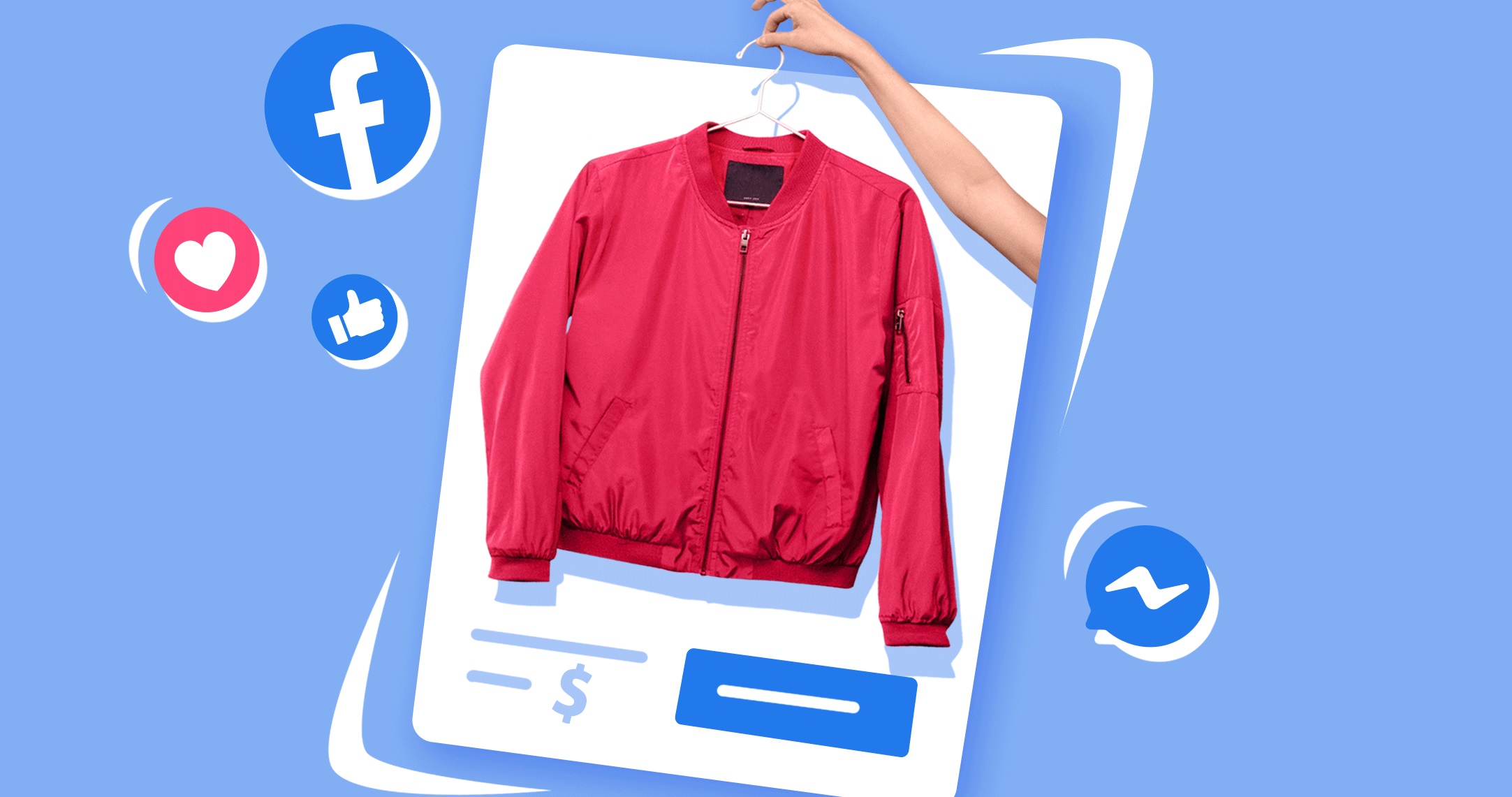 Although one of the beauties of online selling is that you can sell to millions from anywhere in the world, Facebook Marketplace can be a good option for the local audience.
We know Facebook Marketplace isn't the most popular platform for selling clothing online, but it's still worth a try.
You can traditionally upload items to the Marketplace, but you can also merge them with Facebook selling groups.
These groups are usually specific to specific locations like towns and boroughs. This allows you to cut down on postage costs by selling items to people who live near enough to collect your items.
You shouldn't expect to get a lot of interest in vintage clothing. However, if you have a large collection of clothing you are looking to sell, this could be a great way to do so quickly and without any charges.
Selling Clothes Online: 10 Tips for Success
Maximize your chances of success before you jump in, and for it, we will be sharing some tips you will find valuable.
Just keep in mind that every business opportunity, including this option of selling clothes online, requires time and effort. Thus, we won't be including tips related to what you should already know.
The better the condition of an item, the more it will be worth. Therefore, you might want to sell those that aren't too worn out or do your best to improve their quality.
For instance, remove stains with a specific liquid or maybe make white clothes look better with special washing.
Provide detailed descriptions.
When you upload an item, it should include information about the condition, measurements, and fabric details.
Also, it is helpful to include the brand name/phrase or style name on the tag or original retailer's website. This will help savvy designers or simple customers who use keywords find your listing.
Use great photos or images.
You must use consistent lighting and a great background. It is important to show the product from multiple angles and take high-quality photos. For it, you don't need a professional camera right away, but you might want to use the best one in your hands; it can even be an iPhone.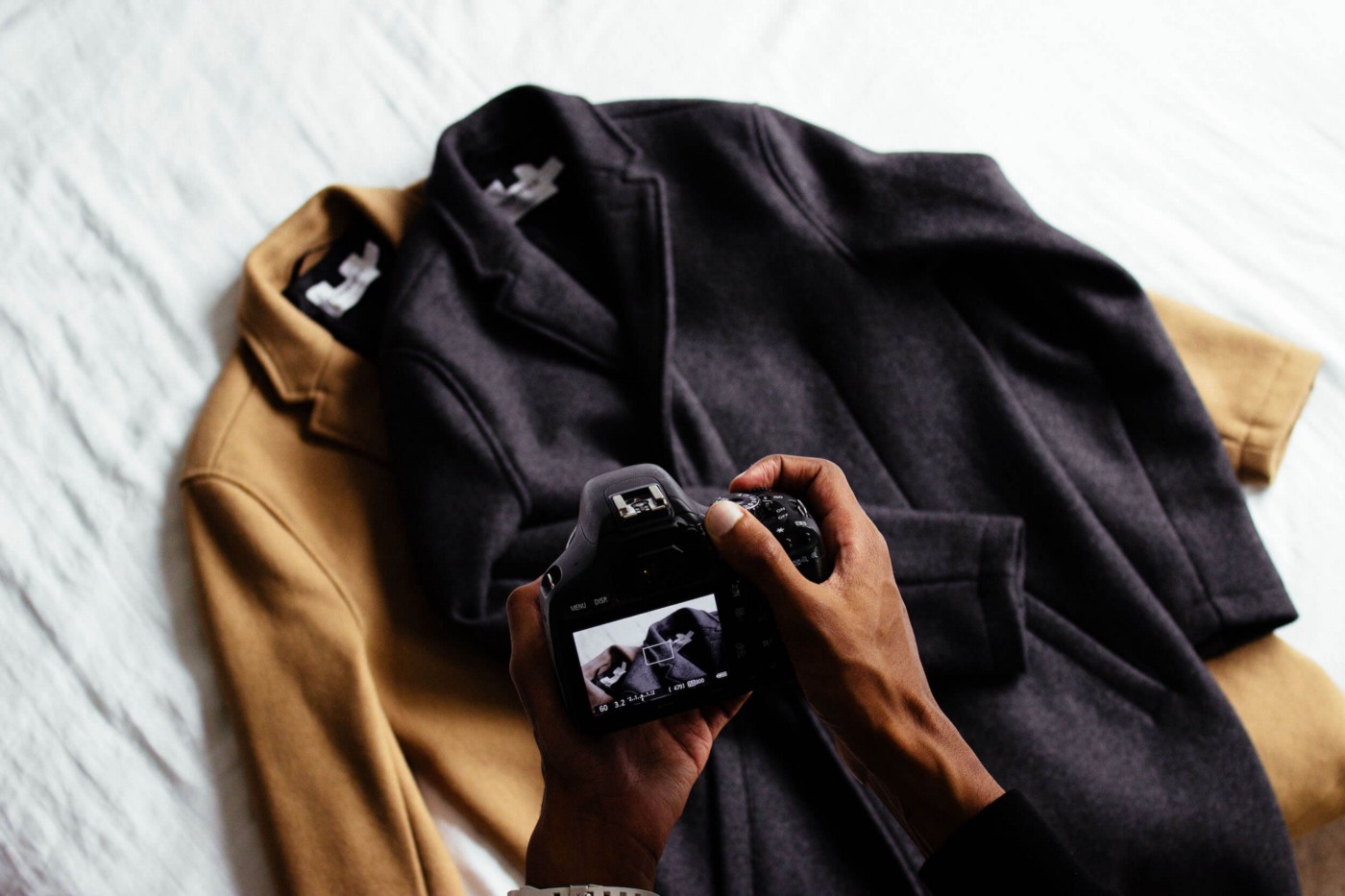 Do your research to ensure a smooth transaction. In other words, take the time to know how much are your clothes work.
We recommend getting an idea of the resale values of designer styles before selling anything or just trying to find an average of the clothes you will post. To determine the best place to sell clothes, check listings on different marketplaces and set a fair value.
Keep track of your expenses.
Make sure your account for shipping and packaging costs aren't more than what you are earning.
Some companies charge buyers for shipping, while others do not. To ensure you make a profit, be sure to include any platform fees and see if you are charged for the shipping as the seller.
Research is key to finding out which items are most popular on each platform. Tradesy allows you to sell your Burberry shirt and your Old Navy shorts, for example.
However, the Old Navy shorts can be saved for platforms such as Poshmark since it pays more for them. Things and situations like this are what you must determine with your research.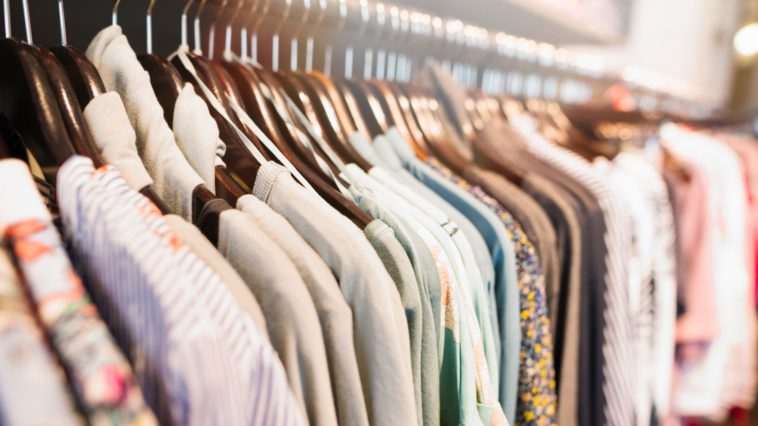 Offer friendly and fast customer service. 
It is important to respond quickly to questions on reselling platforms regardless of the one you use. Customers should receive a reply within one day or a few hours to encourage them to buy the clothes.
On the other hand, it is important to communicate with people quickly, but it is equally important that you are approachable.
It is a good option to invest a bit in wrapping or adding anything that distinguishes your user or online store. If you are taking this business opportunity seriously and not only to make some extra cash, you want to work in your image as well.
Use special but cheap wrapping and add some cards or details for people to remember you after receiving their clothes.
Just like you want reviews or customer feedback, you can do the same for the buyers, so they are motivated to leave one. This will help you build a reputation and boost your clothes sales.
Sell in more than one platform. 
If you want to get the best out of this business option, make sure you cover more than one place. Basically, add your clothes to several places to sell online but make sure to manage inventory properly to avoid any customer issues.
The Local Lead Generation Process for Your Business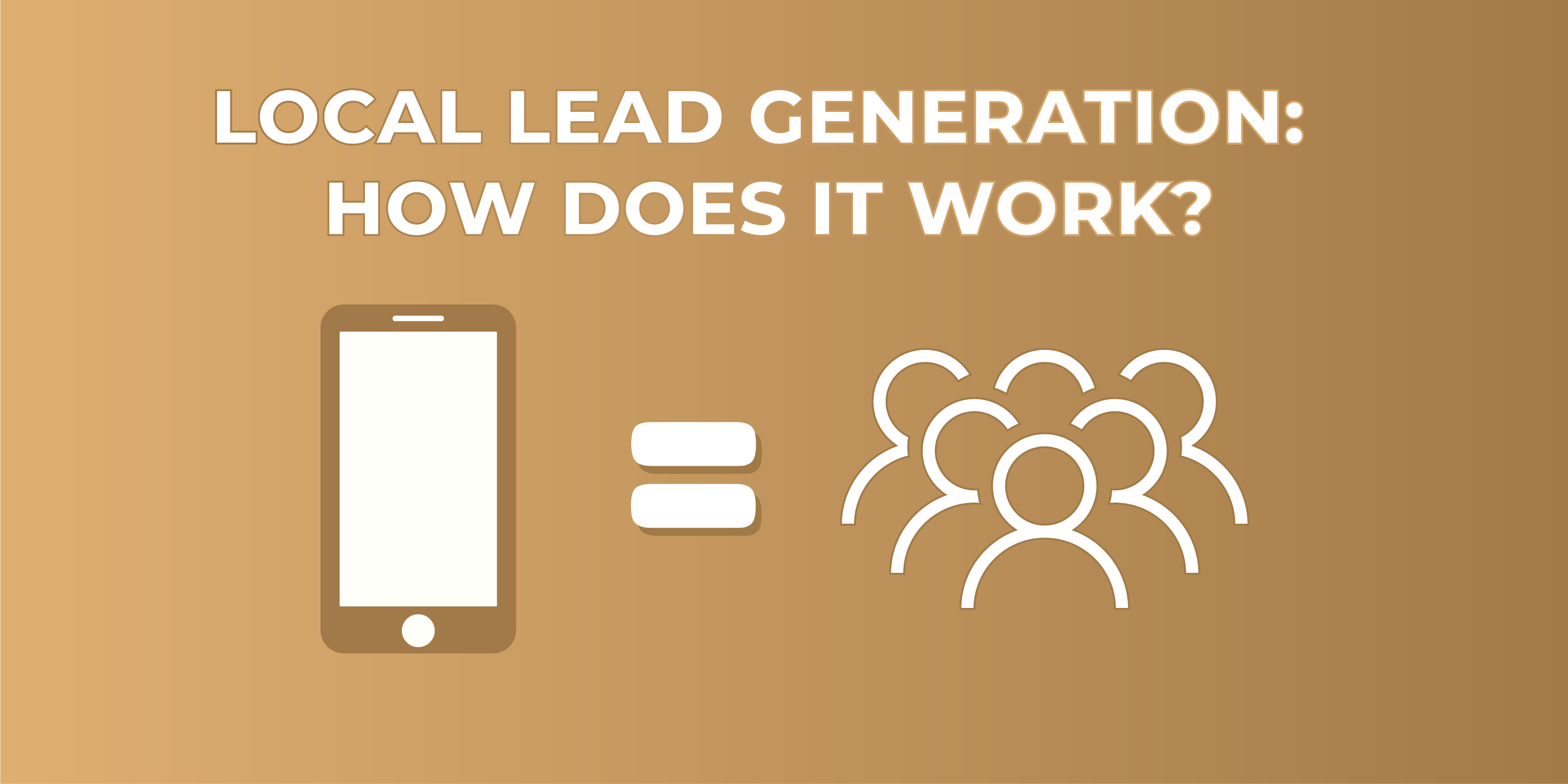 All right! So, everything is about building properties and generating leads. But how does the process actually take place? Are there other steps I need to know?
The steps I mention below are what students from our local lead generation program follow to generate leads for businesses like yourself. So I'll help you see what we do. And how if you join our program, you can simply generate leads for your own business (unless you want to start a side hustle and build a laptop lifestyle business).
Essentially, our lead generation can be divided into four steps:
The first is prospecting. You need to take the time to do market research on a niche (industry) and determine how many phone-driven businesses are there.
Keep in mind that this is local research as you need to know how many companies need leads. For example, you may search for "plumbing services Youngstown OH."
You will find dozens or even hundreds of businesses trying to get themselves in front of the customers by ranking on Map Listings, organic results, and even Ad.
The second step, building. When you find a niche (plumbing, tree services, a software company, real estate…), you will need to start building your digital properties. You don't need to be an expert in HTML or coding. It can be easy with the right tools.
The third step is now taking time to rank your lead gen website. With the site done, you need to work on SEO strategies and start dominating those Google search results. If you're new to SEO, it stands for Search Engine Optimization.
To keep it simple, it consists of the entire process of growing a company's visibility on search engines like Google and generating organic traffic. And remember this, local lead generation is part of the strategies.
Moving on to step four, once you rank the site, you will start getting your ROI and profits. You only need to rent it out to a local business interested in the leads the site generates. You can offer a couple of free leads to their move on with the actual pay per lead.
To review steps 1-4 above, I described it to a normal student who is building a lead gen business to help local service providers generate more calls. But replace the student with you as the business owner. And replace sending the leads to a business to simply siphoning the leads to your personal business.
By the way, fun fact, about 20% of our students in our local lead gen program are actually business owners who went through the program. And they use the skillsets we teach to generate leads for their own business.
An Example of Lead Generation: Home Advisor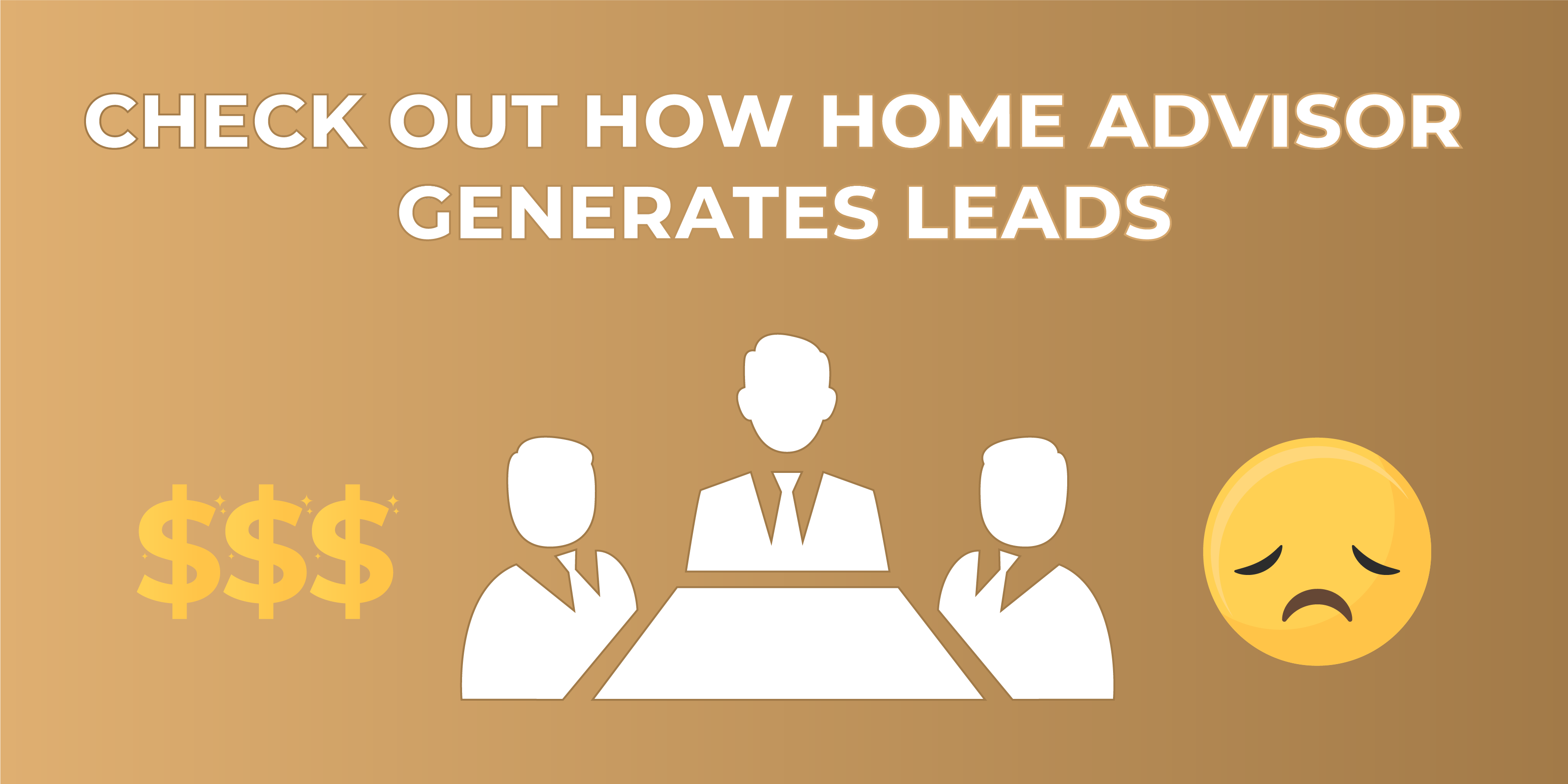 You must be thinking, "if lead generation sounds so good so far, how come I haven't seen any company?" That's the thing; there are many out there. You just don't know they are dedicated to it.
HomeAdvisor is one of the best examples you can find on the Internet as it is a top lead generation company that has spent millions building its brand but also earned even more zeros for this same reason.
They started small as everyone else but invested in building their brand awareness to make people who are looking for home services go to their website and find what they need. They are over 75% of people's first choice when they need those services.
If you don't get HomeAdvisor that much or need a refresh, users need to submit their information to request a service and get a professional or expert who can provide it.
HomeAdvisor's job is to share your information, which makes you a lead, with local companies so they can contact you and offer the service you're requesting. For sharing this lead information, HomeAdvisor gets paid by the companies. This happens for every single lead they send to multiple businesses.
Business owners who don't have marketing skills or don't even know how to have any online presence will always rely on those pages to list their services.  They will save time and effort, but companies like HomeAdvisor can make them spend lots of money as leads aren't exclusive (one lead is sent to multiple companies after all).
Using Facebook Ads aka Paid Ad Platforms: Do They Generate Leads?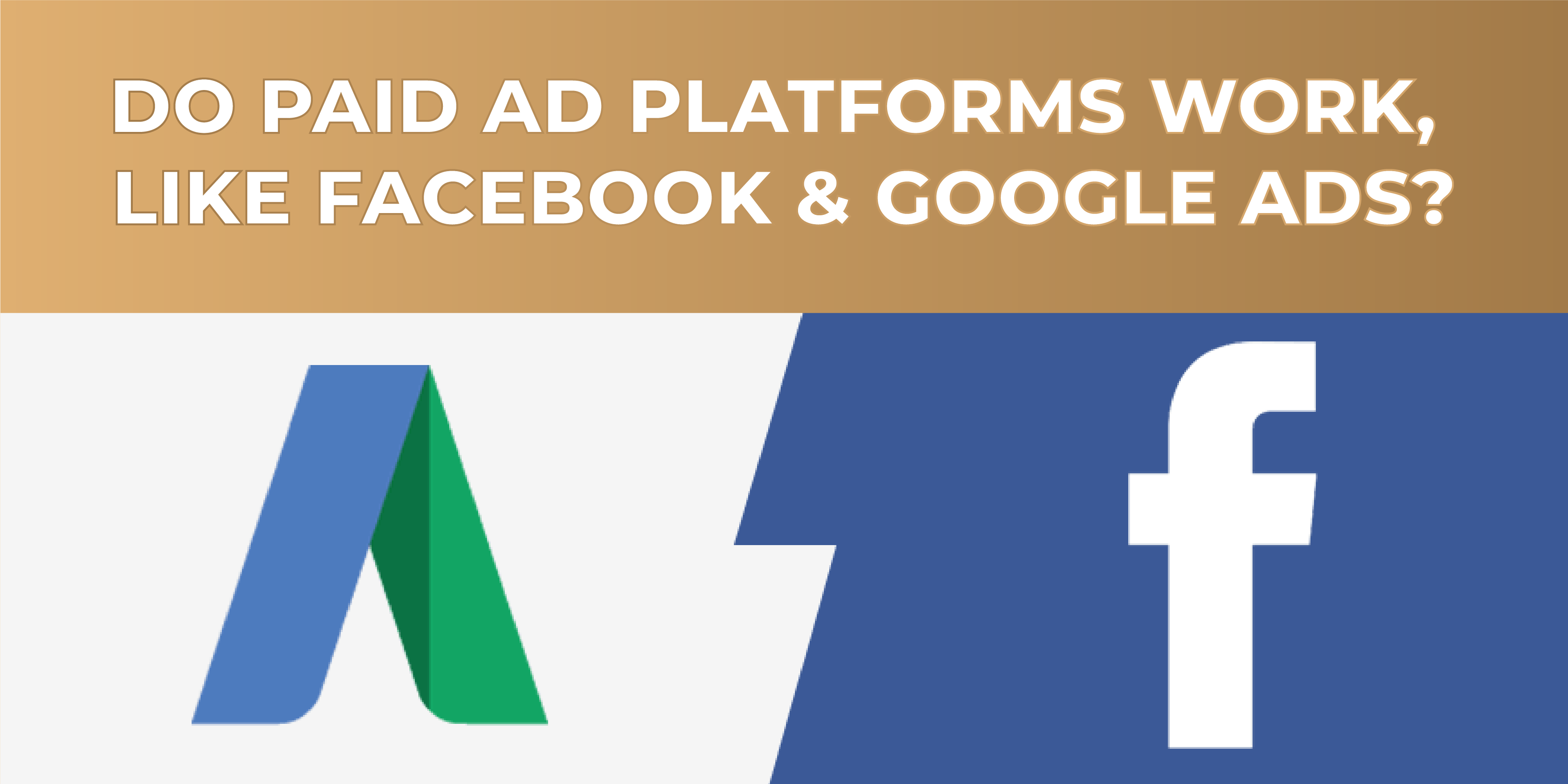 They DO generate leads. If not, no one would use them.
However, you need to remember two facts:
Paid ads or platforms can be expensive.

They don't generate "natural" leads.
Whenever someone sees or clicks in one of those ads, over 80% of them did it by accident or are trying to close/report it.
Why? Because they aren't looking for those services. At least not at the moment.
What those ads do instead is interrupt their time on the platforms. Users aren't there to find companies or businesses unless they are searching for a specific company's user, and for that, there's a search bar. This is why it is hard to convert them to actual customers who will show interest in the companies' services. Also, you're limited by a budget.
When using lead generation, everything is organic. You aren't forcing others to pay attention to your business but rather being there when they need you. This is why Google's organic traffic will always beat paid ads, and the reason companies continue investing in it, which is a lot cheaper as well.
What Is Local SEO?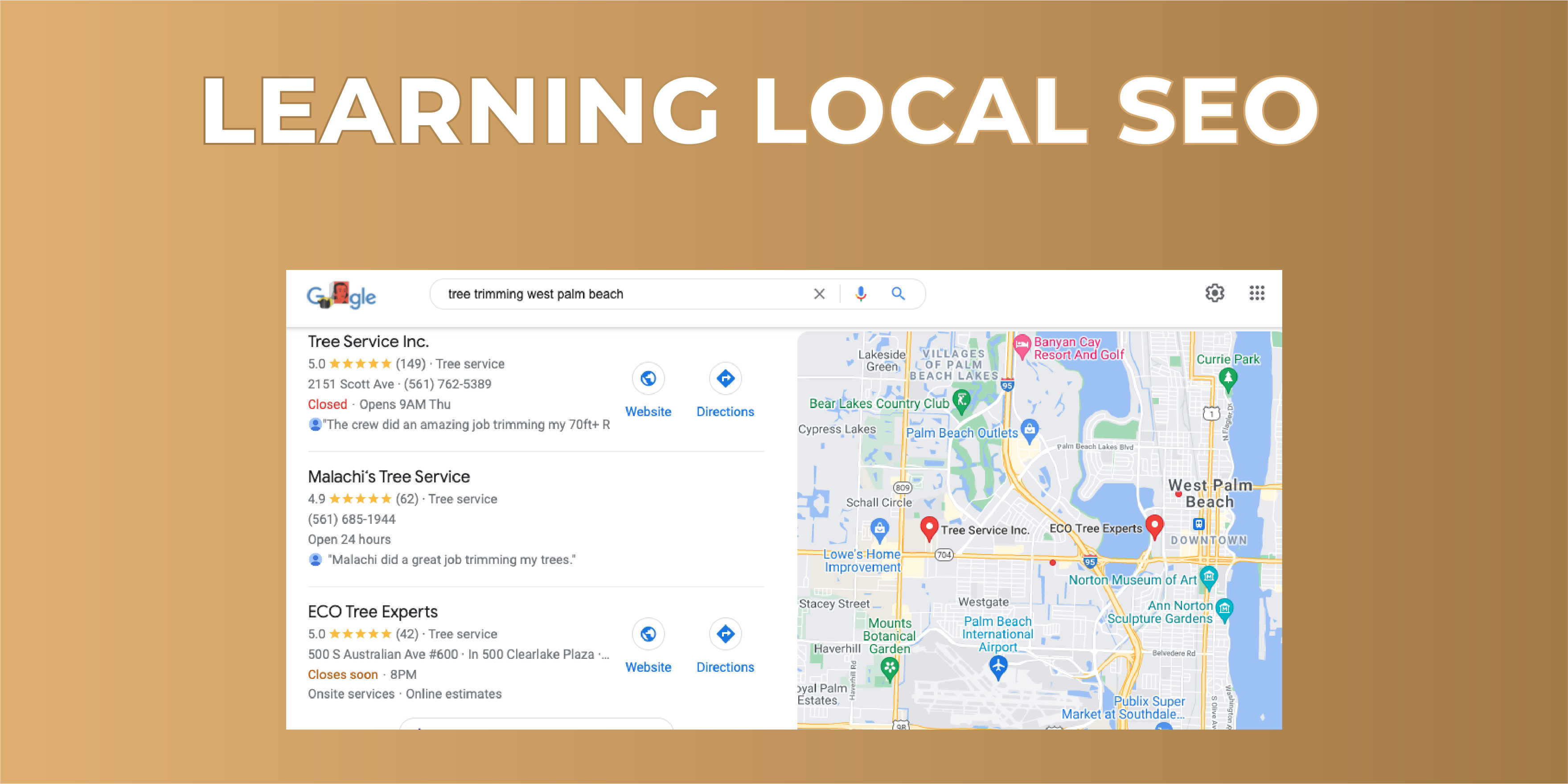 Don't worry… I didn't get it at first either. Following the short explanation, local SEO focuses on scaling businesses' visibility on search engines. However, this is only for those who serve their communities face-to-face.
What does this mean?
Experts and professionals like painters, plumbers, and dentists (but not only them) offer their services to their local customers. Why? Because they can't deliver them unless they are located in the same area of their customers.
To make sure those businesses get more leads, you need to rank them locally by claiming the business listing on Google to place them on Map Listings. Local SEO also involves online reviews, citation management, and how you manage your entire online presence in the local area.
If you are going to bet on lead gen, you need to adapt yourself to today's world: The Internet.
Keep in mind that although traditional channels and methods like billboards, warm calls, and pamphlets still work, they aren't part of your tools. Whenever someone needs a service, they go to Google and search for it.
"Dentist in Miami" or "plumbing services in Orlando," etc. And you can keep coming up with services or professionals people need and look for. Thus, you need to make sure you're using Google to get the companies in front of their clients.
Users will always click on the first search results (those near the top), and many of them will be either Ad links (people paid to place their websites there), Map Listing, and then you get websites. Almost all of them are your goal and where you should always aim to place yourself.
Can My Business Utilize a Local Lead Generation Strategy?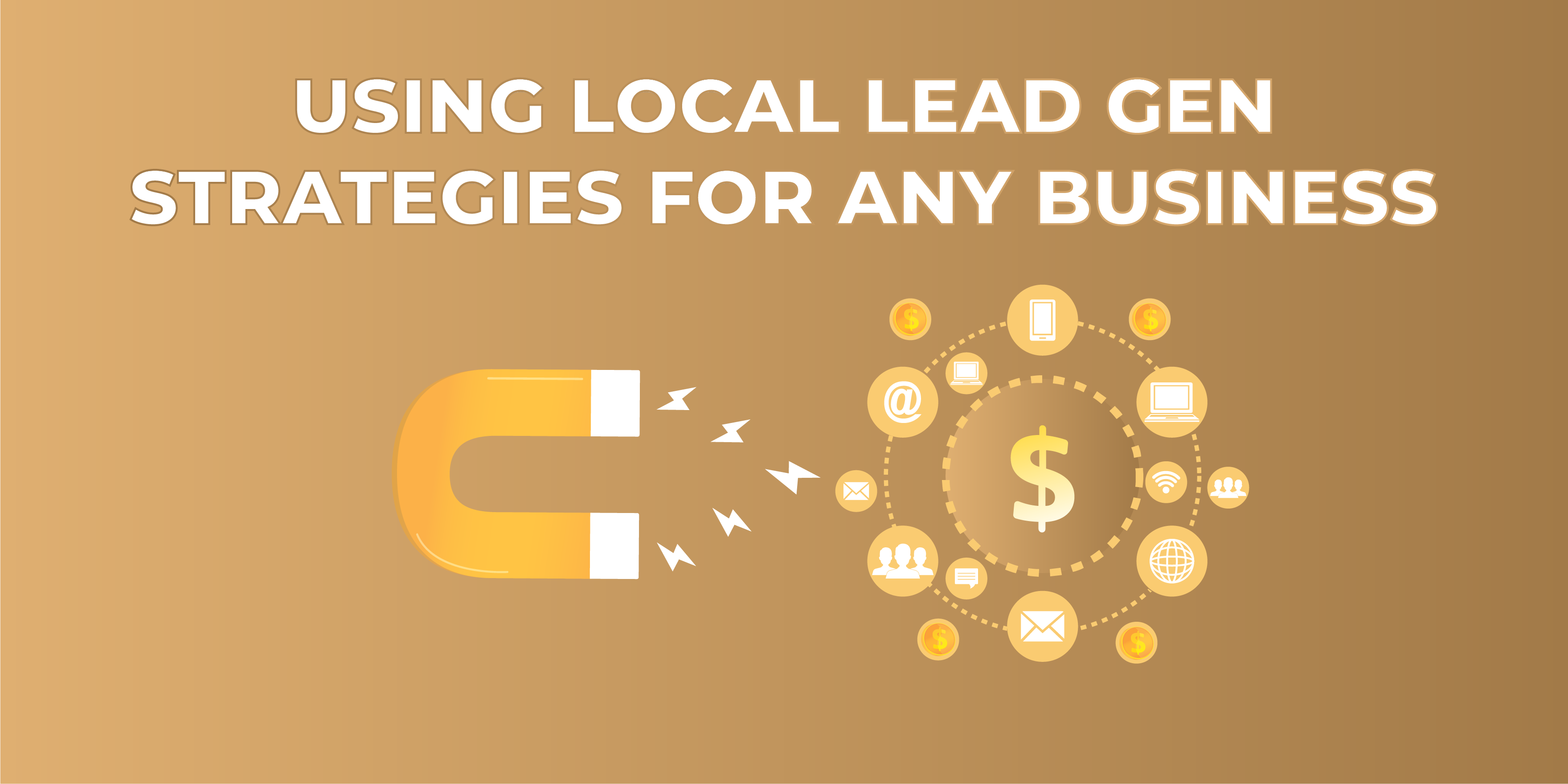 If you want customers, you better know you need it. Following the previous explanation, lead gen is all about placing businesses in front of their customers, choosing them over their competitors.
Put it simply – it's all about closing deals and having clients for those companies to make money. The main difference with the usual methods companies use for this is how lead generation approaches different channels to get them in the right place of the market to get customers.
Those channels are all focused on the Internet as most people are searching for products but also services across the net. The issue is that the Internet is way too broad, and businesses don't know how to place themselves. They usually try, but they get one common result: losing money and time.
How Powerful Are Organic Leads from Google?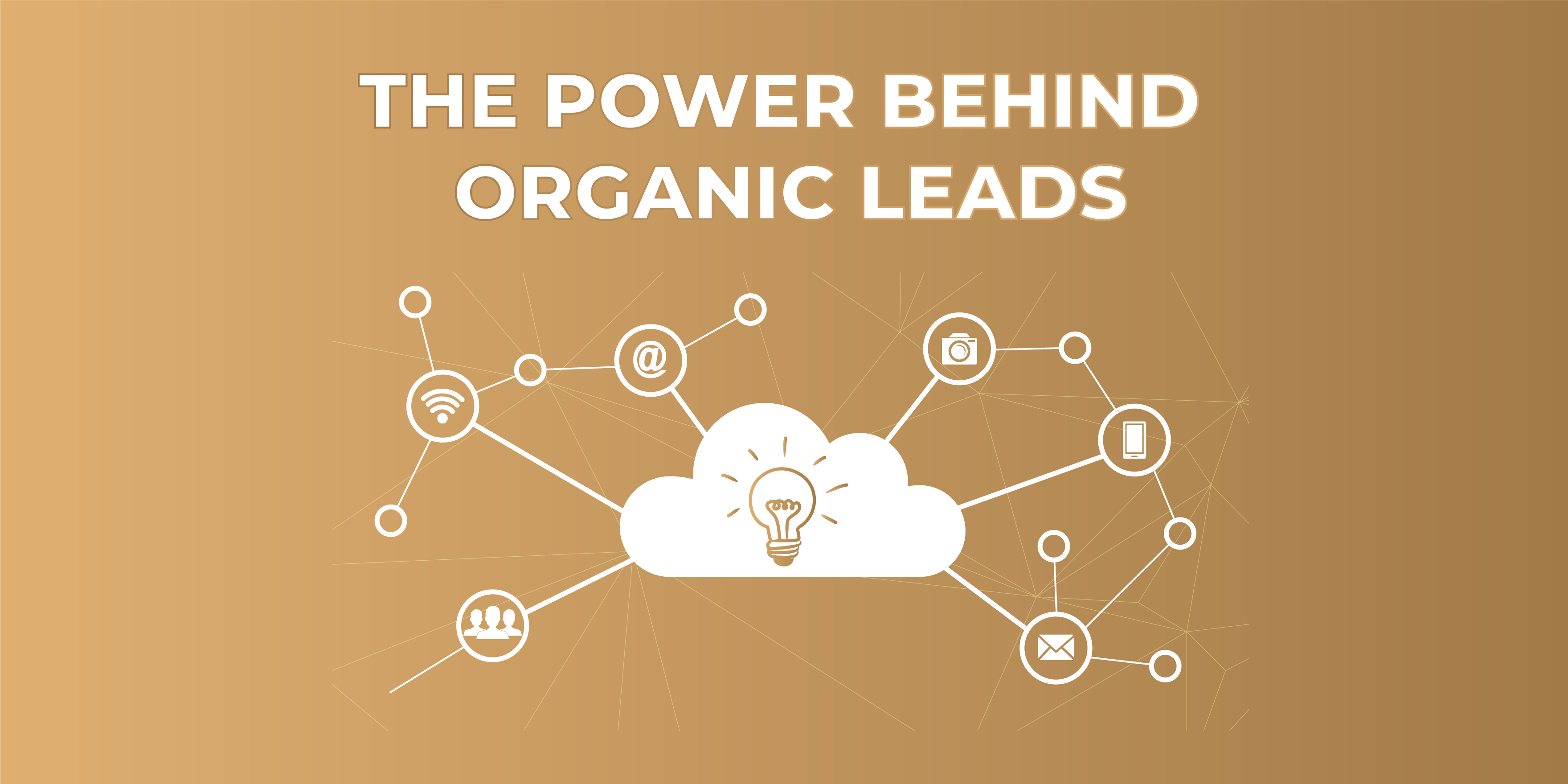 For companies looking for customers, it's everything. For you? Pretty much the same. When you build a business with digital properties, you get to make thousands of dollars a month.
This isn't a "get started today and get rich tomorrow" thing, but it is HIGHLY scalable, and ROI + positive results are guaranteed. Learning a fairly decent and very needed set of skills to create your digital properties and start ranking them on Google is required.
I have invested in several online businesses over the years, and if there's something uncertain, whether you will get your ROI or not, even more than the actual profit.
However, this business moved my earnings from five figures a year to a month in ONLY passive income while sitting comfortably at home.
On my laptop. Anywhere. Anytime.
You can look at one of the first sites I built back in 2016, and it continues making me over $1.000+ every month. The best part is that I don't need to touch it or the rest I've built over the years, just like this digital property.
What Makes Lead Generation SO Alluring?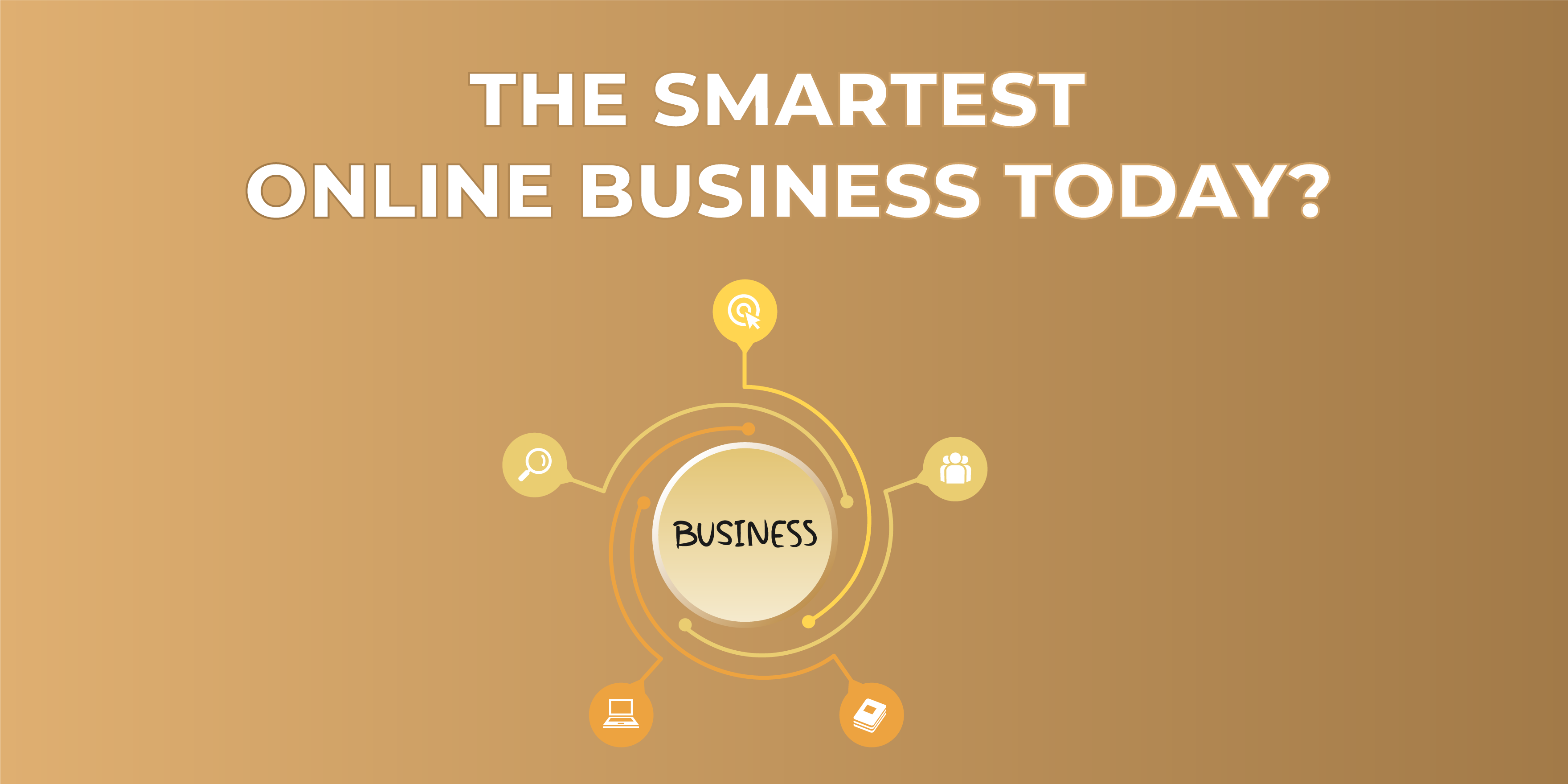 Here it goes: you can work from home.
The main issue with regular business opportunities is how much you need to invest in staff, equipment, or rent to have a place to sell your products or offer your services.
We all know the hassles of traditional businesses that involve regular expenses, which are extremely high.  Can you afford it? I don't think so, and even if you can, is it worth it? Now, it isn't only about the money. You also need to put in a lot of work, and it isn't only during the first couple of months or years. Usually, it is as long as you continue running it.
You can save yourself those headaches and bone-breaking tasks and expenses with lead gen since it is more about generating leads with digital channels—mainly websites.
Websites can be VERY cheap to build, and with many tools online, you get to do it in a couple of hours instead of days. Any virtual or digital business is scalable and won't need constant maintenance.
So, let's summarize this:
You save money in regular expenses with traditional and most online businesses as what you need is yourself and digital properties (websites).

You can bet on passive income.

 There's no need to hire more people to get started.

You can generate leads in multiple industries, which allows you to work on any niche you want.
How Can I Get Started in the Local Lead Generation Program?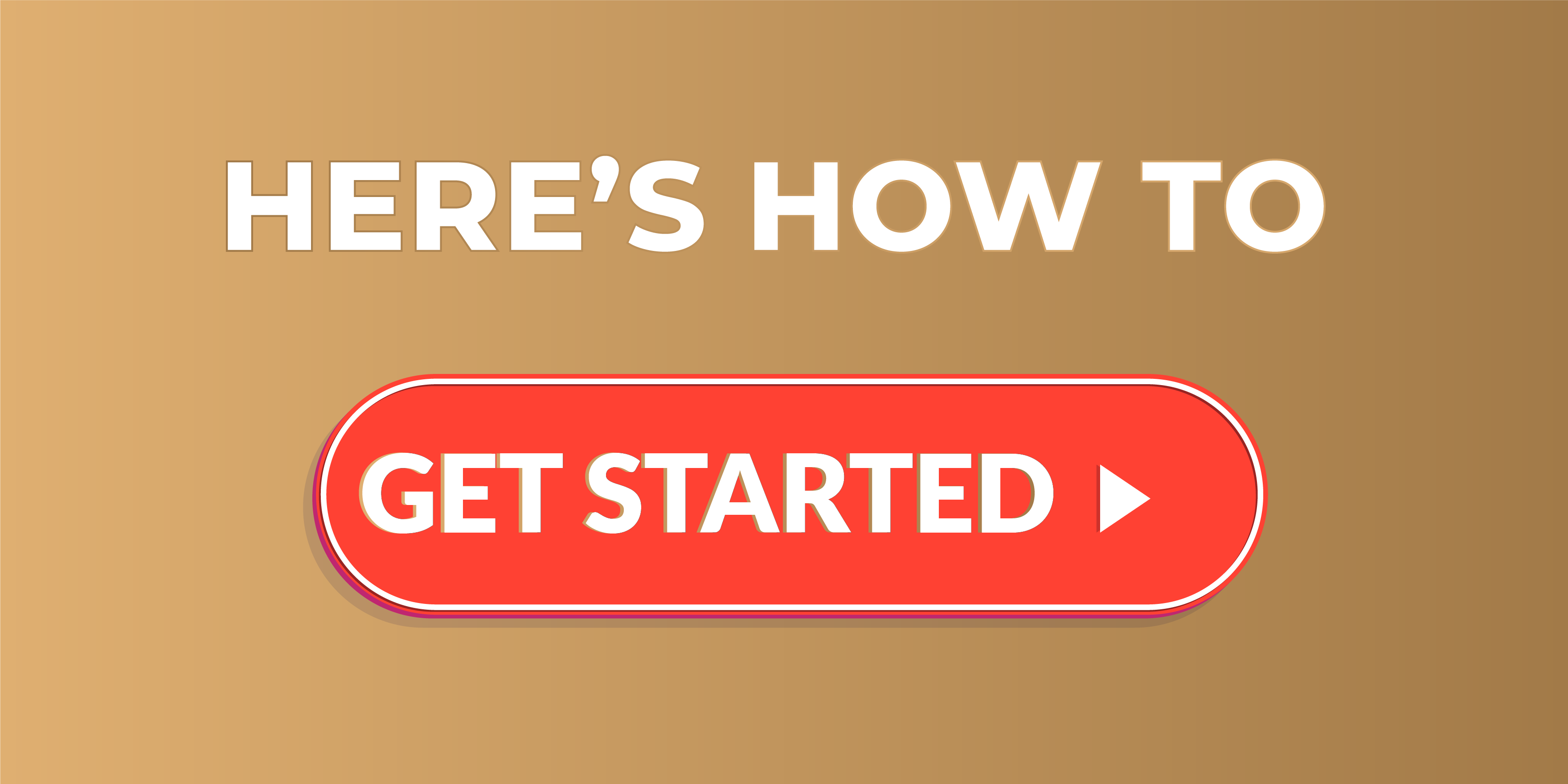 Anyone can start and learn. That's the beauty of this business model. I knew nothing about SEO, Map Listing, and everything I've mentioned so far. It is all about learning the skills, gaining experience, and deciding to take the step.
Remember that this business model will never get old as business owners are always looking for leads. They need to do business and scale their companies. Why not do the same while helping others and still making money?
You can start with this local lead generation course highly recommended for anyone wanting to grow in the business. It is a close training that will take you through each step and make sure you are able to get your ROI, profits and take control of your life.
You will be added to an incredible lead generation family ready to help you 24/7 when asking questions on the group. Anyone is welcome who's willing to put in the work. Click here to watch the lead gen webinar.